Original URL: https://www.theregister.co.uk/2011/02/17/robocop_statue/
RoboCop statue fundraiser hits $50k
Detroit poised for Officer Murphy's return
Posted in Bootnotes, 17th February 2011 11:12 GMT
The Detroit RoboCop statue looks to be a goer after an online fundraising campaign reached the $50k target well ahead of the deadline.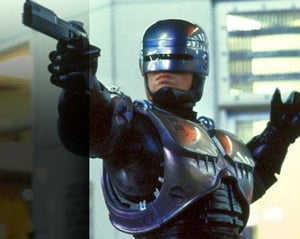 Brandon Walley and chums recently enlisted the help of internetizens to back their demand for a permanent tribute to the protagonist of Paul Verhoeven's 1987 movie.
Walley and associates now have to convince mayor Dave Bing that a seven foot tall iron RoboCop will make a nice addition to the urban landscape.
Encouragingly, Bing's spokeswoman Karen Dumas said recently: "Should the opportunity present itself to receive a donation of this or any other works of public art, we will consider acceptance and appropriate placement."
Whether Officer Murphy will finally stand guard over Detroit remains to be seen. Some locals are unconvinced by the idea, and Walley sought to assuage fears that the statue was possibly not the best advert for the city.
He insisted: "There's definitely a pop icon, kitsch factor to it, for sure, but it's definitely in the light-humorous end. It's not funny in that it's a joke on Detroit or anything like that." ®