Original URL: https://www.theregister.co.uk/2011/02/17/review_doctor_who_experience/
The Doctor Who Experience
The Greatest Show in the Galaxy?
Posted in Personal Tech, 17th February 2011 13:00 GMT
Review Since the revival of Doctor Who almost six years ago, the BBC's marketing machinery has been in full flow, with the programme spawning action figures, DVD box sets, plenty of other merchandise, alongside Proms concerts and exhibitions.

I remember my first Doctor Who exhibition, at Longleat in the 1970s, where there was a Tardis control room, and a few other - slightly tatty - exhibits which, as a child who only got to see the show in colour by visiting friends, I found thrilling. With hindsight, though, it was pretty staid.
Today, for a programme that is coming up to having a half-century of history, there's a lot of potential material for an exhibition. You could probably fill a whole museum if you wanted. In fact, the existing exhibitions around the UK are being wound down, and replaced with the Doctor Who Experience, opening this month at London's Olympia 2, before a planned transfer to Cardiff in 2012.
I was lucky enough to have a ticket to a recent test pilot day. It's worth stressing that, as certain aspects of the Experience weren't finished, and it's possible others may be tweaked or improved, based on feedback from the testers.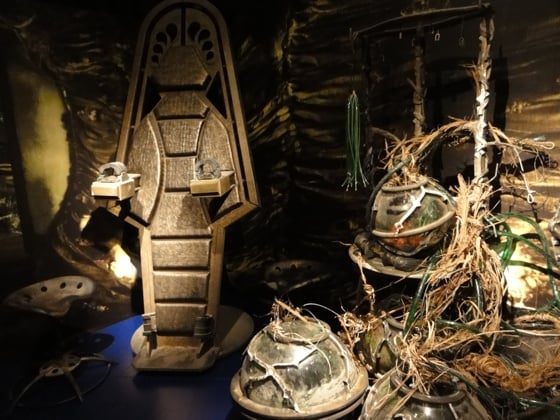 The Waiting Zone
That said, with only ten days between test pilot and public opening - which takes place on Saturday, 20 February - it's unlikely there's much more to come. An intriguing sign at the start of the exhibition urges visitors to set their phones to silent and to turned Wi-Fi on. This will apparently provide extra interactivity together with discount vouchers for the gift shop – through which you naturally have to exit – but unfortunately wasn't working when I was there.
Carnival of Monsters
As with so many attractions, the show starts with a queue – during which you can stand in front of a backdrop of Vincent Van Gogh's room for a photo, which will cost you a tenner to collect later. The Experience proper begins with a film, which is essentially a long sequence of clips from Matt Smith's adventures as the Doctor, before you're ushered into the "walkthrough experience".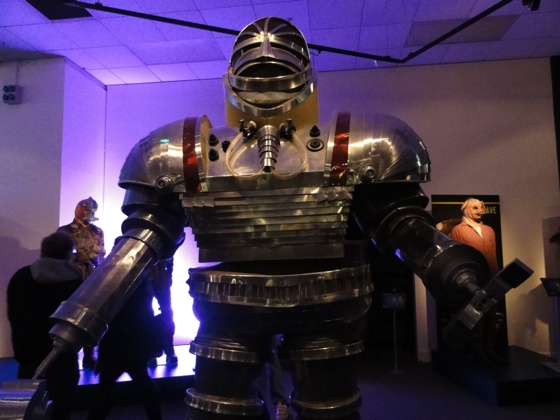 Put the Kettlewell on
This is the meat of the new show – and presumably the part to which the request that test pilots don't reveal secrets most applies. Suffice it to say, it includes plenty of messages from the Doctor, trapped inside a Pandorica, a replica Tardis control room that you're "taught to fly" and some 3D video.
The idea is that you're helping to reunite the Doctor with the Tardis; there are some impressive effects and some that are slightly less so – though it wasn't clear quite how much was still waiting to be tweaked, and overall there was a feeling of being shepherded briskly from one stage to the next, without much time to dawdle.
Overall, the walk through section was probably a maximum of 20 minutes. I'd have preferred more time, in smaller groups, but I guess catering for the kids and their attention spans are the limiting factors.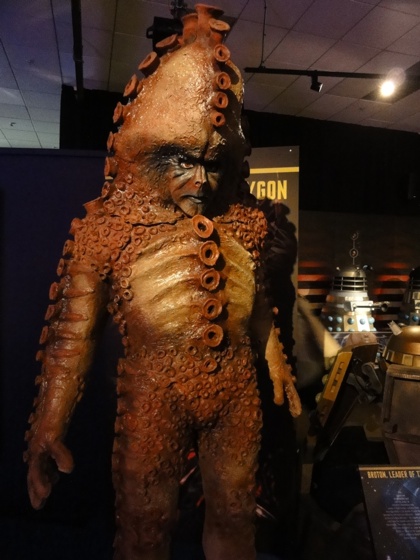 Let Zygons be Zygons
Once you've done the walkthrough, you find yourself in a fairly standard static exhibition. There are some interactive parts, though if you can get to them past the children, you'll be a lot luckier than I was. Access to the "screening room" was tantalisingly blocked by the Face of Boe - I could just make out what looked like an Ood in the gloom, and hopefully there'll be a lot more to see in there when the show opens.
Day of the Daleks
A little incongruous was the view looking up, at Olympia's grid of ceiling tiles and fixtures. children probably won't notice, but it made the exhibition feel a tad temporary to me.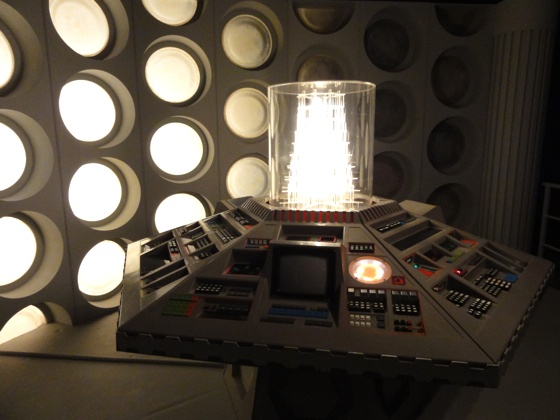 Console-ation prize
Meanwhile, kids can learn to walk like a Cyberman, or remix the theme tune, and there's another photo opportunity offering green screen effects, as well as a collection of artefacts and displays with information about the evolution of two of the show's longest standing foes, Cybermen and Daleks.
There are two Tardis control rooms to see, along with some other monsters – but with a couple of exceptions, the focus is squarely on new-era creatures.
One of the things that longer-term Who fans will probably be disappointed with is the comparative lack of detail about the show's past. Sure, there's every Sonic Screwdriver ever used, but ultimately, the chief representation of each previous Doctor amounts to a costume with a short descriptive notice.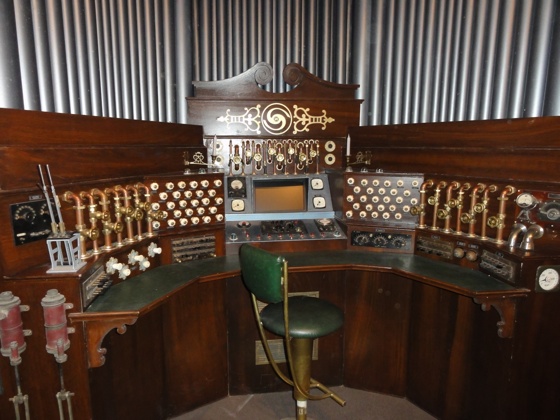 Matt Smith played with this massive organ in the Christmas special
Of course, many of the kids will be quite happy with material from recent series – the squeals of delight when they recognised K9 and Sarah-Jane warmed even my cynical old heart – but what of Jo Grant? Or the 1970s Unit? Or clips from some of the classic stories like Genesis of the Daleks?
The Visitation
With such a rich history, it would surely have been possible to provide much more about past Doctors. Rather than just a costume, why not a timeline, or information about some of their most well known adventures? Or even video clips?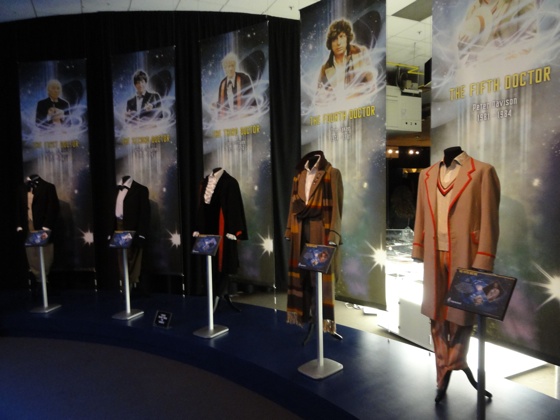 'A man is the summary of his memories - a Time Lord even more so'
Perhaps space is a consideration, but from a commercial point of view, it would probably provide plenty of opportunities to flog even more DVDs in the shop.
Verdict
It would be unfair of me to try and tell you whether or not The Doctor Who Experience is worth a visit, based solely on the test pilot day: some things weren't finished, and there was a whole room closed off to us.
Certainly the kids there seemed to be enjoying themselves, but there's perhaps less in it for the more mature fan. And if you've visited one of the other recent exhibitions, you may well feel, as did my companion, that – aside from the walkthrough experience – you've not seen anything really new.
Regardless, booking in advance certainly seems prudent. With a family ticket costing £65 on the door, if you succumb to the temptation of photographs, as well as the merchandise, it could easily end up as a £100 day out, if not more. ®