Original URL: https://www.theregister.co.uk/2011/02/17/kepler_launch/
20-tonne space truck heads for ISS
Successful launch of the heavyweight Johannes Kepler
Posted in Science, 17th February 2011 11:45 GMT
The European Space Agency's second Automated Transfer Vehicle (ATV) yesterday blasted off en route to the International Space Station.
The Johannes Kepler rose heavenwards atop an Ariane 5 rocket from the Kourou spaceport in French Guiana at 21:50 GMT. The launch had previously been knocked back a day due to a minor technical glitch.
On the pad, ATV-2 weighed in at 20.06 tonnes, "the heaviest payload ever launched by Europe". It's carrying "4,534kg of propellant for International Space Station reboost and attitude control", "1,600kg of dry cargo, 850kg of propellant for Russia's Zvezda module and 100kg of oxygen".
If all goes according to plan, it will dock "directly and autonomously" with the ISS's Zvezda module on Thursday, 24 February.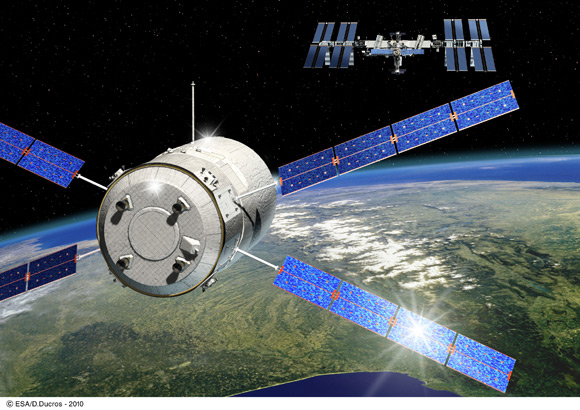 The Johannes Kepler is the first operational ATV, following the 2008 qualification flight of the Jules Verne. The next will be the Edoardo Amaldi (ATV-3), due for launch in around a year, followed by ATVs 4 and 5, slated to head into the heavens by 2014.
Once it's done its bit at the ISS, including using its own thrusters to "raise the Station's orbit periodically in order to compensate for the natural decay caused by atmospheric drag", the Johannes Kepler will be filled with waste and redundant hardware and directed towards a final re-entry burn-up over the Pacific. ®
Bootnote
The delayed launch of the Johannes Kepler may impact on the planned 24 February lift-off of Discovery on its STS-133 mission to the ISS. NASA managers will decide tomorrow if it will have to be rescheduled.