Original URL: https://www.theregister.co.uk/2011/02/15/review_iphone_accessory_iomega_superhero/
Iomega SuperHero iPhone back-up gadget
To protect and serve
Posted in Personal Tech, 15th February 2011 07:00 GMT
Review The cost of losing a smartphone goes further than the hardware: don't forget all the data - contacts, apps, pictures, music and so on - you keep on it.
The sensible thing for iPhone owners to do is to regularly sync the handset with iTunes - it backs up all that content. Not everyone does this, of course. Iomega's answer is to integrate the syncing process with the dock you use to charge up your phone, and to make the process automatic.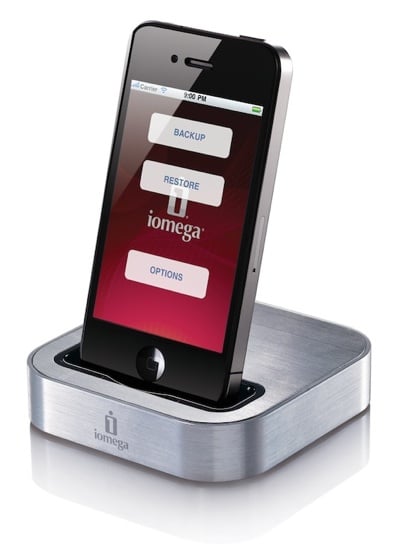 Iomega's SuperHero: iPhone data saviour?
Enter SuperHero, Iomega's combo charger and back-up gadget. It's a stylish brushed-metal dock with a spring-loaded SD card slot tucked away round the back for storage duties. SuperHero comes with a 4GB card.
The dock doesn't use Apple's "universal" system of device-sized dock adaptors, but is wide enough for the iPhone 4 and its predecessors, and undoubtedly future models too. It's not as deep as it could be, though, so folk like me who keep their handset in a case may need to remove it first, which kind of defeats the object.
With an Apple bumper on, my iPhone 4 still fits in the dock, but I found I needed to push it down firmly to ensure a good contact for both syncing and charging.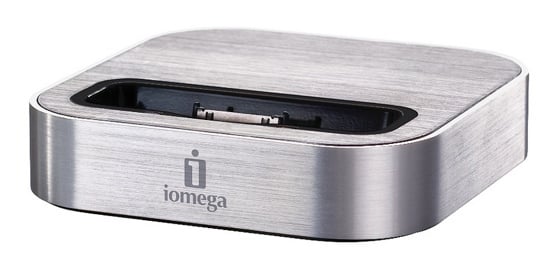 Make mine metal
Slot the phone in for the first time and you'll be prompted to download Iomega's free back-up application, which will copy over your contacts and photos. Just those - videos you've shot, calendar entries, music, video and apps are, for now, ignored.
Night crawler
Saving my 269 contacts took a fraction over 14s - copying the contacts to memory and then writing them out to the storage card - but the 25 pictures on my handset took the duration of the initial back-up to well over an hour, a lot longer than copying them to a computer over USB 2.0 takes.
As a maker of external hard drives, it's a wonder Iomega didn't equip the SuperHero with a USB port too. It also lacks a pass-though port for the dock connector.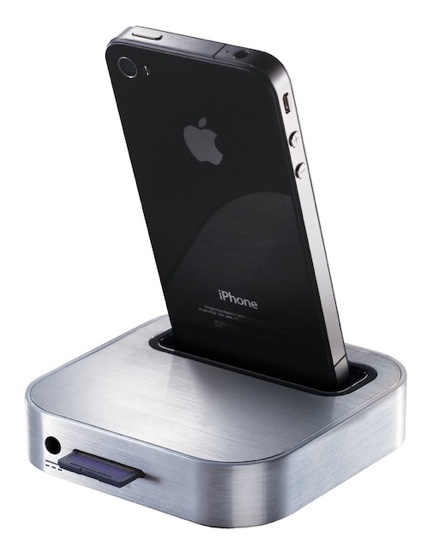 Is a faster SD card in order?
If a call comes in while you're making that initial back-up, the data duplication process will be interrupted and take even longer. This happened to me the first few times I tried it. At least backed up photos won't be copied to the card a second time. But forget to swipe the lock bar before you dock your phone, and the Iomega app won't run automatically.
At one point I was also told the 4GB card may have run out of space, even though it blatantly had not - too few shots on the phone for that. Taking the phone off then re-docking it saw the back-up process continue from where it left off, but it didn't inspire me with confidence in the software or the card.
Of course, you can make your initial sync and overnight job, so the duration doesn't matter too much - unless it's halted for some reason. No, the real problem here is the lack of protection for your other data. If you're going to have to connect your iPhone to a computer to add music or movies from your library, you'll be backing up you phone anyway.
Restoration puts all the back-up contents back, replacing those on your phone, and photos you've erased. There's no choice about what is restored - if you just want a single snap, SuperHero will restore the lot. That said, you can open the SD card in a computer and grab the pics you want that way. It takes as long as backing up does. Zzzzzz.
Verdict
Iomega's SuperHero will help iPhone owners who never sync their handsets with iTunes by making back-up an automatic process they don't have to think about. But it protects too little of your data, and anyone who does use iTunes will get back-up protection for free. ®