Original URL: http://www.theregister.co.uk/2011/02/14/review_tablet_binatone_homesurf_7/
Binatone HomeSurf 7 Android tablet
Seven-inch fondleslab for under a ton
Posted in Personal Tech, 14th February 2011 13:00 GMT
Review If 2010 was the year of the Apple iPad, this year will, if Motorola, HTC, HP and others have their way, be when everyone else gets in on the touchscreen computer act. Binatone has made an early strike with its super-low priced machine that's powered by Google's Android operating system.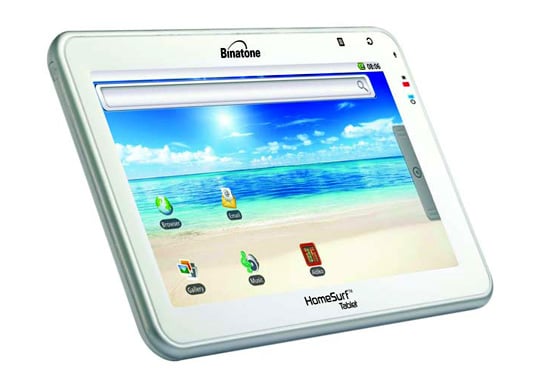 Donut anyone? Binatone's HomeSurf 7
The HomeSurf is light and sits easily in the hands. It's much easier to hold for long periods than the larger iPad – a bonus if you're using the tablet for the reading e-books, for instance. It's not very tactile in other ways, though, this tablet.
The hardware buttons are unhelpfully placed on the top edge and while some have icons on the front to tell you where they are, others don't. Press them and they feel decidedly low-rent.
Like the Samsung Galaxy Tab, a much pricier item, the HomeSurf Tablet 7 has a seven-inch screen. However, the Tab uses a capacitive screen, the more expensive kind favoured by the iPad and high-end smartphones. Here, however, we're faced with the cheaper resistive kind of touchscreen.
This is no surprise, given the competitive price, but resistive screens lack multi-touch capabilities and have a grainier, less pleasing look to them. And where the Tab is a smooth glass surface across the whole front, the HomeSurf has a glossy bezel in front of a recessed display which is less attractive.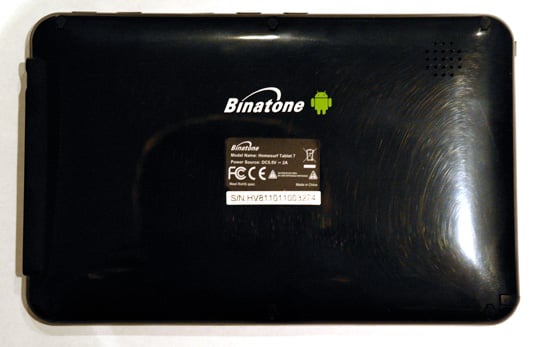 Convenient size and easy to hold
On the plus side, because resistive screens are pressure-sensitive they can be used with a stylus or when you're wearing gloves, which is handy if you're outside. And you're probably more likely to take the HomeSurf with you when you're out than a larger tablet.
Mind you, there's no Sim card slot in this tablet, so you can't make calls, or connect to the Internet outside a Wi-Fi area. And there's no GPS, so you can't use it as a substitute satnav either.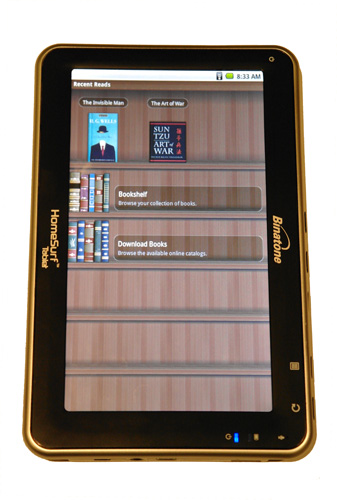 Aldiko is on-board for e-book reading
There's a stylus, albeit a flimsy and thin one, which snuggles into a corner of the HomeSurf, which some users may find handy, though frankly it's hardly essential with this much screen real estate. But if you're used to a capacitive screen on your phone, you'll miss the feather-touch needed there. And the HomeSurf's screen isn't as responsive as some, lagging behind your finger's firm touch by a small but irritating degree.
This tablet uses a version of Android which is now looking a little elderly – edition 1.6 (Donut) was launched in September 2009. Some features of later Android phones are missing and there's no Flash compatibility so you won't be able to see some websites. That said, neither can the iPad.
There's no direct access to the Android Market from the tablet, either, though you can download them when you find them online. There's also no camera on board, so many apps aren't suitable here. Binatone has embedded some, like Aldiko which is an e-book reader.
This works well, with easy-to-read design and simple navigation. And there are the benefits electronic books offer, like effective search smarts which traditional books can't match, even if they have an index.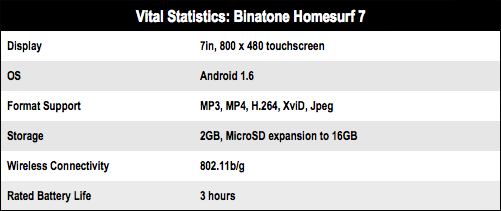 Cost-effective?
Even so, a backlit screen isn't ideal for reading, so the Amazon Kindle is arguably better than the HomeSurf or even the iPad. The screen served video playback better, but the lack of pin-sharp resolution didn't help. Similarly, the single loudspeaker was quiet and under-powered.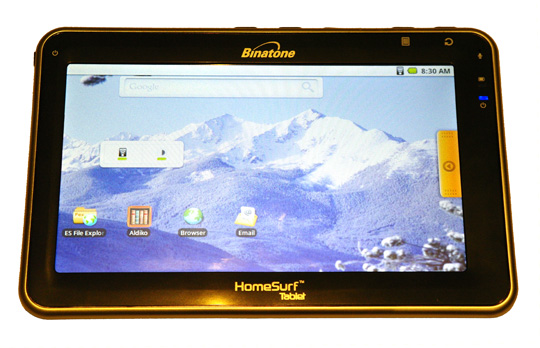 Cut price inevitably means cut corners
Battery life on Android devices is always tricky, though later editions of the software have improved power usage. The HomeSurf flattened the battery in less than a day, and recharging was through a dedicated charger not USB, which may limit your options.
Verdict
Although it's great to see competent computing power in a light, well-priced machine, it's hard to recommend the HomeSurf Tablet 7. It works well as an e-book reader, but doesn't compare to the similarly-priced Kindle. The Android system is effective and inviting but this early edition feels hobbled by the lack of many decent features. The screen is uninspiring and the build quality decidedly average. It's a great price, but you may be better off saving for a more accomplished machine. ®
More 7in Android Tablet Reviews...

Creative
Ziio
Archos
101 8GB
Huawei
S7
Samsung
Galaxy Tab