Original URL: https://www.theregister.co.uk/2011/02/12/review_media_player_d_link_boxee_box_dsm_380/
D-Link Boxee Box DSM-380 media streamer
Content provider?
Posted in Personal Tech, 12th February 2011 08:00 GMT
Review D-Link's Boxee box, also known by the catchy moniker of DSM-380, is aimed at a sector of the market that's quite important in the US – streaming online media – but somewhat less so in the UK right now.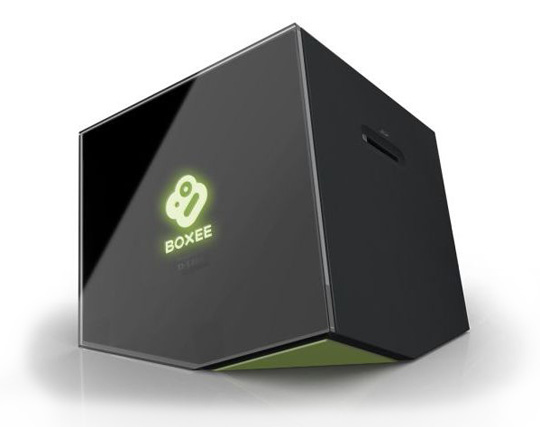 Media container? D-Link's Boxee box
It's essentially a small form factor PC running the Boxee software, itself based on the excellent XBMC. Rather than a straightforward cube, it's had the bottom sliced off, giving it the appearance of sinking into the table top.
One side has a Boxee logo that lights up when it's running, while the other has an SD card slot, and the rear panel carries the ports. Video output is HDMI only, and can go up to 1080p – unlike Apple TV, which only does 720p. The external PSU is a standards plug-top unit.
The remote is a sort of bastard child of Apple TV and Google TV; the top surface has a play/pause button, a nav pad with central select, and a menu button. Flip it over and there's a full Qwerty keypad, which makes searching for content much simpler.
Initial setup and configuration is straightforward, and you can connect using Wi-Fi or wired networks; it does seem to take a little while for the Boxee to start up, however, and the fan is alarmingly loud before the software has finished loading. After that it's a background noise, but certainly noticeable in my living room.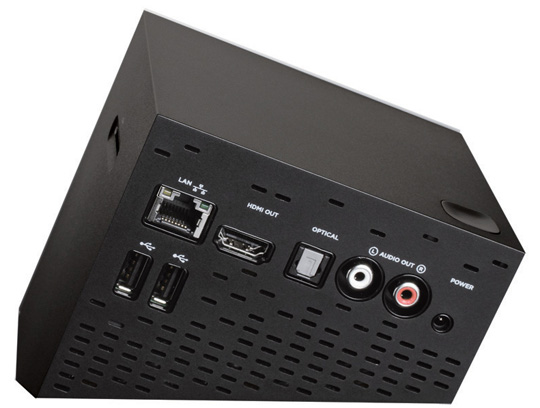 Interfacing supports SD cards and external USB storage
Searching for content is one of the things that Boxee is quite good at; the interface looks quite slick, and you can search for movies or shows, and it'll find matching online content for you, regardless of the provider, assuming they're hooked up to the Boxee platform.
Movie goers?
UK users will find a selection of just under 1300 movies available, many of which appear to come from IndieMoviesOnline.com, and I had no problem watching An American Werewolf in London – though even with a 17Mbps broadband speed, the picture quality was distinctly VHS-like, and selecting some films, like Channel 4's The Government Inspector sourced them from 4oD via YouTube, for a distinctly pixellated appearance at times.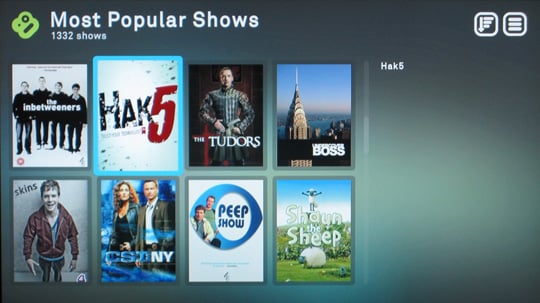 Boxee's on-line showcase
There are also apps that provide access to other functionality, like weather forecasts, or YouView's big screen interface. It's largely simple and straightforward to use, but there's not really a killer source of content for the UK, like LoveFilm.
You can share recommendations for content with friends who also use Boxee, and add stuff to the 'Watch Later' list using your PC, which is a useful touch.
While some of the content, like that from IndieFilms, plays automatically in full screen, some other material shows up the limitations of the Boxee system, which has some way to go before being really friendly for novices.
For instance, the apps section of the system provides an iPlayer application, which gives the same big screen interface as systems like Freesat. But once you've selected a programme, you get taken to the web page, rather than having the stream start automatically. You then have to use the mouse pointer – from the navpad on the remote – to start the playback.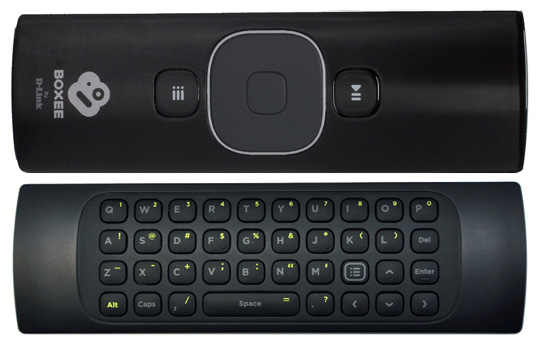 The remote offers two distinct levels of sophistication
You'll also see the same happen on other sources – browsing shows and finding an episode of CSI:NY, which was supposed to be available from Channel 5, launched its web site, complete with a messy error message.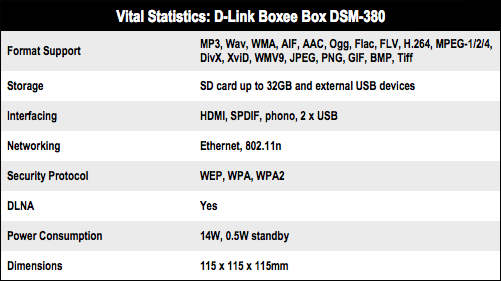 Rank and file
SeeSaw is testing its own content on Boxee and, based on my experience, still has some way to go. Once you get to the web page, you have to use the mouse pointer to start the playback, and to turn the volume up from minimum, select full screen, and then move the pointer out of the way, otherwise the SeeSaw control bar will be stuck on screen the whole time. And I found it too easy to end up with the Boxee interface thinking the video was paused, when it was playing, and vice-versa.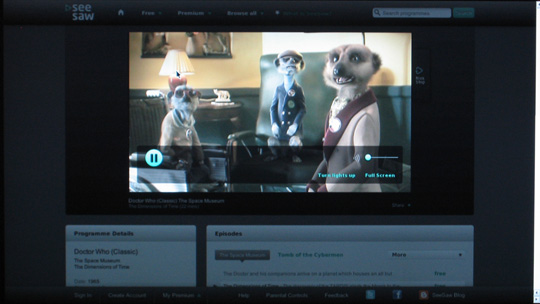 Seesaw's content is available but appears to be work in progress
In short, it may let you access lots of web video, but the integration needs a lot more work, and it's far from seamless. Sometimes I ended up with a small iPlayer video in the top left of the screen, or viewing the adverts from SeeSaw's web site, or just with a blank screen. Some members of the family will certainly find this confusing.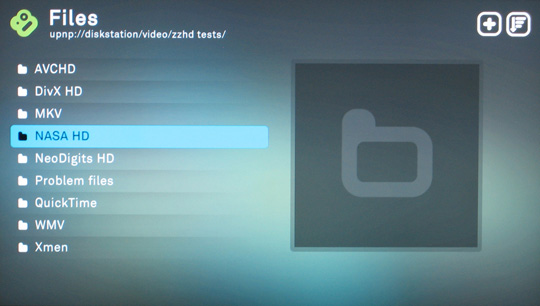 File browsing seems clear enough
When it comes to playback from your local networks, as you'd expect from something based on XBMC, the Boxee box will play back just about any media format you care to throw at it.
It was perfectly happy with just about all my test files, including some XviD clips that cause other players to reboot, and even coped with a QuickTime 7 H.264 file that almost nothing else will play, choking only when it came to one of my other QuickTime samples. Audio support is similarly wide ranging, and includes Flac and Ogg formats – the full list is in the spec sheet.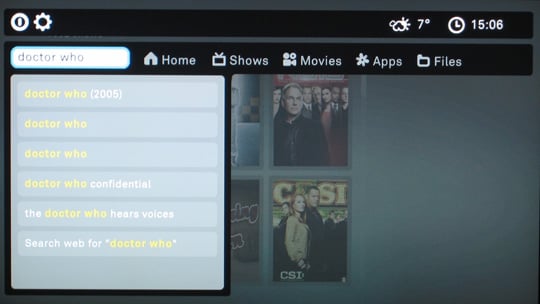 Seek and you will find
Essentially, though, most people will find that any media stored on their PC or home network will play back just fine. There's a wide range of settings for configuring the outputs to make sure that audio is presented in a format your AV equipment will cope with too.
Overall, the interface is pretty straightforward to use, but with some niggles – and a few bugs in the current version – attempting to add a shortcut to a UPnP folder caused a reboot, for example. Ultimately, it's sold on the promise of the content that's available, and a lot of that just isn't here in the UK. Where it is, like some of the iPlayer content, it's not that slickly handled.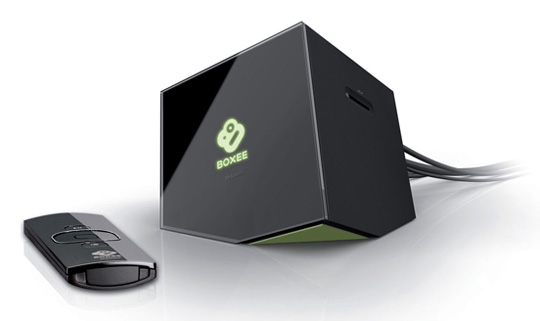 Good format support, but it is pricey – the IP TV content and navigation need refinement too
Verdict
As a player for local media, Boxee excels – but so it should, for £200, when there are products that can do as well for half the price. For UK users, the IP TV functionality really isn't good or broad enough to justify the extra price. ®
More AV Gear Reviews…

Western Digital
WD TV
Live Hub
Gear4
UnityRemote
Sling Media
Slingbox
Pro-HD
Group Test:
AV Receivers