Original URL: http://www.theregister.co.uk/2011/02/11/nokia_microsoft_more_details/
Grief and disbelief greet Elop's Nokia revolution
Google becomes the one they all fear
Posted in Networks, 11th February 2011 14:10 GMT
Analysis There are times when you don't want to intrude on public grief, but Nokia has spent 15 years (or more) trying to avoid this day.
New CEO Stephen Elop would argue otherwise, but giving up control of your platforms means giving up control over your destiny - and Elop has given Nokians not one twig of consolation around which a bit of dignity could be wrapped.
He's also signalled the end of Nokia as a high R&D spend technology company. "We expect to substantially reduce R&D expenditures", said Elop bluntly in this morning's webcast. The new Nokia will be a global brand and a contract manufacturer whose primary customer is itself.
"Disaster" and "stitch-up" are two of the texts I received this morning from Nokians. Finnish press reports 1,000 staff in Tampere walking out. A surprise? Not really. For 15 years Nokia has defined itself, to its partners and customers, as the Not-Microsoft. Now it's utterly dependent on them. There's no Plan B.
Remarkably, there's no pretence at continuity: almost everything old is now dead, or soon will be. Symbian and Meego are sidelined and Qt becomes irrelevant. Ovi lives on in name only. If you're a developer, you write for Windows Mobile, to the APIs Microsoft wants you to write to.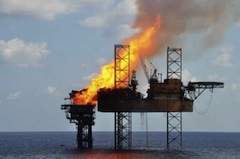 "Right. Everybody off"
There's no pretence either, that Nokia got a special deal from Microsoft, given that the Finns are the world's number one handset vendor.
Asked specifically about royalties, Elop said it was er,… complicated, and waved his hands around for a while. He didn't say Nokia was getting CE for free. Instead, he said that there was "a lot of value moving in different directions".
Since 2008, Nokia has been paying nothing for Symbian, and wouldn't have paid any per-device royalty for Meego gadgets. Nokia could also have got Android for free, of course. But there would have been a cost attached to that choice, Elop explained. Elop described Android as "attractive", and said Nokia had talked to Google, but said he didn't fancy the prospects of being just Another Face in the Android Crowd.
Nokia would "have had problems differentiating," with Android, said Elop. "The commoditization risk was very high… prices and profits are coming down and the value is moving out to Google."
Elop added that he felt that with Microsoft Nokia could make competitive low to midrange smartphones ($100) better than it might have with Google, too.
So there you have it. Microsoft is less scary than Google. Given the experiences of Sendo, Palm and Sony Ericsson in teaming up with Microsoft, it's a measure of how significantly perceptions have changed.
Operators seem to think so too. This new "Third Horse" in the smartphone race got a positive welcome, my early soundings confirm. They want Nokia-Windows to succeed, because they too think Google is scarier than Microsoft, and want a competitor to Apple that isn't scary. It's amazing how things change.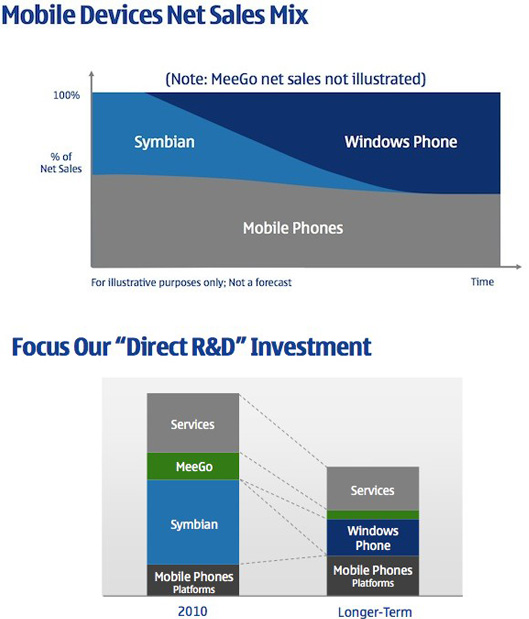 Elop's gamble is that "value" will be added by services higher up the stack, so the operational and strategic independence that Nokia loses by partnering with Microsoft will be more than compensated by services - which Nokia doesn't have to share with anybody. It follows that it can spend its R&D (currently running at around €8bn a year) on making great hardware ("iconic phones", Elop promised), and services. It's not going to be easy.
There are other positives. With Meego mothballed, Nokia isn't dependent on Intel's Atom processors any more for tablets and other larger-than-a-phone devices. Huge relief at ARM, I imagine, and with many of Nokia's engineers. The ARM world is proven and offers far more choice.
Summary
Air turbulance warning: two years of pressure on Nokia's gross margins until 2013
Windows Phone 7 becomes Nokia's primary platform; "Clearly, it's a transition from Symbian to Windows Phone" says Elop
Symbian becomes a legacy "transition program"; Nokia expects to sell 150m more Symbian phones - it currently sells 100m a year; Meego sidelined; becomes an experiment, and a hedge against "future disruptions"; S40 to get fresh investment
Developers write to Microsoft APIs, Qt roadmap abandoned.
Deep cuts to R&D and staffing globally
Microsoft gets a Nokia Maps license; Nokia to use Microsoft AdCenter and Bing Search. More detailed technology sharing to follow
And Google may pause to wonder why it's in this game. Expenditures on developing and supporting Android are enormous, well over £1bn a year by some estimates, and it receives no royalties. Google funds Android because phones are another advertising billboard for its advertising business, and "platform" for future Google services. How long is it prepared to give Android away, when it doesn't have to? Android's success has also tended to obscure the reservations of Android OEMs, who have a hard time differentiating, just as Elop feared Nokia would.
A whole new Nokia
The Nokia that Elop envisages will look a lot more like the Samsung of today than the Nokia of today. ("There will be significant changes in the absolute makeup and levels of [R&D] expenditure; we expect to substantially reduce R&D expenditure while increasing R&D productivity," said Elop).
But old tensions will remain.
How does Nokia recreate the product-centric, almost skunkworks development culture of the 1990s, while retaining its global logistical strengths, such as its ability to customise for local markets? How does Nokia prevent Microsoft from stealing its ideas? How does it create services that don't brass off its biggest customers, the operators? Some of these are very old questions, and the Microsoft tie up does nothing to resolve them - it might even complicate them.
The impact on morale is probably the most immediate thing Elop has to address - it's a huge blow to Finnish national pride. Elop's brutal assessment in his "Burning Platforms" intranet post is that Nokia was hopeless at strategy, rubbish at marketing, and couldn't write software. He all but told Nokians that they should have stayed in the rubber boot business.
What a motivator! ®