Original URL: https://www.theregister.co.uk/2011/02/11/gaming_reviews_naild/
Nail'd
Quad bore computing
Posted in Personal Tech, 11th February 2011 13:00 GMT
Review There's something obvious missing from Nail'd. For grammarians, it will be the title's unnecessary contraction of a perfectly acceptable transitive verb. For Newtonians, it will be the game's flagrant disuse of the laws of motion. For everyone else, it will surely just be the total lack of challenge on offer in developer Techland's off-road arcade racer.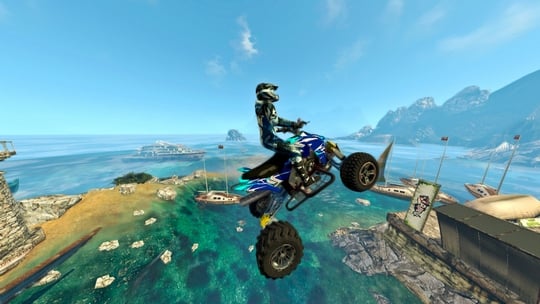 A plummeting success?
Don't get me wrong. I like to win as much as the next person. But winning 97-races out of 104 at the first attempt; never failing to reach the next gate in a time challenge; consistently crossing the line 10-seconds ahead of the pack - the constant lack of challenge provides for a experience as dull as the ditchwater Nail'd often forces you to splash through.
Things starts promisingly enough. Despite simple bike and rider models, Nail'd is a great looking game. From its unspoiled Andean glacier and dust-baked Grand Canyon, to its parched Grecian paradise and giant sequoia forests of Yosemite, the locales provide magnificent vertiginous backdrops to the game's twisting, banking, roller coaster routes and myriad obstacles and jumps.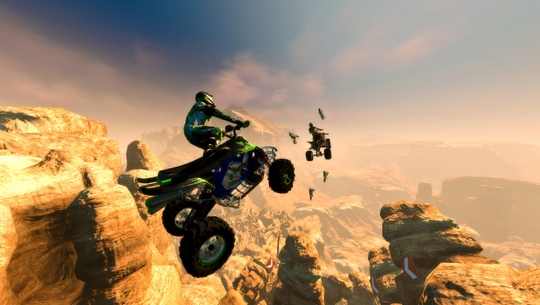 Boulder dash
For the first hour or so you're too distracted to spot the wood for the trees. Hurtling through scenery, jostling for position, leaping over hot air balloons, threading through overhanging rocks and branches, dodging past trucks and trains - it's only when you've crashed for the hundredth time and still gone on to win the race that Nail'd's greatest flaw becomes apparent: the impunity of its crashes.
Crash tactics
The penalising mechanic that underpins challenge in all other racers is evidently ineffectual here. Following every crash, Nail'd respawns you safely on the track ahead of the offending obstacle or precipice with no time penalty - in some cases even increasing your lead slightly. Although it's not a defect players would readily exploit – crashing still irritates, after all – it's one that diminishes gameplay by engendering an irrevocable sense of invulnerability.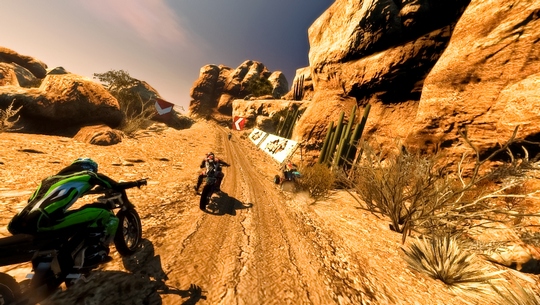 It's only rock and roll...
That feeling is augmented by the game's overall difficulty, which remains static throughout. While the tournament mode and system of bike upgrades suggest a progressive challenge through Nail'd's various league and cup competitions, it becomes clear that the AI drivers of the first race are as just as fast and aggressive as those of the 104th race. And it's not just your opponents who remain static – upgrades to your quad or motorcross bike are always zero-sum, so a new engine might boost top-end speed, but will come at the expense of handling and acceleration.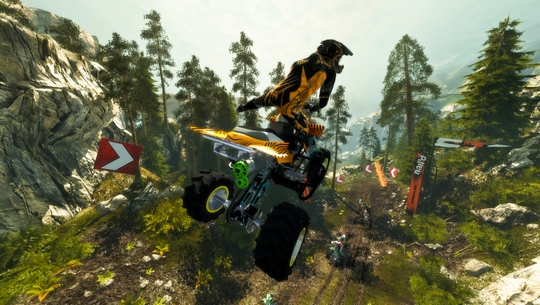 Perching in the treetops
Occasional spikes in difficulty ultimately prove false dawns. Although most are designed for three-lap races, several of Nail'd's tracks are special, giant one-lap downhill courses. These courses take the longest time to master – your first few attempts often in vain against an AI familiar with the shortest routes. But even downhill courses are memorised within half-a-dozen or so races. And with only 14-tracks in total, servicing 104-individual race events, Nail'd runs dry of novelty well before the tournament's halfway stage.
Depressed mode
Techland tries to compensate this small geography by introducing additional race modes and moderating driving conditions in its latter stages – none of which works. Tired old courses are regurgitated as lifeless Time Trials. And Stunt Races merely emphasise mechanics already critical to success in normal races.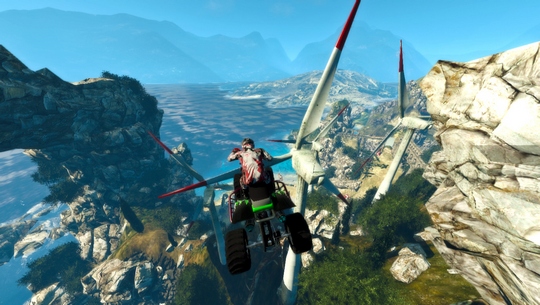 Confidence boost
But the worst introduction is Boost Madness Mutator Races. With an unlimited supply of boost, the accompanying screen shudder and rumbling pad mean it's no longer merely a videogame race, but a race to see what gets you first, apoplexy or arthritis.
This lack of variety hurts Nail'd's on-line offering, too. With no unique modes or tracks, the distraction of racing on-line proves all too short-lived. So much so that three months after its US release, it's virtually impossible to find anyone else to race against. When you do, those human opponents might mitigate Nail'd's greatest flaw and re-solidify crashes with much needed consequence, but they also serve to highlight its other, underlying weaknesses, as an insubstantial arcade racer whose parlour tricks soon grown tiresome.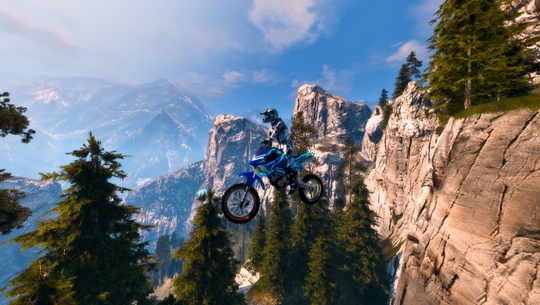 Flight simulator?
Verdict
Had Techland spent as much effort on gameplay as it so obviously has on visuals, I might be hailing Nail'd as a modest success. Instead, it plays more like a mediocre relic of a bygone gaming age. If you're in desperate need of some off-road action, do yourself a favour – ignore this and save yourself thirty quid by picking up a second-hand copy of the vastly superior Pure. ®
More Racing Games

Gran
Turismo 5
Need for Speed:
Hot Pursuit
F1
2010
Blur Vs
Split Second: Velocity