Original URL: https://www.theregister.co.uk/2011/02/09/terrorist_submarines/
TERRORISTS IN SUBMARINES menace the Free World!
Pale, smelly peril of underwater cocaine 'Love Boat'
Posted in Science, 9th February 2011 14:37 GMT
US security officials are reportedly worried that a new generation of drug-smuggling submarines - able, unlike their predecessor semi-submersibles, to travel completely submerged beneath the waves - might be used to carry out terrorist operations.
The "terrorists" quote comes from a new report by the Houston Chronicle on the only known true narco-submarine, which was captured last July by Ecuadorean security forces cooperating with US drug-enforcement agents.
After its seizure by the Ecuadoreans at a remote jungle "shipyard" complex, the narco-sub was taken to the port of Guayaquil, where it has now been examined by "naval experts from multiple countries", according to the report.
"It is everything it is supposed to be. It is a bona fide long-range, fully submersible craft," Jay Bergman, US Drug Enforcement Administration (DEA) chief for the Andes region, told the Chronicle.
"It wasn't the Love Boat," added the straight-talking fed.
The Texan paper also quotes Laurence McCabe, a professor at the US Naval War College, as stating that the appearance of true submarines in criminal hands is causing much concern in military and security circles.
"The US military is taking this threat very seriously and thinking through all the implications of this sort of platform," said McCabe, adding that such subs could easily carry terrorists instead of drugs.
Apart from this insight, the Chronicle report offers some new information on the sub itself. Apparently it had twin diesel engines for normal operation with exhausts and air intakes above the surface, much as in the case of the semi-submersibles long used in the Central and South American drugs trade.
However, the nameless craft also has a "diesel-electric power system", according to the DEA, which includes 100 "suitcase-sized" batteries installed beneath the deck of the main compartment housing crew, controls, engines and auxiliary machinery. The cargo hold forward is apparently capable of holding up to seven tonnes of narcotics.
A commercial fish-finding sonar is apparently installed, allowing the crew some warning of obstacles ahead even when fully submerged. A periscope is also fitted.
According to the Chronicle, McCabe also offered some figures on likely submerged performance:
He also said it likely would have been able to travel about 20 knots per hour [sic1] for up to an hour, but would have to slow to about 5 knots for more extended under­water travel. The faster it travels under­water, the more battery power it needs. The more it uses batteries, the closer it has to come to the surface to recharge them.
That would actually be excellent performance for a full size naval diesel-electric submarine built in a modern shipyard: an vessel improvised in a jungle backwater would be extremely unlikely to be capable of more than five knots flat out submerged, and would not be able to travel any large distance at all before running its batteries flat.
We know this because of the case of the French ex-spy and his speedboat-submarine factory in Dubai
A good indication of the best possible performance in this kind of tonnage range is offered by the specifications of the "Proteus" submarine speedboat formerly offered (and in one case built) by the now defunct company Exomos of Dubai. The Proteus, designed by former French naval officer, engineer (and reportedly ex-DGSE secret agent) Herve Jaubert2, used diesel-electric propulsion. Like the other Exomos subs a Proteus could manage five knots tops while submerged and travel as much as 50 miles at slower speeds of just a few knots before conking out.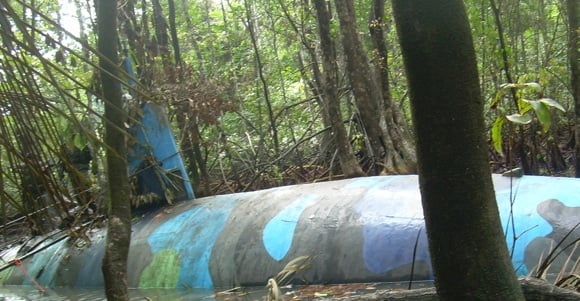 Crazy old-school WWII style camouflage. Or possibly a case of designers sampling the product.
That's probably the upper performance limit for small submarines using today's technology: the Ecuadorean narco-sub is unlikely to be even that capable. The narco-boat would be able to move at a crawl fully submerged, and perhaps travel as far as 20 or 30 miles like that - but in fact this capability would be mainly for escaping from or eluding the notice of patrol boats and ordinary search aircraft, not for travelling. Almost all the distance covered on a mission would be done on diesels - as has always been the case with naval diesel-electric subs, in fact.
Interestingly, the Chronicle reports that the sub's structure is of wood and its hull of fibreglass. It's thus almost certain that it isn't a true pressure hull, but instead functions like a diving bell: compressed air is released into the interior as it descends, matching the increasing pressure outside and keeping the water out.
Such a vessel is much easier to build and much lighter than a proper pressure hull, though it means that the crew must observe the same precautions against decompression sickness ("the bends") as divers going to the same depth would. Buildup of exhaled CO2 while submerged could be handled by simply flushing through periodically with more bottled air (at the cost of some telltale bubbles rising to the surface) or the use of sodalime scrubbers - easily available nowadays as part of the rebreather apparatus popular with some sports divers, or commercially supplied for use in hyperbaric chambers3.
We also learn that the narco-sub is at least as uncomfortable for her crew as naval diesel-electric boats were/are: the periscope would have offered the only view out, and the vessel is furnished with a single toilet of unspecified type. "No apparent sleeping area or galley, but there is room to lie down", says the Chronicle. It would appear that the possible narco-smuggler or terrorist submariners of today and tomorrow are likely to be every bit as pale and unhygienic as their naval brethren.
So, would this sort of sub be useful to terrorists?
Theoretically yes. You could use it to sneak people in and out of target countries, for instance, or to deliver weapons or explosives, or to mount attacks on oil rigs or stationary ships (it would not be much use against ones underway, being too slow to intercept or keep up with them even on diesels).
But the DEA reckon it probably cost $5m to build. The narcotics cartels can find that sort of money, but they'd expect to make it back again - and more than back again. The little sub could carry cocaine that would be worth $100m at US retail prices, but of course its operators couldn't expect to get anything like that for a bulk delivery (most likely in Central America or Mexico rather than the States). It might well have required several voyages to pay for itself.
Terrorists with $5m to spend (especially with no real prospect of any financial return) seem to be extremely rare birds, and if they exist there would seem to be better things to spend the money on (it's a lot easier to attack a ship or oil rig using a helicopter than a submarine). But sure, if there are some wealthy and determined terrorists out there this is a potentially quite effective route to go down. You could easily blow up cruise liners, tankers, oil rigs, pipelines; you could mount Mumbai-style sub-borne commando raids in the heart of London or whatever - various Bond-villain style plots.
But terrorists have plainly never seen North Sea Hijack
But it's worth remembering here that the Western navies, and since 9/11 large parts of the commercial maritime industry, have lived in a state of mild institutional panic about frogmen carrying out limpet mine attacks ever since SCUBA diving gear became widely available after World War II. Millions of man-hours and billions of dollars have been spent over the decades on measures against this plausible but in fact almost totally nonexistent threat.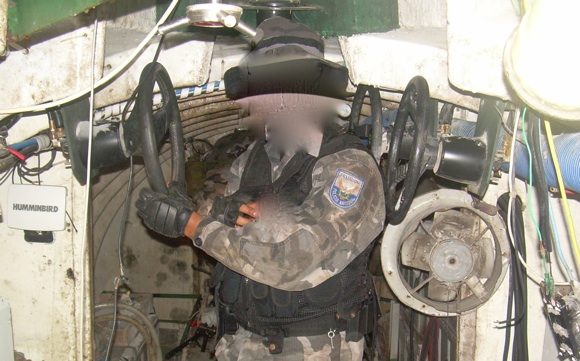 'It wasn't the Love Boat' - no shit, Sherlock
Ever since the 1970s oil boom in the North Sea, the British armed forces have also maintained a strong Maritime Counter Terrorist (MCT) organisation led by the Special Boat Service - which has stood almost completely idle apart from the regular round of training and exercises. The experience of the US has been much the same: generations of Navy SEALs and Force Recon marines have spent large parts of their careers doing countless VBSS and GOPLAT4 exercises at colossal expense, most of them without facing so much as a measly Somalian pirate or Iraqi oil-smuggler - let alone an actual terrorist gunman.
So we can see that just because terrorists could theoretically do a thing (in particular a maritime thing, as they seem to be even more sea-blind than most people) there's usually no real reason to think that they will do it. Especially if it is expensive and fairly technically difficult, as we see here. The real-world maritime skill limit for terrorists seems to be reached with the use of dead simple explosives-packed suicide speedboats, as in the cases of MV Limburg and USS Cole.
We should remember too that the big-league Western navies have also maintained massive anti-submarine forces throughout the Cold War, powerful enough perhaps to stand off the menace of full-sized, extremely sophisticated Soviet nuclear-powered submarines. Despite the almost complete disappearance of the Soviet sub fleet, most of these antisubmarine forces still exist and will for some time: the Royal Navy was still getting its latest Type 23 frigates and Merlin sonar/torpedo helicopters into service well after the turn of the century.
There are sure to be plenty of people in the US and other national-security communities furiously working on ways to counter the "new" mini-sub terrorist menace, as the Chronicle and its sources tell us: but in fact any rational assessment would suggest that far too many resources are already devoted to anti-submarine protection - and probably, to battling maritime terrorism in general. ®
Bootnotes
1A knot is a unit of speed, not distance. A vessel going at one knot is travelling one nautical mile per hour - roughly equal to one-and-one-quarter ordinary miles per hour.
2Jaubert subsequently fell out with his backers in Dubai and was forced to flee the Emirates authorities, who now claim that he embezzled money from the venture. Jaubert now lives in Florida: he says that the Dubai government, backing Exomos, pulled the plug on him against the terms of their agreement when the bottom fell out of the city-state's ramshackle finances in 2006/07 and that he has been made a scapegoat for the business' failure.
3As the crew burned up oxygen this would still need to be replaced one way or another. The easiest means of doing this would be by injecting a steady flow of air, but this would still mean emitting bubbles in order to get rid of the inevitable nitrogen surplus. Compressed oxygen could alternatively be used, though this would involve additional expense and danger.
Well-equipped narco-submariners who really knew about mixture gas diving might choose to keep the sub filled with a richer nitrox mix to minimise their decompression burden, or even to fill it mostly with pricey helium - which would allow the craft to descend much deeper, though this would not really be very relevant to the task at hand. A simple way to minimise costs and bubble trail while maximising safety would be to simply wear mixture rebreather apparatus while submerged.
4Vessel Boarding Search/Seizure and Gas or Oil PLATform operations.
Lewis Page is a former Royal Navy diving officer: as such he was exhaustively trained in mixture gas diving, covert attack swimming and underwater demolitions/explosive ordnance disposal. Certain supporting functions in the UK maritime counter-terrorist and special operations formations are carried out by naval divers, as with their US equivalents.