Original URL: https://www.theregister.co.uk/2011/02/09/review_creative_ziio_android_tablet/
Creative Ziio 7in Android tablet
Let me entertain you
Posted in Personal Tech, 9th February 2011 07:00 GMT
Review The Android tablets that have appeared lately seem to suffer an identity crisis, often unable to decide whether they're simply big smartphones or genuine tablet-computing devices. Creative Labs has taken a different approach with its new Ziio, producing an 'entertainment tablet' that is essentially a larger version of its existing Zen portable media player.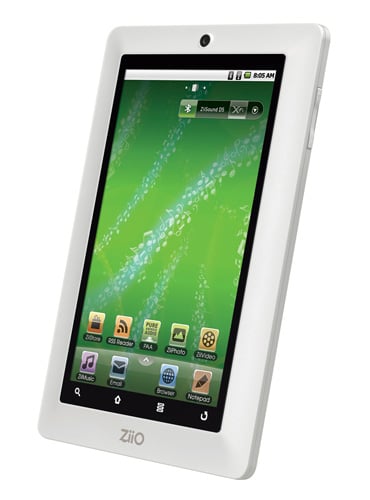 Media friendly: Creative's Ziio
The model that's currently on sale has a 7in screen, although there is a 10in model in the works as well. I tested the 8GB model, which comes in at £200, but there's a 16GB model also available for just £20 extra. The Ziio also has a slot for a MicroSD card, so you can easily add more storage if required.
It's powered by Creative's own ZiiLabs ZMS-08 processor running at 1GHz that's based on the ARM Cortex A8 – more details here. The Ziio currently runs Android 2.1, although Creative told us that it's planning an update to 2.2 "in the very near future".
The resistive touchscreen has a relatively modest 800 x 480 resolution but it's perfectly adequate for browsing the web and watching video. There's also a mini HDMI port on the top edge, so you've got the option of connecting to an HD TV if you want, although no cable is supplied.

Interfacing options offer big screen playback
Also along the top is a headphone socket, built-in microphone and volume control. There's a front-facing camera with VGA resolution just above the main screen, while the power connector is on the base. There's also a USB port for file-transfer, and the Ziio acts as a standard USB storage device when connected to a Mac or PC, so it's easy to copy files straight onto it. And, for networking, you've got 802.11g Wi-Fi and Bluetooth – but no 3G mobile broadband.
Closed market
Creative lays its cards on the table as soon as you turn the Ziio on. The first thing you notice is the 'X-Fi' pull-down menu located right at the top of the screen, which provides access to the device's audio and Bluetooth settings. The lower part of the screen is devoted to an iPad-esque dock, which holds the Ziio's four key apps – its web browser and the ZiiMusic, ZiiVideo and ZiiPhoto players.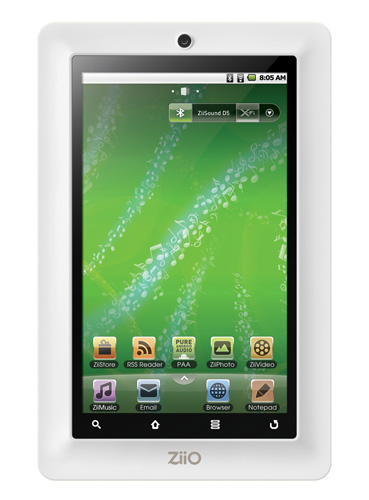 With no access to the Android Market, apps options are limited
There's also a set of four 'hard' buttons beneath the main screen, which allow you to search, return to the Home Page, display menu options for the currently running app, and a 'Back' button for returning to your previous menu selection.
It's that set of apps in the dock that sum up the Ziio's real focus – music, video, photos and a spot of web browsing. There's a further set of 10 basic apps on the main Home page, providing features such as e-mail, a calendar, and the Task Manager, which you can use to quickly switch between apps, or shut down apps that are running in the background.
There is also a button on the dock that allows you to open the Application menu. This displays a number of other built-in apps, which you can then drag onto one of the three home screen pages to create your own customised layout. So there's plenty of room for organising apps.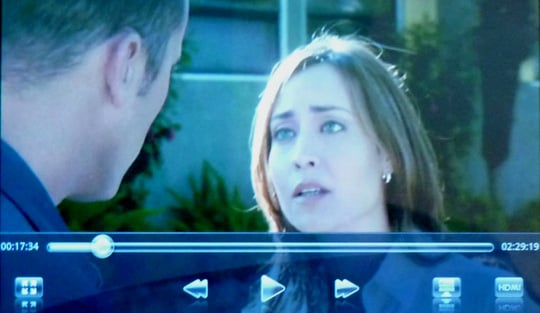 Comprehensive video format support and equipped with high quality audio streaming
The other built-in apps include the ZiiAcademy e-book reader, ZiiExplorer file browser, and the ZiiStore which provides access to Creative's own – somewhat sparsely populated – app store. You can get an idea of what's available here. However, there's no option for connecting to the Android Market, which means that locating additional apps on the net is going to be a bit of a chore. That again emphasises the fact that those four key apps in the dock are what the Ziio is really all about.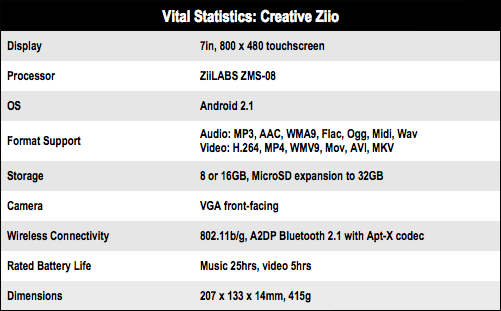 Sound choice
Still, if you do just treat it as a PMP with a biggish screen for watching video then the Ziio works pretty well. The tiny built-in stereo speakers are predictably feeble, but the output from the headphone socket uses Creative's X-Fi technology to good effect, and the Ziio also supports the Apt-X audio codec for high-quality streaming over Bluetooth.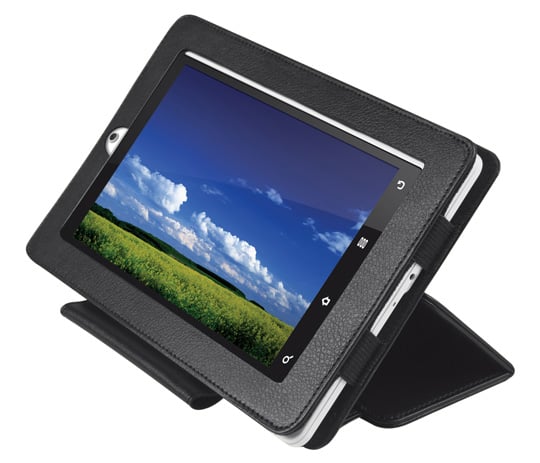 Hopefully, the Ziio's forthcoming Android update will address some of its limitations
The Ziio's video performance is good too. While the display isn't exactly high-def, it is perfectly watchable. I managed just a little under the quoted five hours of battery life when playing episodes of Dexter. And for less demanding tasks I found I was easily able to get a full day's use out of the Ziio before having to recharge the battery.
The one big disappointment here was the lack of Flash support, which means that the likes of YouTube and the BBC iPlayer aren't available – which seems like a fairly big omission in a device that calls itself a 'wireless entertainment tablet'. That said, the Skyfire app that transcodes Flash content does appear on the Ziistore, which is a possible workaround.
Verdict
The Creative Ziio does look rather limited when compared to some of its more ambitious tablet rivals – indeed, the refusal to provide access to the Android Market certainly seems like a rather short-sighted. But if you simply think of it as a portable media player with a 7in screen and a web browser, then it's a pretty good effort – and one that will earn its keep if you want to listen to music or watch some films on when travelling. ®
More Tablet Reviews...

Archos
101 8GB
Huawei
S7
Samsung
Galaxy Tab
Apple iPad
3G 32GB