Original URL: https://www.theregister.co.uk/2011/02/08/blackberry_ui_evolution/
A brief history of the BlackBerry UI
Obvious thinking
Posted in Personal Tech, 8th February 2011 14:00 GMT
About half the people with a BlackBerry know that if you press space twice you get full-stop space. But only a few of them know that you can use space in email addresses to get full-stops and @ symbols. Tell them and their eyes light up with the thought that their little tool has just become that much more productive.
This is the major problem with a user interface, and in particular mobile phone user interfaces: discovery. On a PC you can "lead" users into shortcuts and how to use things. A mobile UI should be just as obvious.
Ten years ago, Nokia had the reputation for being leader of the pack with user interfaces. There were two reasons for this. One is that they really did have the best UI. The other is that market dominance meant that they were the most familiar. So even complicated, not-so-obvious things such as pressing the "menu*" button to switch off the keyboard lock became natural.
That's the thing with user interfaces. Once you have become habituated to something it becomes second nature. Why should a square mean "stop" when the road sign is octagonal? It's all about balance: a balance of features against complexity.
Nokia gained the lead when Christian Lindholm brought psychologists in to understand how people related to phones. Before then the decisions had been made by engineers. One of the many fruits of this was the Nokia 6310, still cited as the best business phone ever. An early Bluetooth device, it really got the balance of ease-of-use against features right. One of the other, spectacular ease-of-use successes was the 3310 and the Navi-key interface.
All about buttons
Ask a product manager what would make their phone simple and they say "dedicated buttons". Let's have a button for the camera, one for turning the light on and off, one for GPS, one for Wi-Fi. Soon you have more buttons than a Cadbury's factory and it's horrifically complicated. What made Navi-key great was that in addition to the numbers there was up/down, cancel and a single softkey.
You want the fewest buttons for the tasks you want to complete. The problem comes when you add features. There is a balance between the number of buttons and what you want the phone to do. Start adding features to a phone with too few buttons and you've no idea what to press to do what.
Where the BlackBerry got it right, from day one, is knowing what it was about: messaging. And particularly email. Indeed, first generation BlackBerries didn't do voice, and when it was added, it was only with headphone. The BlackBerry has always been about email, a strength it takes from its "focus group of one": Mike Lazaridis, RIM's CEO. Instead of asking lots of naive users what they would like the device to do, the BlackBerry was built around Lazaridis's view of what a device should do.
This single-mindedness has helped keep the focus on mail, but as the number of features has grown the device has had to evolve. What's not shown, until OS 6.0, is that the foundations for a messaging-led platform make everything else work that bit better.
The first generation of BlackBerries
The first generation of BlackBerries – at least GSM ones as we saw them in the UK – had a two lines of icons – although there were more through scrolling. The excellent jog dial was a great mechanism for choosing which program you wanted. [Although RIM called it a 'trackwheel' to avoid the wrath of Sony.]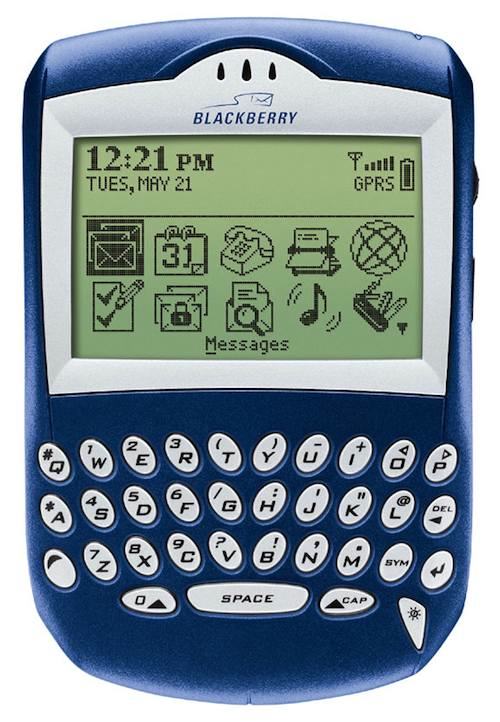 BlackBerry 6210
The process of select and confirm with a scroll and a click on the wheel was reasonably obvious and very quick. Keyboard shortcuts addressed the problems of scrolling through long lists: T for Top, B for bottom and M for more, when only part of a message has been downloaded. These mnemonics work well if you are an English-speaker but pose the problem with translation. Do you use new mnemonics in a different language – so that they are easy to remember, or do you keep them for consistency?
The advent of colour didn't affect the UI much. OK, we got three lines on the display, but a jog dial was still an excellent way to get through the menus. Unfortunately, the CSTN screen was muddy and poorly defined. Many users found their old, slimmer, monochrome device easier to use and read.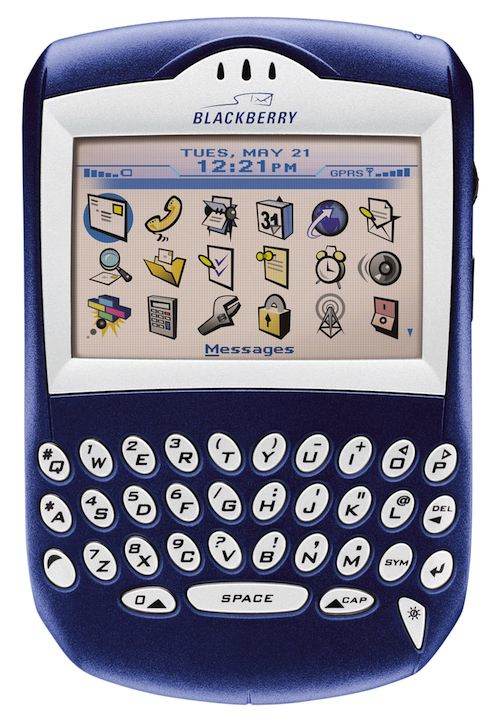 BlackBerry 7200
Despite being a Java OS, there was no need to add applications in the early days, but as time moved on the market changed. The increasing number of apps, growing screen size and the need to drill down into folders needed something where users could move more quickly from one icon to another without having to visit all those in-between. The track-ball provided the solution, again with a press to select.
Voice was no longer an adjunct to BlackBerry features and a more phone-like design meant that QWERTY keys wouldn't fit and be usable. While a high proportion of the world's population are happy with T9, American businessmen would rather use Christopher Scholes 1873 design than a Tegics' 1996 one. So QWERTY was fudged with a two-letter-per-key implementation called Suretype. This scores well on obviousness but ultimately falls between the stools of learning curve and eventual speed. This fate befalls the vast majority of text entry innovations from microwriting to fast-tap. Each develops its band of followers, but very few have seen the success of QWERTY or T9.
Understanding American businessmen, however, is something RIM is excellent at. This is why the phones have font scaling (albeit with a poor selection of fonts) and audio tone control, because old businessmen have failing sight and hearing.
Wisdom of Pearls
Teens don't - but they want something that looks cool. This led to the 8110 Pearl with its phone-like looks and glowing trackball, and the Pearl Flip. A flip is an interesting part of the user interface – a very definite way of answering a call, more akin to picking up an old-fashioned telephone receiver.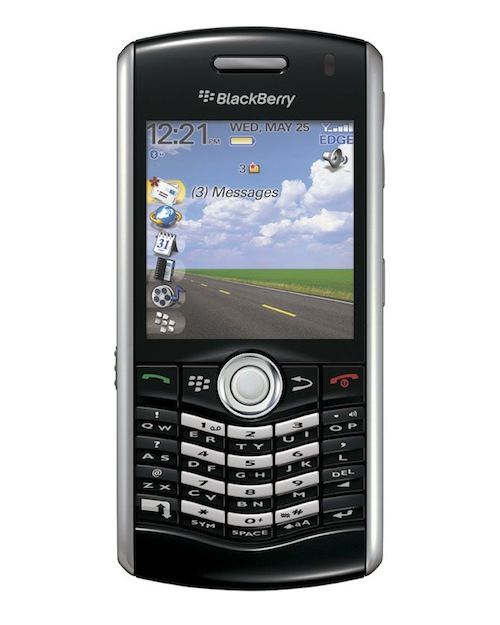 8110 Pearl
The switch from a trackball to an optical trackpad was driven by the high failure rate of the mechanical ball. There are repair centres that specialise in just repairing BlackBerry trackballs. Optical was a good solution – functionally identical and much more reliable. Touch had of course been around for a very long time before the iPhone, but Apple made it fashionable. Nokia had long abandoned its Series 90 user interface, dismissing two-handed devices, but the iPhone changed mobile phone direction. Nokia rushed out the 5800 and BlackBerry the Storm. Both were seen as 'me too'.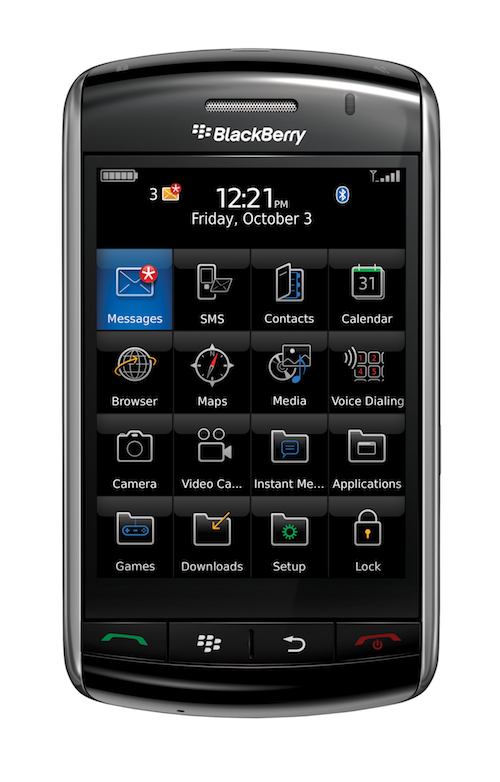 BlackBerry Storm
With the 9800 Torch, and BlackBerry OS 6.0 RIM has re-grouped. The touch screen gives the richness of access to lots of features without the need for too many, or overloaded buttons while the keypad makes it quick for typing and messaging. A touch screen device for people who don't like touch, and the difference between mainly navigating your computer by keyboard or by mouse.
Phones have had the ability to configure the home menus for a good 15 years, but before apps took off no-one bothered. With the advent of people having significant quantities of applications, and bigger screens users have discovered the merits of building a custom home screen. Touch works much better for organising icons, with dragging and dropping. There is a level of integration within applications. Having a central program for a number of social networks often works well, and many teens find that without BBM they don't have a social life.
The integration of messaging means BlackBerry Messenger sits alongside all the social networks, a logical place for it to be.
And it looks good. There are all the neat little UI tricks such as hysteresis and music with a coverflow-like level of presentation.
The Astonishing Tribe
RIM has strengthened its expertise in this area with the December 2010 purchase of TAT, The Astonishing Tribe, a Swedish graphics specialist whose super-fast routines owe more to computer games than anything else. Code from TAT sits in a huge number of phones but you never hear about it, as the handset manufacturers want to pass it off as their own. RIM isn't the first company to have looked at buying TAT but previous approaches have been rebuffed.
While TAT will maintain existing commitments with rivals to RIM, you can expect that development of their Android home screen won't be quite as gung-ho as it was. This is a useful bonus for RIM.
In the last decade mobile phones have changed incredibly, offering the same focus yet having the extensibility to let you access and get the most from a wide variety of functions is as much of a challenge as it ever was. Yet no one reads manuals and still only half of the users know that pressing space twice gives you full stop, space.