Original URL: https://www.theregister.co.uk/2011/02/05/review_equinux_tizi_ios4_tv_tuner/
Equinux Tizi iPhone TV tuner
Aerial views over iOS4 displays
Posted in Personal Tech, 5th February 2011 08:00 GMT
Review There's no shortage of TV tuners available these days, ranging from cheap and cheerful USB gadgets to more expensive network-enabled devices such as the Slingbox range or Elgato's Netstream. However, the Tizi is the first TV tuner I've seen that is exclusively designed for the iOS platform.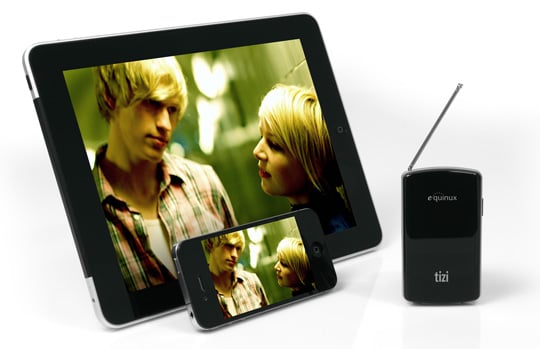 Portable TV: Equinux's Tizi
Tizi TV can only be controlled by the free Tizi.tv app that you download from the App Store within iTunes. Alas, there's no other software available that will allow it to work with an ordinary Mac or PC.
In hardware terms, the Tizi is a straightforward DVB-T tuner that receives standard-definition Freeview channels. It can't handle HD channels, but that's no great loss on the modest screen of an iPhone, or even the 10in screen of an iPad. A little more disappointing is the fact that it doesn't support BBC 'red button' services either.
The glossy black gadget is about the size of a fat credit card, with a 6in extendable aerial on one end and a mini-USB port on the other. That USB port is only used for charging the internal battery, though, as the Tizi uses 802.11g Wi-Fi to transmit the TV signal to your beloved Apple gadgets. And, rather than connecting to an existing Wi-Fi network, the Tizi actually creates its own self-contained Wi-Fi network instead.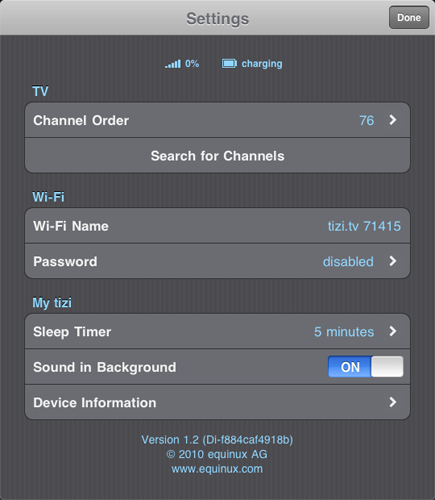 The Tizi's mini hotspot can be password protected
This arrangement allows the Tizi to act as a 'mobile TV hotspot', so that you can carry it around with you and watch live TV in any location that has decent Freeview reception without the need to find a Wi-Fi hotspot or thrash your 3G tariff. The Tizi will only broadcast to one iOS device at a time, but you can password-protect its wireless network to prevent anyone else stealing EastEnders away from you.
TV network
The Tizi.tv app is very straightforward. With the iPad or iPhone held upright, the app displays the TV image in the upper half of the screen, with a scrolling list of channels in the lower half. Turn the device sideways into wide-screen mode and the TV image expands to fill the screen.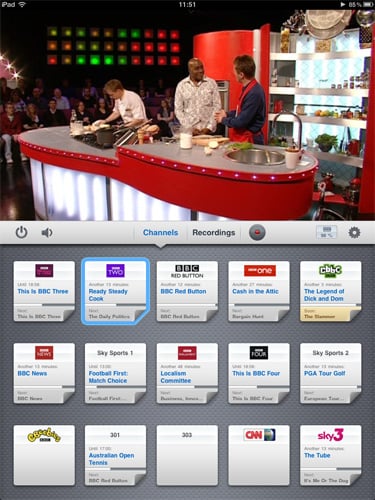 Video can be viewed full-screen when you rotate the iOS4 device
The image quality is perfectly acceptable given that it's standard-def only, and you can record programs to watch later or to transfer on to a Mac or PC using iTunes. However, the Tizi records in MPEG-2 TS format, so you'll need to look around on-line in order to locate suitable media player software for watching your recordings on a Mac or PC. VLC should do it, but the Equinux FAQ may save you some trouble on this and other matters.
The disadvantage of connecting directly to the Tizi wirelessly is that your iPad or iPhone can no longer use an existing network to remain connected to the Internet. Hence, it's not possible to quickly switch over to your web browser or any other app that requires Internet access – although 3G Internet access is still possible.

Alas, no interfacing for an external aerial
The other thing that I found disappointing is that the Tizi can't be connected to an external aerial. I tested the Tizi as I travelled around London over the course of several days. Its outdoor reception was generally pretty good, and I was able to watch TV inside a number of suitably trendy coffee shops, as long as I sat near the windows. Overall, the battery life matched Equinux's claims of around 3.5hrs.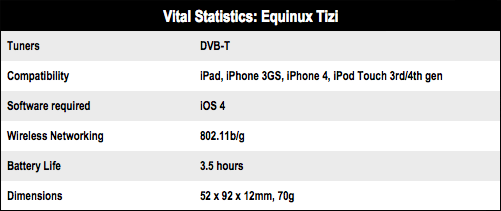 Signal discontent
Meanwhile, back at the ranch, Freeview reception in my own home in central London was non-existent and, however cumbersome, without the ability to connect to the larger aerial on my roof the Tizi was simply no use at all for watching TV at home.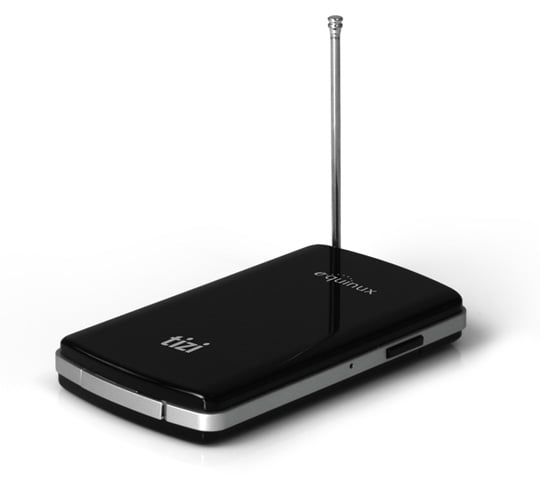 Nice idea, but the fixed antenna could be a problem for some
Verdict
The Tizi is a perfectly good option for watching live TV on an iPhone or iPad – as long as you're in a location that has very good Freeview reception. That's the case with most Freeview tuners, of course, but most conventional tuners also have the ability to connect to an external aerial as well. The fact that the Tizi relies solely on its own modest 6in aerial limits its usefulness here in the UK, where Freeview reception still varies widely across the country. ®
More AV Gear Reviews…

Western Digital
WD TV
Live Hub
Gear4
UnityRemote
Sling Media
Slingbox
Pro-HD
Group Test:
AV Receivers