Original URL: https://www.theregister.co.uk/2011/02/04/nokia_r_and_d_efficiency_not/
Apple '6x more efficient' than Nokia at smartphone R&D
We're really uncompetitive. Let's have a meeting
Posted in Networks, 4th February 2011 13:50 GMT
Even Nokia's new CEO recognises that the company's Soviet-style bureaucracy – it employs over 120,000 staff – prevents it from competing quickly and effectively. (See When Dilbert Came To Nokia). But quantifying the cost of this bloat is difficult.
Now analyst company Bernstein Research has attempted to break down the R&D spending across the industry, at companies, including Nokia. According to Bernstein, Nokia's 17,200-strong engineering effort is composed of the following: 4,700 in hardware design and testing – fairly indispensible for a consumer electronics hardware manufacturer – with all remaining staff in software and pure research. Symbian occupies 6,200 staff in all; MeeGo and Qt 1,800; and Services use 1,800 staff members. The "mobile phones" division is staffed by 1,800, pure research and the Networks (non-handsets) division take up the rest. That means around 11,600 Nokians work on software, and 8,000 do smartphone-related work (there is some overlap of the staff between the two).
Yet the market return on the R&D is disproportionately small.
Cult blogger Horace Dediu has matched the Bernstein guesstimates to profits, and made similar guesstimates for Apple's R&D allocation. He calculates that Nokia spends six times as much on R&D on each smartphone than Apple does. Cupertino has an estimated 3,200 iPhone/iPad engineers. Apple's tightly managed teams are a model of efficiency.
The figures are actually extremely generous to Nokia. Obviously, Nokia has a far more heterogeneous product mix: Apple doesn't customise phones for 130 markets, many of which take low margin products. It doesn't make dual-SIM phones either, for example.
But where, you may ask, are the economies of scale? Nokia's leading market share in each should have translated to lower R&D expenses. Many of Nokia's products share common components. Both the feature phone (S40) and smartphone (Symbian) products use older, cheaper parts than their rivals – less bleeding edge tech means lower engineer costs, surely?
A good example of R&D bloat is the acquisition of Trolltech, for its Qt tools and libaries. This was a smart move that gave Nokia a unified platform API. But it took Nokia almost three years to bring it to market – it is still not quite complete, say developers – and along the way Nokia lost both of Trolltech's founders (Haavard Nord and Eirik Eng), and Trolltech's brilliant CTO, Benoit Schillings.
(Schillings should be hired back as Nokia's CTO, and given Maoist cadres to eliminate the bourgeois counter-revolutionaries, and other middle-management).
And Ovi doesn't help. Ovi is a disparate bunch of services that nobody really wants to use. Perhaps one or two are worth keeping – but the low quality of the Nokia service stack and its lack of integration makes an Ovi-equipped Nokia device less attractive than a Ovi-less Nokia device next to it – and less attractive than a Samsung or LG phone that takes the user to eBay or Facebook or Google Maps so much more easily.
Crap software is only part of the problem
The emphasis on software R&D, however, is just one factor in Nokia's difficulty in getting cool stuff to market.
By Bernstein's calculations, the company has over 100,000 staff who represent a cost of a sale. In recent years the Strategy Boutiques have sprung up throughout the company, with thousands engaged in measuring, monitoring, feedback and other non-productive duties. (All are conspicuously absent at Apple).
Here's an example, illustrated.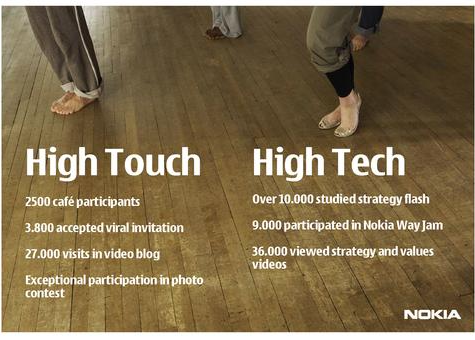 Nokia Way Jam
The "Jam" was a massive (and massively expensive) consultation exercise designed to satisfy the management's passion for fads of "Crowdsourcing", "Open Innovation" and "Wikinomics" – more here.
Marketing functions need to be pared back to keep the brightest and the best – and to remove the meeting culture so well described recently. Several levels of management probably need to go.
As several pundits have said – in defiance of the received market wisdom – perhaps Nokia's platform strategy isn't so bad. But it seems unable to execute on it. ®