Original URL: https://www.theregister.co.uk/2011/02/04/games_review_mindjack/
Mindjack
The future is mental
Posted in Personal Tech, 4th February 2011 12:00 GMT
Review 'Do you wish to continue?' It's a question games have always asked after death – a challenge to players to overcome defeat and try, try, and try again. But when that same question is posed upon completion of every stage, as in MindJack, what initially comes across as over-politeness quickly begins to feel just plain apologetic. And, believe me, MindJack has a lot to apologise for.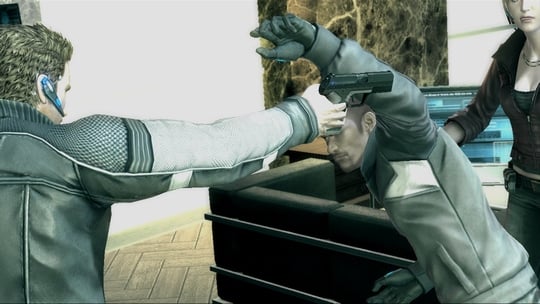 Disarm with dis arm
Painfully familiar third-person cover-shooting aside, MindJack's greatest failure is to squander its fertile premise. Set in 2031, a plot barely tangible enough to hang its maguffin on, sees nebulous governmental and commercial powers fighting a covert war to monopolise mindjacking – a technology that can hack into and control minds and machines.
It's a technology that should translate into gaming gold. While already touched upon in Deus Ex and Bioshock, among others, its promotion to central conceit promises a rich seam of novelty. But MindJack's unimaginative execution lacks the invention required to tap this potential.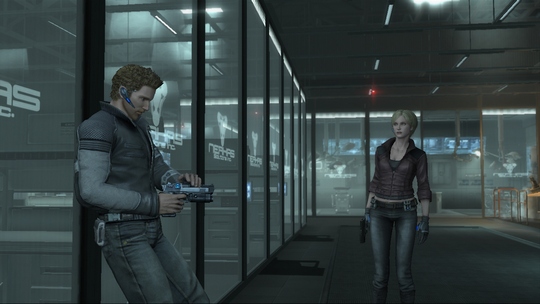 Wanna stroke my gun baby?
Just two powers distinguish field agent Jim from the generic cover-shooter mould of Marcus Fenix and Nathan Drake. The first, Mind Slave, exploits a brief state of vulnerability before an enemy's death to enslave their mind and force them to fight alongside you. The second, Mind Hack, allows you to leap out of Jim's mind, float about the battlefield all Chocky-style and take complete control of an idle machine or friendly NPC.
Stop reading my thoughts and jack off
MindJack struggles, however, to integrate these powers in a consistently engaging manner. Mind Slave introduces an element of resource-management to combat, but enslaved enemies and machines are much weaker than their counterparts, and rarely survive more than a few seconds. And when you do enslave a sufficient number to trouble the enemy, the absence of squad commands relegates combat to a spectator sport.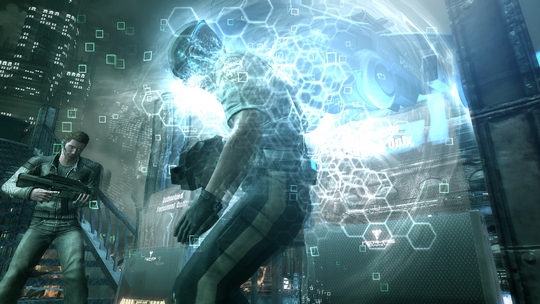 I'll have a Arrgh please Bob!
Mind Hack also suffers from the lack of squad commands. Circumvention and flanking tactics are rendered impossible by team mates who can't hold a position. Leave Jim's brain to reconnoître and MindJack's consistently weak AI takes over, often rushing him suicidally through the battlefield. The same occurs when felled.
Instantly ejected from Jim's mind, you need to inhabit his sidekick Rachel – never intelligibly introduced – and revive him using a third mind power – never clearly explained. But if Jim and Rachel are felled, it's game over. So it becomes a desperate race to reach Rachel before she sets her off on her own suicidal run to save Jim. MindJack? MindF*ck more like!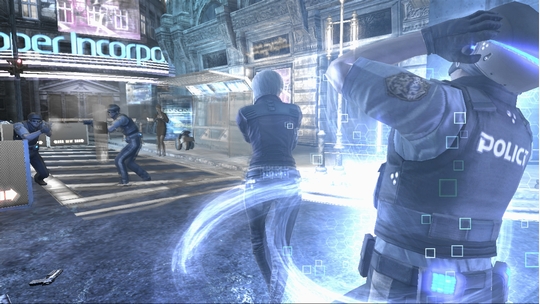 Mind if I cop out?
None of which would matter if the narrative and cover-shooter foundations were solid. But they're not. At best, developer Feelplus has crafted a poor imitation Western shooter, at worst an embarrassing cultural gaffe. MindJack debases the cover-shooter genre to abject stereotypes, where flimsy exposition and sketchy military flashbacks provide chiselled-cliché Jim's motive for a six-hour bullet-sprint, fighting dozens of identikit enemies across dozens of well-trodden levels.
Concrete jungle
The fight through sterile airport lounges and grimy dystopian cityscapes against grunts, faster grunts and rocket-wielding grunts is bad enough first time around. But dismal checkpointing forces replays, of up to half-an-hour at a time, are especially painful when culminating in one of the uninspired boss battles against mechs, tanks, helicopters and, oddly, gigantic biotic gorillas.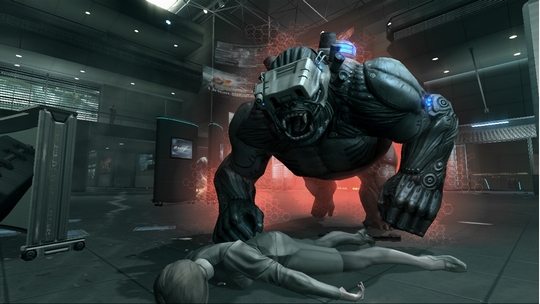 Over my dead body
To compound the drudgery, MindJack's on-line features offer the opportunity to hack into other people's single-player campaigns to aid or hinder them, much like Demon's Souls. And so, twenty-five minutes into your third retry of a difficult stage, you can suddenly encounter human opposition. Able to switch between enemies after death, and able to exploit distraction and break the confines of the game's AI to flank you, the balance of power rests firmly with antagonists.
Fortunately, hacking can be disabled in the options. And on the flip-side, the chance to hack an unsuspecting noob and run amok provides an addictive schadenfreude that temporarily elevates MindJack well above its otherwise lacklustre gameplay.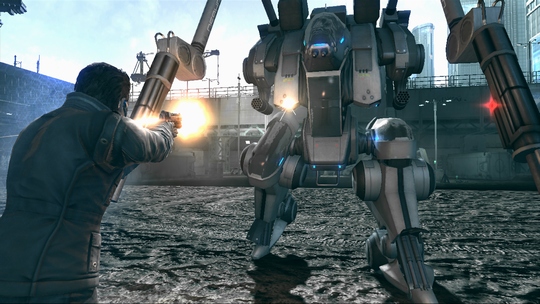 No mettle, just metal
Verdict
Towards the end of the game, your partner Rachel asks you to "shoot first, ask questions later." It's a facile cliché that typifies a lack of imagination and perfunctory cultural stereotyping. On this evidence, it's no wonder that developer Feelplus was recently disbanded. For it seems the company ethos was: shooting is the answer, Alas, MindJack never bothers to reveal the question. ®
More Games Reviews

Dead
Space 2
Little Big
Planet 2
DC Universe
Online
Mass Effect 2
For PS3