Original URL: https://www.theregister.co.uk/2011/02/03/review_desktop_pc_acer_revo_rl100/
Acer Revo RL100 media centre
The living room PC revisited
Posted in Personal Tech, 3rd February 2011 13:00 GMT
Review It's been a long time since PC makers started trying to get PCs into people's living rooms. Originally it was all about games, but consoles soon became a cheaper and better-supported option. Now, it's about TV and disc playing, in particular 3D, HD viewing and Blu-ray too. Acer seems keen to revive the lounge PC and with the Revo 100 it endeavours to address all these content choices.

Acer's Revo RL100: AMD PC with 3D and Freeview viewing options
This is a very slim-format PC, barely 25mm thick and with a footprint smaller than A4 – cut a 25mm strip of the width of an A4 sheet and you're about there. It can be used flat on the desk or slotted onto a heavy cast stand to sit vertically. It has a matt black finish – let's hope high-gloss, piano black is at last past its sell-by.
At the front are slots for SD and Memory Stick, a USB 2.0 port and a notebook-style Blu-ray drive. Round the back are two more USB 2.0 ports, mini jacks for mic and audio, together with optical audio, HDMI, gigabit Ethernet and a TV antenna connection. Perhaps the most interesting thing about the machine is the rectangular pad which slides out from under the Blu-ray drive.
This pad remote is an innovative way of communicating with your PC. It has two modes: keyboard and touchpad and you switch between them using the only physical button on the device, set into its back edge. In touchpad mode the pad is much like a notebook touchpad, though bigger and supporting multi-touch gestures. It's reasonably sensitive and, as far as Windows applications support multi-touch, an easy way of working.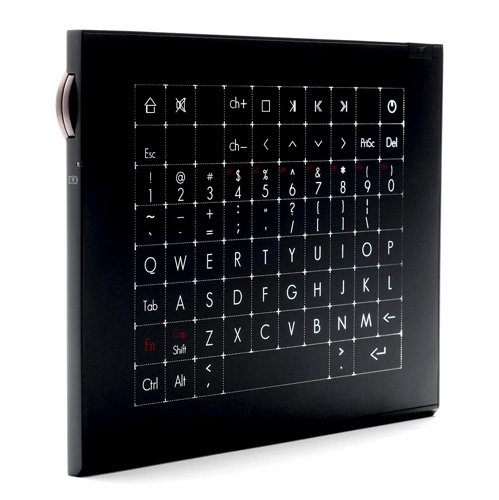 Tablet computing?
There are problems, though: the pad is larger than its active area and it's too easy to slide your fingers or thumbs into the dead area framing it. There's no delineation of the mouse button areas with textures or printed outlines, either, which makes single and double-clicks awkward. The bronzed control wheel at the edge of the pad, which acts as a volume control when the pad is docked in the Revo, becomes a mouse click wheel when you're using the touchpad.
Remote access
In keyboard mode, the pad illuminates to show a complete touch keyboard. The key layout on our sample appeared to be for a pan-European Revo, so most of the vowel keys were crowded with accented variants. There is a UK version, though, which is less busy – check you get one.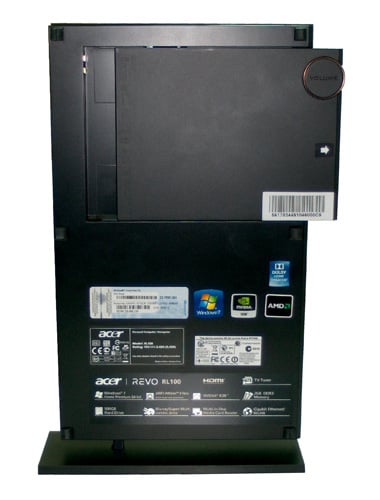 The tablet remote resides in the body of the beast
As well as the standard Qwerty keys, there are several more suited to a remote, including Home, Back and cursor arrows. They have a light, positive touch, sometimes a little over-sensitive, but each key-press is beeped, so at least you know when you've double-keyed.
The Revo 100 is based on a 64-bit, dual-core AMD Athlon II Neo K325 processor, slightly surprisingly twinned not with ATI graphics, but with an nVidia ION GPU. There's 2GB of DDR3 memory fitted and a socket for another stick, if you want to increase it. The Sata hard drive is a 2.5in, 500GB model.
It's good to have a Freeview tuner included in the machine, as it's then set-up through Media Centre for TV playback with a minimum of fuss. However, there's only a single tuner, so you can't watch one channel while recording another, and the tuner isn't HD-capable, an odd design choice on a machine geared to HD output through Blu-ray.
Benchmark Tests
PCMark Vantage Results

Longer bars are better
The machine works well. Although the processor runs out of steam if you try and play games that need much processor poke, it's well capable of running Blu-ray at 1080p with no noticeable artefacts, as well as HD content from other sources. It's obviously up to Internet browsing and can also stream content from a wide variety of sources, thanks to Clear.fi.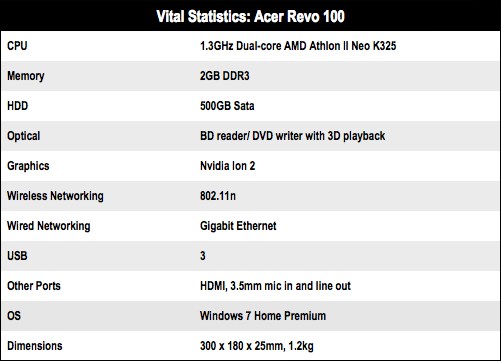 Home choice
Clear.fi is Acer's wireless sharing technology, designed by Cyberlink, which can connect up pretty much any DLNA-certified content sources and display them on your TV. It managed to take shared content from networked PCs and a Nas without problem and you can transfer clear.fi drivers from a USB drive for any awkward devices.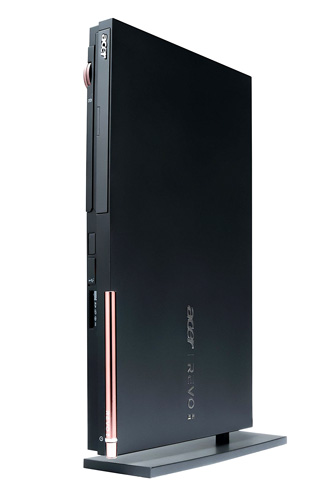 Turn on, tune in and fork out
PC Mark Vantage results don't show anything particularly startling for the Revo 100, which is slower in some areas than a typical notebook. However, it did well enough in the Comms and TV & Music categories to demonstrate where its strengths lie and it is near silent in use, except when the Blu-ray drive's running. As a media PC, it's closer to doing what's needed than any Atom-based machine I've seen.
All that's left is to wonder about the pricing. Yes this is a fully functional PC and copies of Windows 7 Home Premium don't come cheap, even for OEMs. However, you can get a Blu-ray player, like Samsung's BD-C8200, with most of the features of this PC, a lot cheaper.
Verdict
Do you pay £600 for a Windows 7 based media PC with Blu-ray, Freeview, PVR, 3D and wireless for Internet, or £350 for a standalone player with Blu-ray, Freeview, PVR and wireless for Internet. The decision to buy a Revo 100 comes down to whether you need the other facilities of a Windows PC in the living room. ®
More Desktop Computer Reviews...

Apple
Mac Mini
Server
Apple
iMac 21.5in
Cyberpower
Ultra Scylla
six-core AMD PC
Group Test
Mini Desktop PCs