Original URL: http://www.theregister.co.uk/2011/02/02/review_smartphone_motorola_defy/
Motorola Defy Android smartphone
Hardy handset for the rough and tumble
Posted in Personal Tech, 2nd February 2011 07:00 GMT
Review As the first rugged - well, semi-rugged - Android handset, the Defy's ability to survive mistreatment by careless party-goers is the central pitch of Motorola's advertising campaign but there is rather more to it than that.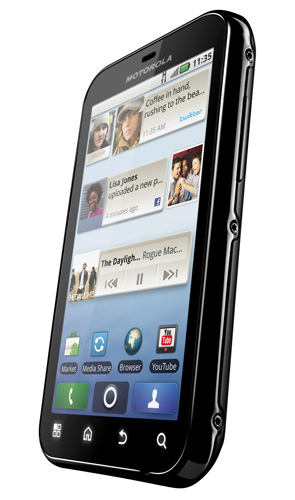 Rough diamond? Motorola's Defy
Let's start with the cost. The Defy is available from T-Mobile on contract for twenty quid a month which for a large-screen smartphone is a pretty good deal. Granted T-M's recent idiotic change of its fair use data policy was clownishly mishandled and it deserves a kicking for it but 20 knicker is still only 20 knicker.
Now let's take a look at what you get for your money. A 16 million colours 3.7in 480 x 854 capacitive touchscreen, an 800MHz processor with 512MB of RAM and 2GB of built-in storage, plus a chunky 1540mAh battery and a very handy form factor. At 59 x 107 x 13.4mm and weighing 118g it's one of the smallest and lightest phones around that features a screen above 3.5in.
In the absence of an official IP (International Protection) Code rating, "rugged" here means you can dunk it in up to 1m of water for 5 minutes without harm and that it's scratch proof and dust resistant. The first and last feats are achieved with the help of little rubber plugs that seal up the MicroUSB and 3.5mm audio ports and a very solid and tight-fitting battery cover.

Torx screws adornments provide a touch of machismo
The dunking test in my bath was passed with flying colours and the Gorilla Glass screen showed no ill-effects after being attacked with my car keys. I couldn't find any dust in Manchester in January, but if it keeps out water I'm prepared to believe it will survive being buried in the Kalahari too.
Hard case
A two metre drop onto a lino kitchen floor was also shrugged off. That said, I have read that a 1m drop onto concrete caused a screen to crack. As with all rugged devices, the exact angle of impact will always have a part to play in its survival.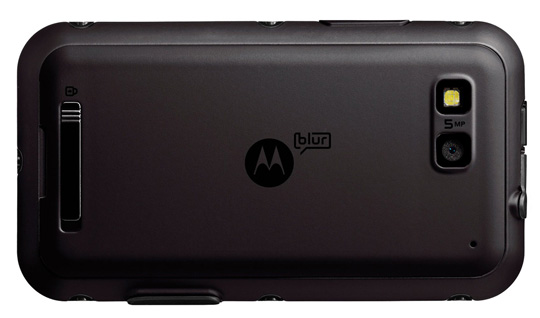 The back panel has to be levered into place to lock it down to seal it
The Defy's semi-tough credentials are advertised by seven small Torx screws that appear to help keep the two halves of the handset together. These may be as much for show as anything else – and I can see them gathering crud over time – but it's still a good looking and solid device. 
 As you can see from the images, the front is almost all screen apart from the four capacitive Android buttons below it. The textured, rubberised sides and back mean even sweaty palms and greasy fingers keep a firm grip, while also providing some extra impact absorption.
The version of Android in play here is the less than fresh v2.1 (Éclair) but Motorola says it has plans to upgrade the Defy to 2.2 in the admittedly slightly vague sounding "Q2". You can get that from the horse's mouth here. The disappointment of having to make do with 2.1 is lessened slightly by Motorola installing Flash Lite 3 but you still can't watch BBC's iPlayer or other video content in a web browser. A YouTube app is preloaded though, so you're not all out of the latest moving pictures.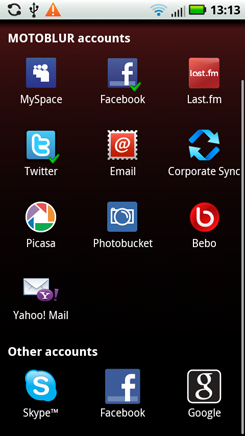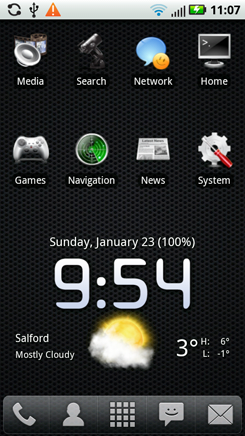 Motoblur accounts options and the Launcher Pro alternative
Pasted on top of Android you get Motorola's Motoblur social aggregation front end. I'm not a fan of having my phone book, Facebook and Twitter accounts tied together into a social Gordian Knot and I found the interface rather stodgy. Instead, I swapped it out for Launcher Pro, which is simpler, faster, more flexible and free. However, if you are a compulsive networker, Motoblur does a good if slow job of linking up your contacts and feeds.
Character building
Two bits of bundled software worth having are the Swype keyboard and My Music. The first lets you string together letters by dragging your finger around the keyboard without breaking contact. It features a freakishly clever predictive system to make text entry lightning fast with almost no practice.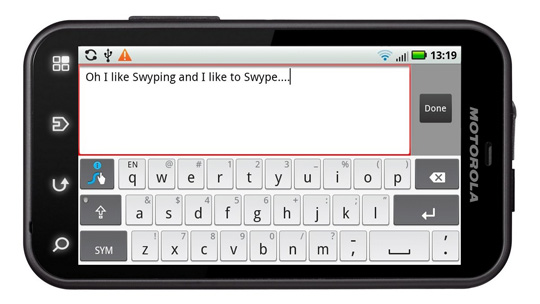 Join the letters typing is enabled with Swype
My Music basically links your music library to the net so you can see the lyrics and jump to related on-line content while also incorporating an combined ShoutCast/RDS FM radio and SoundHound. Sound quality is rather good once you have found the ludicrously well-hidden sound modification settings so if you buy a decent pair of earphones the Defy makes a cracking PMP.
Also worth a mention is the DLNA app that lets you not only play but also copy media to and from any compatible server, the Wi-Fi hotspot application and Moto Phone Portal which is a sort of PC Suite-lite that you can use to view your phone's content and send text messages via a web browser over either a USB or Wi-Fi connection. You can also add or remove files but only if you are using Internet Explorer.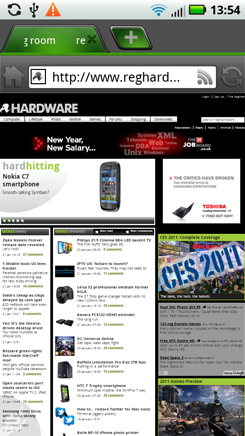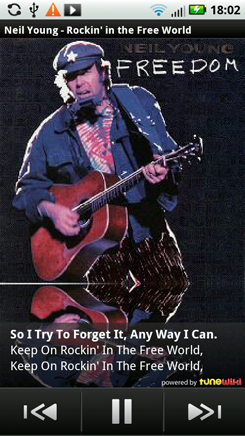 Web browsing and the My Music app
In day-to-day use the 200MHz that the TI OMAP3610 CPU (well, probably a 3610, the clever money is now leaning towards it actually being the superior TI OMAP3630 despite what Motorola says) gives away to a 1GHz Snapdragon or Hummingbird chip isn't really noticeable with both the operating system and Motoblur-less UI whistling along smartly.
Fast talker
Street View and Google Earth both ran as quickly on the Defy as on the HTC Desire HD I looked at earlier in the month and 720p Xvid/DivX video playback was as fluid as anyone could wish for using vPlayer. Even having multiple apps running didn't slow things down.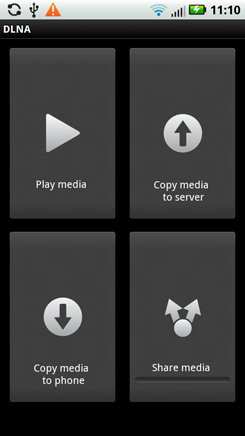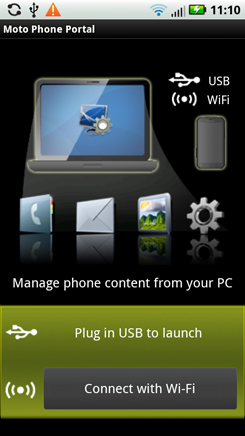 DLNA and Wi-Fi hotspot options
A slightly slower chip does pay dividends on the power front though. Combined with the fair sized capacity battery I was able to get the best part of two days from a charge once the battery had settled down.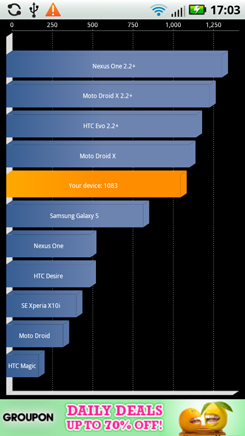 Quadrant speed tests
There is nothing much to report on the snapper front. The front facing camera is remarkable only by its absence and the rear facing 5Mp unit is nothing more than we've all seen before on any one of a dozen other Android phones. It comes with auto-focus, a single LED light, a reasonably quick turn-around time and turns in a decent performance overall.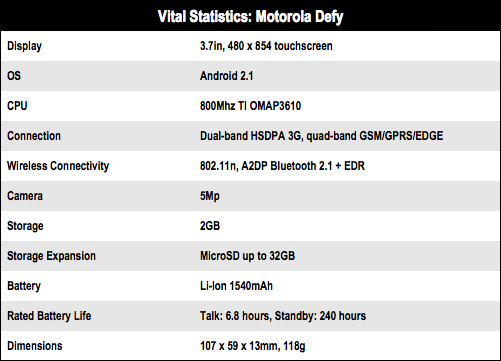 Sonic boon
Call quality – a feature often overlooked in modern do-it-all smartphones – is excellent. The Defy uses Motorola's CrystalTalk Plus system with two microphones for active noise cancellation, which is a combination that results in the best call quality I have encountered on an Android or iPhone handset.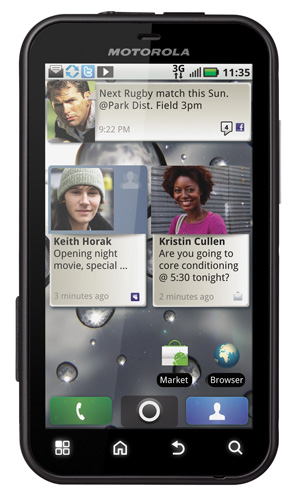 Neat, nifty and takes the knocks
Verdict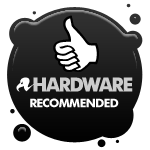 Despite the bargain basement contract price and dinky size the Defy delivers a big screen, tough as old boots build quality, good battery life, excellent voice call characteristics and the largest applications storage space of any Android phone this side of a Nexus S. The only slight disappointment is the absence of Froyo but I'm prepared to take Motorola at its word that an update will arrive before June 30th. It better had do, in a rare putting-money-where-mouth-is moment, I've just bought one. ®
More Android Smartphone Reviews...

HTC
Desire Z
Google
Nexus S
LG
Optimus One
Motorola
Milestone 2