Original URL: http://www.theregister.co.uk/2011/02/02/review_denon_ceol_apple_airplay/
Denon Ceol with Apple AirPlay
Mini combo hi-fi gets iTunes streaming tech
Posted in Personal Tech, 2nd February 2011 13:00 GMT
Review Denon has been holding back on the release of its new Ceol music system until it received an Apple AirPlay upgrade, which happened this week. Now, as well as playing CDs, docking your iPod/iPhone, playing FM/AM and internet radio and streaming music from a wireless network, it can also link up with iTunes on your computer or iOS4 device. Throw in support for Internet streaming services from Napster and Last.fm and you've got a very versatile system.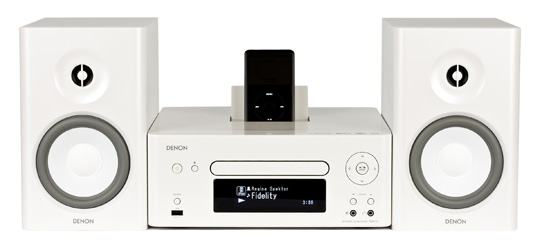 Denon's Ceol features both the RCD-N7 combo hi-fi and SC-N7 speakers
There's been some confusion about the pronunciation of Denon's new box of audio tricks, but for now the company is sticking with kee-ohl (rhymes with keyhole) – Irish Gaelic for music apparently, and reflects the company's base in Northern Ireland.
It's a very neat looking white plastic box measuring 28 x 11 x 30cm and weighing a relatively lightweight 4.3kg. There's a minimalist functionality about it and an almost retro feel in the way it seems to hark back to those early, pre-Touch iPods.
At the front is an OLED screen that will show up to three lines of text (the highlighted one in the middle is twice as big as the other two). Above it is a CD drawer with sliding disc tray and around it are a USB port which you can play tracks from, 3.5mm aux input and headphone jack, plus player controls.
On top is an iPhone/iPod dock hidden beneath a flip-up cover and around the back are stereo speaker outputs, subwoofer and aux analogue in/outputs, optical in, plus aerials for FM/AM radio and Wi-Fi, and an Ethernet port.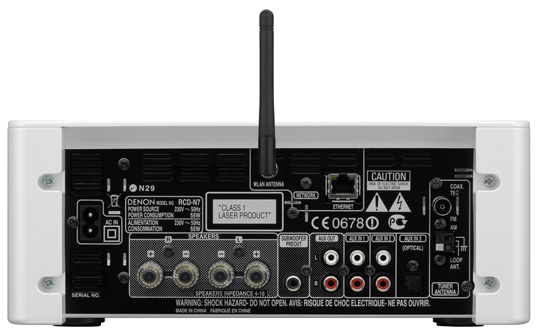 Interfacing aplenty includes both wireless and Ethernet networking
It's available with a pair of SC-N7 standmount speakers from Denon, each with 12cm bass/mid driver and 2.5mm dome tweeter. While they have a nicely tuned midrange with a sweet tone to the high end, there's not an awful lot of power in the bass.
Cabinet shuffle
You're not stuck with Denon's drivers though. For £500 or thereabouts you can get the unit without SC-N7 speakers and use your own. The 65W Class D amplification inside will certainly drive considerably more powerful speakers – I tried it with a pair of Quad 12L2s, a chunky standmount with power handling up to 100W, and they turned in a perfectly fine performance, particularly with CD and lossless recordings (it can play Apple Lossless and FLAC files).

The output selection appears in the bottom right corner of iTunes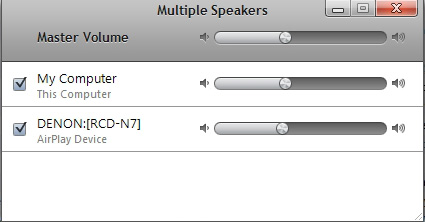 iTunes offers level controls for different output configurations
The Ceol's DLNA capability meant it was easy to connect to my PC and also my Buffalo LinkStation Mini Nas server and play back all the tunes on there. It recognised playlists that I'd set up in Windows Media Player too.
While it worked equally well with both PC and Nas options, as tends to be the way with these things, navigating through your music collection from the three-line display is a rather limited. That said, the remote's alphanumeric keypad does help as it enables you to skip through your track or artist list by simply pressing a letter.
To get you beyond small screen squinting is where Apple's AirPlay comes in. It's available as a Ceol system download and makes the business of sorting through your music collection easier by linking to iTunes on your computer. The catch is that the upgrade will cost you £39, which seems a bit steep, though you may be able to find a dealer who'll bundle it in with the price of the unit.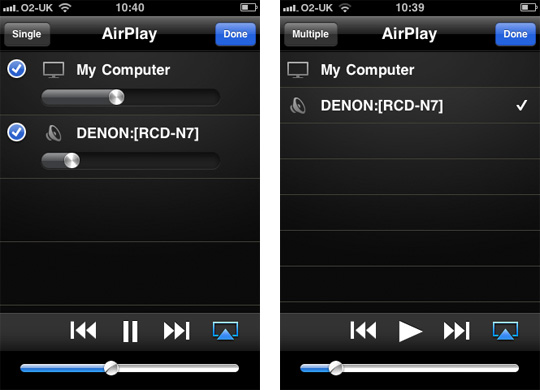 Similar configuration choices appear on the iOS4 devices, as shown here on an iPhone
Once installed you can then select from iTunes on your computer whether you want to play through your computer speakers or the Ceol. Anyone who owns an Apple AirPort Express will be familiar with this sort of configuration.
Remote viewing
Obviously, using iTunes to arrange your tracks and set up playlists is much easier than content navigation from the Ceol's screen. Even better, there's a remote control app for the iPhone, iPad or iPod Touch that allows you to make your selections from your handset. You can't create a new playlist remotely, but you can find what you're looking for quickly and easily.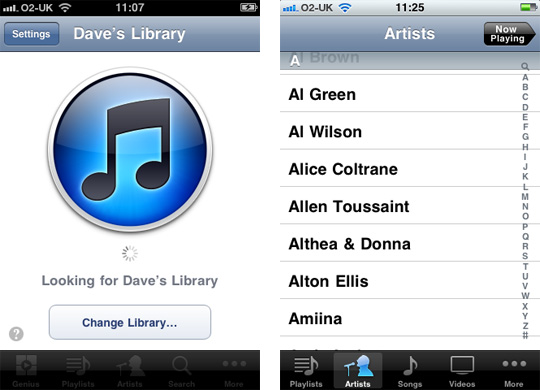 Accessing an iTunes library on a Nas can be done remotely
While testing, on the whole I resorted to playing back tracks stored on my Nas drive through iTunes on my PC while controlling them from my iPhone, and it worked a treat. You can also play back tracks directly from your (or someone else's) iPhone, iPad or iPod Touch.
You can play back through up to six sets of speakers simultaneously, though it won't let you assign different tracks to different speaker sets at the same time, so it stops short of being a genuine Sonos-bothering multi-room system.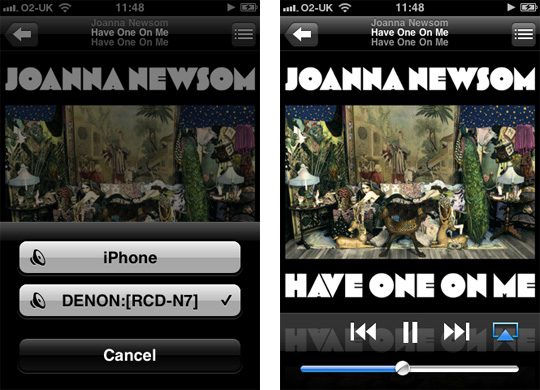 Local or remote playing options
When you're using AirPlay however, you'll lose the use of the standard remote, and will have to rely on your computer or your iPhone. You can change source from the remote, say to CD or radio, but if you want to get back to AirPlay, you'll need to reconnect using iTunes, either on your computer or your handheld.
Reliable sources
Using AirPlay was seamless and easy, and it effortlessly integrated into iTunes without any fuss – as soon as the Ceol logs on to your network, it automatically links with iTunes on your computer and your iPhone. There was however the occasional glitch when the music would stutter for a split second. This may be unique to the test model I tried, but it's something to look out for.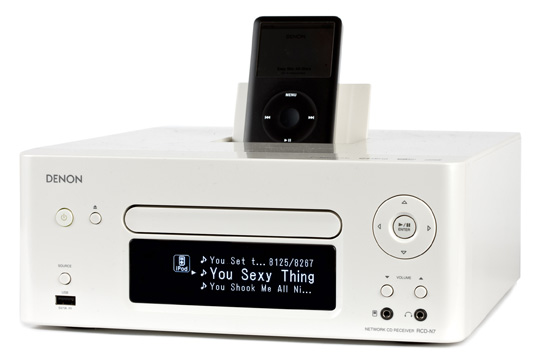 An iPod dock is included if AirPlay's £39 upgrade tariff chafes a bit
Verdict
Overall, the Denon Ceol is a very capable hi-fi quality system. While you don't need to have any Apple devices to take advantage of its music networking capabilities, the addition of AirPlay (albeit for a premium) makes it super-easy to take advantage of your computer-based music collection whether on you Mac or PC or directly from your iOS device. ®
More Audio Gear Reviews…

Group Test
Surround Sound
Amplifiers
Arcam
Solo Neo
Onkyo
CS-545
Ixos
Divo