Original URL: https://www.theregister.co.uk/2011/02/02/newscorp_ipad_paywall_daily/
Murdoch, The Daily, and life without the web
News Corp boss trumpets big, beefy brands
Posted in Policy, 2nd February 2011 14:00 GMT
News Corp doesn't get a whole lot of love on the web, nor does it seek it. Just over a year ago company chairman Rupert Murdoch described news aggregation as "almost wholesale misappropriation of our stories… it's theft", and shortly afterwards the paywalls went up at the Times and Sunday Times. Web readership plummeted, subscriptions have been slow to take off, and when the papers' arch-rivals at the Guardian say the papers have entered "a vault of darkness" they might just have a point.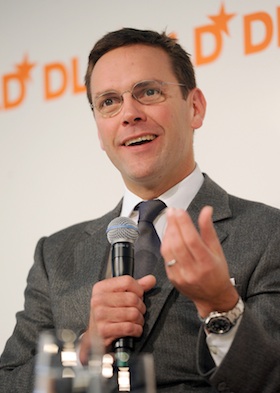 James Murdoch (Photo: Hubert Burda Media)
But that's most certainly not how the Murdoch clan sees it. Interviewed at the DLD11 conference in Munich last week James Murdoch, chairman and CEO of News Corp Europe and Asia, had a lot to say about paywalls, iPad apps, and the importance of brands and copyright. And he did happen to mention The Daily, News Corp's iPad-only launch, which it turns out he'll be unveiling this week.
A little perspective first. News Corp has spent a lot of money on planning and staffing up The Daily, it has also spent substantial amounts on the design of its paywalled sites and newspaper apps, and these costs certainly haven't yet been justified in terms of revenues or users. But despite owning numerous major newspapers, News Corp arguably isn't really a newspaper company, from a revenue perspective. According to James Murdoch, in Europe over 70 per cent of revenue comes from digital pay TV, which he sees as having plenty of room for expansion, while newspapers account for maybe 15 per cent. It's high profile, high prestige stuff, sure, but by News Corp standards it's financially small potatoes.
News Corp clearly has the resources to sustain its existing newspapers for quite a long time without worrying too much about profit, and it can indulge its iPad/paywall hobby (or experiment in the future of news publishing) for as long as it can be bothered, or as long as it takes. Guardian editor Alan Rusbridger famously suggested that his paper's dating service probably made more money than the Times makes out of online news, but the Guardian itself quite possibly makes less money out of online news than it does from its dating service - and the Guardian has a lot less financial weight behind it than Murdoch's newspapers have.
In Murdoch's view, size and brand are key to his company's future, and key weapons for it. He likes "big franchises that can really differentiate well," and says that "big brands are becoming rarer." The Murdoch empire has plenty of big, well-funded brands, the newspaper ones including the Times, the Sunday Times, the Sun, the Wall Street Journal, the Australian, - and then there's Sky, a substantial franchise in numerous territories, and Fox News, which whatever you think of it is most certainly a major brand.
As the big brands are becoming rarer, "the thing that suffers is the middle ground," he says. Weaker brands don't have the weight and the financial resources to sustain themselves, and the web is playing a major role in undermining news brands. If you get the same stories everywhere, and free undermines the economics of news, then it all gets reduced to a lowest common denominator, with everybody "cutting and pasting wires." The Murdochs have taken aggressive steps to prevent their own output going into the cut and paste mill, certainly, but if you think of the paywall as simply defensive, you're missing half the story - they see good, well-funded journalism as a vital component of unique news brands, and that's an aggressive play, not a defensive one.
So The Daily is clearly intended to be a big brand. Murdoch describes it as "an exciting new digital publication" that is employing "the best journalists in the world," and says "it is going to surprise people in terms of its depth and quality… it will succeed or fail on its journalism." And it'll cost just 99 cents a week, a price tag that suggests that the Murdochs want a rip-roaring, mass-market success, and that they're more concerned right now with establishing the principle that people will pay for digital news than they are about the bottom line. Or alternatively/additionally, they want to blow the New York Times' digital operation out of the water (Murdoch pere has been waging war on the NYT since he bought the Wall Street Journal.)
Triple play plus news?
Challenged on pricing for The Daily, James Murdoch says that it is "developing", but that "that doesn't stop us investing in really unique journalism." He speculates that other pricing models could be introduced post-launch, a premium subscription, perhaps, or some kind of bundling deal. This is precisely what some of the opponents of News Corp's bid to buy 100 per cent of BSkyB fear might happen, but while that might turn out to unacceptable in the UK, that won't necessarily be the case elsewhere. Copy of The Daily with your Fox News, sir?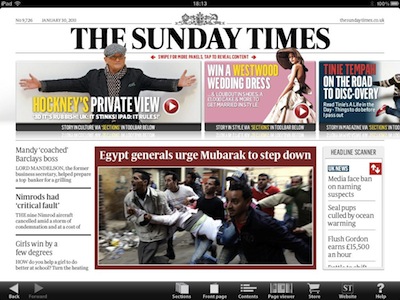 On the existing apps, he professes to be surprised by the data. Numbers of uniques on the web sites contracted dramatically, he concedes, but "engagement has been very strong" and the apps are "driving a frequency of reading that we're really surprised by." Whereas newspaper buyers will typically buy three or four days a week, app readers seem to be downloading the issue every day (possibly not a surprise, given that they've already paid for it), and are reading for 30-40 minutes a day. It seems quite possible that people reading the iPad version of a newspaper will spend more time with it than they would with the 'real' thing.
The downside is that "they stop buying the newspaper" (and the sub numbers probably aren't that great, although he didn't say that). On the positive side, however, electronic distribution is a lot cheaper than distributing physical newspapers, and it's probably (he didn't say this either) a lot better fit with the digital company News Corp thinks of itself as than dead trees are. Compare what Murdoch senior had to say last year:
I have often made the point about newspapers this way: by reminding people that we are in the news business, not the dead tree business. In other words, what makes a newspaper is its content and brand – not necessarily the form in which it is delivered.
James Murdoch denies that News Corp is "old media", and says that in his opinion the old media versus new media distinction is breaking down. Whereas critics say that by cutting its newspapers off from the web News Corp is condemning itself to obscurity, he makes the pitch that News Corp already is largely a digital organisation, with subscribers buying pay TV, telecoms, broadband, and plenty opportunities for growth and expansion of services even in the UK, which he says is "vastly under-penetrated." News Corp already has a huge paying audience in Western Europe (10 million in the UK, maybe another 10 in Italy, Germany and Turkey), and growing ones in the Middle East and India, and it has a wide-ranging pick and mix of movies, books, TV shows and news that it can sell to these.
Murdoch doesn't actually say 'who needs the Internet?', but you kind of wonder if maybe he doesn't.
But then if he didn't think the Internet was important, why would he be still talking to Google about copyright? News Corp executives have to varying degrees been ballistic about this over the past few years, but at the moment James Murdoch - while firm on the subject, strikes a positive note and refrains from abusing Google directly.
"I think there are lots of questions about what Google's relationship with copyright owners and creators is," he says, adding that "negotiations are under way" with Google. Over what? He claims that Google gets very large returns from using other people's property, and that copyright owners should receive some remuneration for being indexed by Google.
Note that although the Wall Street Journal is indexed by Google, allowing non-subscribers to read some of its material, News Corp's more recent paywall efforts have removed papers from Google's indexes entirely. Nor is it possible to email references to stories from the Times and Sunday Times apps - they're pretty much entirely cut off from the outside world.
So if Murdoch is actually talking to Google about indexing, one can reasonably deduce that this isolation could end, if the price is right. "These things are on the table", he says (one does wonder if Google is actually at that table…) and that he's prepared to "work through different structures with Google. "Maybe it's not going to work", in which case copyright owners "have to be more assertive. We need publishers to start to assert the value of their copyright in general, otherwise the only people who'll be in the business will be governments and oligarchs." ®