Original URL: https://www.theregister.co.uk/2011/02/01/review_laptop_sandybridge_whitebook/
Intel 'Sandy Bridge' mobile platform
Second-gen Core i7 CPU leaves its tyre marks
Posted in Personal Tech, 1st February 2011 13:00 GMT
Review Sandy Bridge is the codename for Intel's second generation of Core processors that covers Core i3, i5 and i7 for both side of the desktop-mobile divide. If you've been following the news lately, you'll know that Dell has discovered flaws in the Cougar Point chipset that, while not revealing a fault in the actual Sandy Bridge CPU, has implications for Sata devices used in this new generation of silicon. In the process of reviewing this whitebook sample, issues affecting storage did come to light as, you'll discover.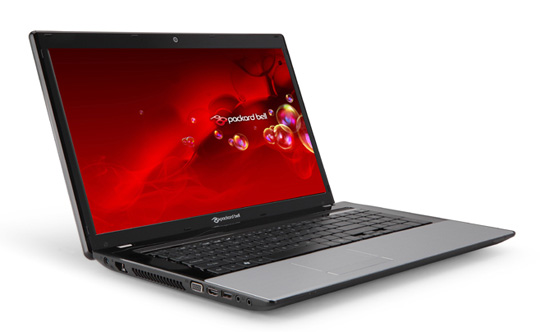 Intel's Sandy Bridge 17in whitebook review sample bore a marked resemblance to Packard Bell's Easynote LM
I have dabbled with Core i5 and Core i7 Sandy Bridge desktop processors and I must confess, I'm mightily impressed by the dynamic overclocking of Turbo Boost 2.0, the power management features and the minuscule power draw. It's a strange experience watching an overclocked Core i7-2600K system running at 4.2GHz as it draws a mere 155W at the mains socket and shreds the Cinebench 11.5 benchmark into tiny pieces.
I had anticipated waiting until late February or March to get my hands on a Sandy Bridge notebook, however, Intel came knocking with an unbranded whitebook that showcases the new technology. This chimera of a laptop is made by Compal yet shows Packard Bell branding on the mouse buttons. At a guess, I'd say that the whitebook is based on the same chassis as a Packard Bell EasyNote LM.
The specification is high end and consists of a Core i7-2820QM processor, an Intel HM67 chipset, and 4GB of DDR3-1600 RAM in two modules that operate in dual channel mode. The machine came preinstalled with 64-bit Windows 7 Ultimate Edition on a second generation 160GB Intel X25-M SSD.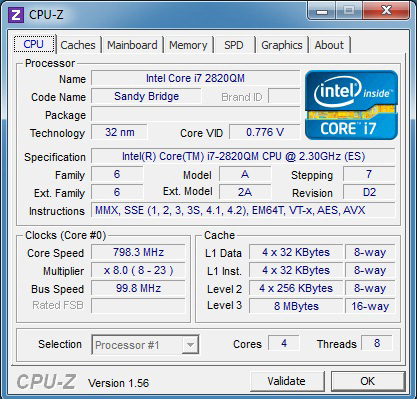 CPU-Z reveals all
On the face of it the weakest part of the specification of the unit is the Intel HD Graphics 3000 that is part of the Core i7 processor. Despite running at a sprightly 650MHz, the graphics only pack 12 shaders. At 1600 x 900 the screen resolution of this showcase laptop was a little disappointing, not quite managing Full HD .
Core competency
Turbo Boost 2.0 has a significant effect on the performance of the Core i7-2820QM which has a base speed of 2.3GHz and which can run all four cores at 3.1GHz when the laptop is under load. If your software is only working two cores they can run at 3.3GHz (the other two idle), while a single core can whizz along at 3.4GHz (with three cores idling).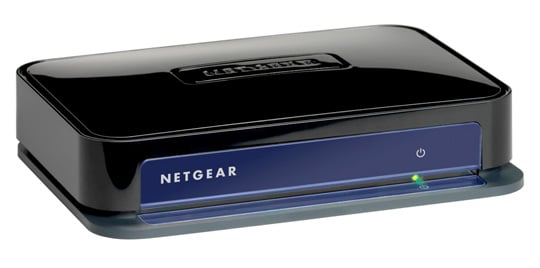 Netgear's Push2TV takes advantage of Intel's WiDi technology
Other features such, as the number of USB 2.0 ports, the inclusion of a BD-Rom drive and the absence of an ExpressCard slot are neither here nor there, as I do not expect to see an exact replica of this laptop on sale. Having said that, the long thin trackpad buttons are truly awful.
Sandy Bridge gives laptop and PC manufacturers the chance to move away from the crusty old BIOS by utilising UEFI, the Unified Extensible Firmware Interface and the whitebook makes use of an InsydeH20 Bios EFI framework.
However, this makes very little difference for tweaking as I was indeed able to navigate the UEFI menus using the touchpad but it was no easier than using the arrow keys in the traditional way.
Intel included an example of its Wireless Display or WiDi hardware with the whitebook, in the shape of the Netgear Push2TV HD unit which looks similar to a media streamer such as a WD TV.
Simply connect the Netgear box to your TV, fire up your Sandy Bridge laptop and start the Intel My WiFi utility. You need to let the two units exchange a Wi-Fi signal, wait for a four digit WPS code to appear on your TV screen, key the code into the laptop and bingo, your laptop screen is mirrored on your TV. I used an HDMI connection which fed audio to the TV speakers and the resolution of the picture was automatically adjusted to suit the TV.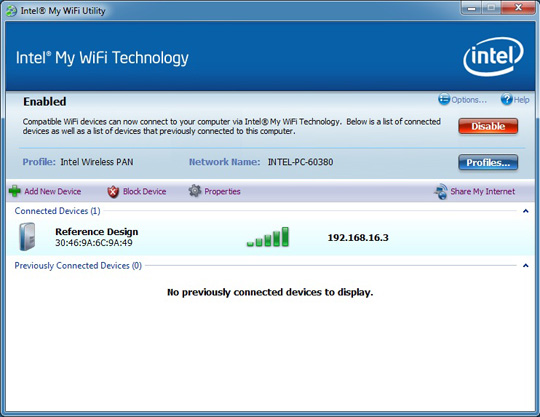 BSOD anyone? My WiFi console has a few creases that need ironing out
Overall, this seems like a superb way to stream media from your laptop to your TV, or to present PowerPoint without messy cables. That said, I cannot see any technical reason why WiDi requires Sandy Bridge hardware. Moreover, I was unimpressed by the Intel My WiFi console, which caused the laptop to blue screen and restart on one occasion. This could be due to early hardware or drivers, so it would be wrong to point the finger of blame.
Performance indicators
I tested the Sandy Bridge laptop using the same methods employed in my group test of 15.6in laptops during the summer. General system performance was absolutely stonking, as you would expect from a quad core CPU with HT and 4GB of fast DDR3, and the Intel HD 3000 graphics match the performance of the Radeon HD 5470 that we saw in a Dell Inspiron 15R. That's good enough for The Sims or Facebook games such as Farmville, but a long way short of Crysis levels.
Benchmark Tests
PCMark Vantage Results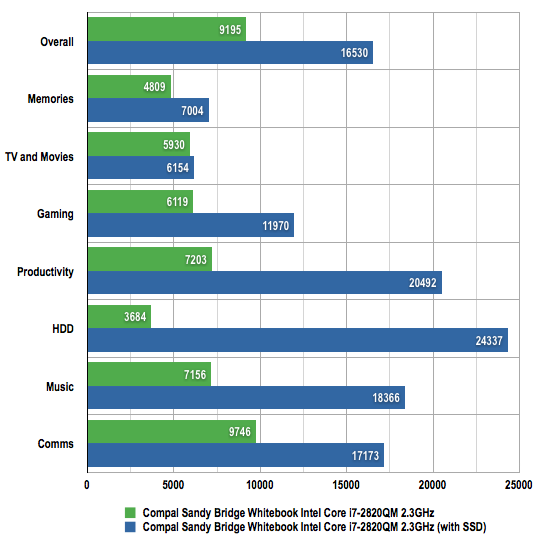 Longer Bars are better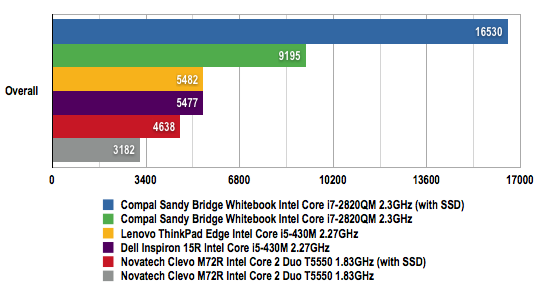 Longer bars are better
3DMark06 Results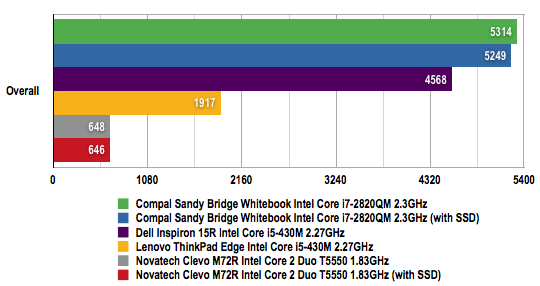 Longer bars are better
The PC Mark Vantage scores were skewed by the 160GB Intel X25-M Gen.2 SSD as the laptops in the group test all used hard drives, so I swapped in a Toshiba MK6465GSX 2.5in HDD and re-ran the benchmarks. This gave performance figures that are directly comparable with the previous generation Core i5 laptops and they show that Sandy Bridge is incredibly powerful. Indeed the performance eclipses a great many desktop PCs.
Brain drain?
The figures did throw up an anomaly though when testing battery life. Reg Hardware's approach is to run continuous loops of PCMark Vantage until death, which typically means you can double the number to get a real world figure. The first run with the SSD lasted 91 minutes, but when I switched to the Toshiba HDD the figure increased to 106 minutes. That's an extra 15 minutes in benchmark land or roughly half an hour in the real world. And while I might expect an SSD to yield extra battery life, it came as quite a surprise to see the battery life drop.
Benchmark Tests
Battery Life Results

Battery life in minutes
Longer bars are better
After that I plugged in the SSD and did two more runs which came in at 100 minutes and 96 minutes so, assuming the original figure is battery conditioning, that gives an average life of 98 minutes. I then did two more runs with the Toshiba HDD and timed them at 117 and 114 so here the average is 115 minutes in favour of the HDD over the SSD.
It occurred to me that this might be a feature of SSD versus HDD rather than Sandy Bridge so I grabbed a Core 2 Duo laptop off the shelf and repeated the tests. This yielded the expected results with 60 minutes of life with the HDD and 65 minutes using SSD. Intel UK tells us they have technical people in the US looking into my findings but I have had no feedback from them in the past ten days. However, a report this week from Intel on its discovery of a Cougar Point chipset design error that impacts on Sata performance, may have a connection.
Verdict
As things stand, I am impressed by the raw power of Sandy Bridge and love the plug and play nature of Intel Wireless Display, however, there are bugs to be ironed from the My WiFi console and, so it seems, the chipset itself. ®
More Notebooks Reviews...

Acer
Asus NX90Jq
Apple
MacBook Pro
17in
Samsung
R780
Toshiba
Satellite
A660