Original URL: https://www.theregister.co.uk/2011/01/31/review_ten_wireless_keyboards/
Ten... wireless keyboards
Finger clicking good
Posted in Personal Tech, 31st January 2011 11:08 GMT
Product Round-up I feel sorry for keyboards. Despite tapping away constantly at one, I can't say I give mine any regard. Fairly rapidly, so it seems, they get covered in reminders of our lifestyle excesses and tacky habits. And when our computers are to blame for something, its usually the keyboard that soaks up the frustration.
Well, I'm going give them my attention for a change. Here's a collection of ten keyboards to consider when the inevitable coffee splurt happens over yours should you linger on these hallowed pages long enough.
Apple Wireless Keyboard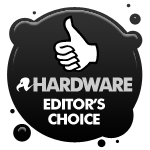 Say what you will about Apple products, but the company certainly makes a formidable keyboard. The Bluetooth connectivity is a welcome bonus for starters and the aluminium body gives Apple's wireless keyboard a sense of durability. Its chiclet style presents an executive feel and typing is reasonably quiet. Nothing feels cheap or tacky and OS X function keys double up as F keys, rather than the other way round - which seems more logical, on a Mac at least.
As with most Apple products, it's on the expensive side of things, but not too much of a price to pay for the quality, especially when compared to some of the other models in this round-up. Two AA batteries fit nicely in the shallow rake of the body, which gives the keyboard its angle, and there's a slick power button on the opposite side to where they slot in. The Apple Keyboard really is the king of the chiclet and for me, nothing compares. Oh and before you start up about the absent forward delete button, function-backspace does it. Not ideal, but still there if you need it.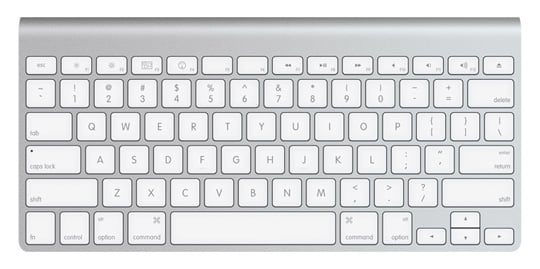 Reg Rating 95%
Price £57
More info Apple
Cherry eVolution Marlin Smart

German company Cherry claims "perfection down to the smallest detail". I disagree when it comes to its eVolution Marlin Smart, which was fugly to say the least. There are ten dedicated hotkeys, four above the number pad and a further six below the regular keys. These six volume/play controls are some of the most unappealing buttons I've ever seen and feel completely out of place.
The keys are flat and very basic, which is a plus point, however, the "ultra silent" claim appearing on the box are wide of the mark. Typing is far from quiet and made more noise than I'd have expected given this selling point. What's more, you can't type without the keyboard legs down, because it doesn't sit flat at all. It does come with a wireless mouse, but the price is shockingly high for what you get and should have at least included a battery indicator for that money. The eVolution Marlin Smart has security protection, but there's no mention what type it is or how it functions which isn't exactly reassuring.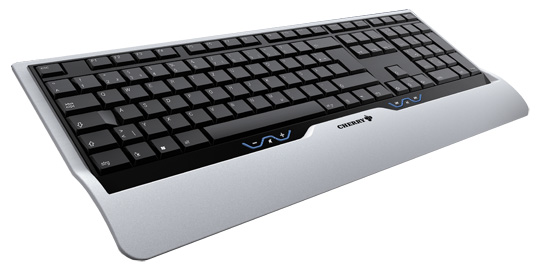 Reg Rating 55%
Price £64
More info Cherry
Fujitsu LX900

The Fujitsu LX900 has all the features you'd associate with a higher-end keyboard. But other than 128-bit AES encryption and spill resistance, it doesn't exactly rock my boat. It just looks too square and has a fairly inexpensive appearance. To be fair though, it's an all-round decent keyboard and was one of the quieter models to tap away on. It's sponginess felt great and typing was better than my first impressions led me to believe it would be.
The hotkeys run along the top in the form of strip membrane buttons, which feels a bit tacky. There is a battery indicator though and it comes with a dinky dongle and decent mouse. Its rubber coated base feels lovely too, and while in deep thought between sentences, makes a great alternative to stroking one's chin hair.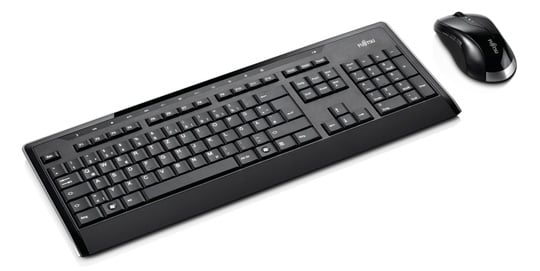 Reg Rating 80%
Price £50
More info Fujitsu
HP Wireless Elite

HP's Wireless Elite is a fairly smart-looking, full-length keyboard, with a matt finish and compact feel. It's very light, ultra thin and sits nicely on my desk without taking up huge amounts of room. The F keys double up as the hotkeys, but there's separate volume and mute buttons and although no indicator for battery life on the device itself, warnings do appear on-screen. When typing, the feel is definitely above average, with fairly flat nicely-shaped keys and the action isn't so plaquey. The keyboard is splashproof too and comes at a reasonable price.
The huge downside to this one though is the moderately large dongle. The annoying aspect is not the size, but rather a completely unnecessary blue LED, which lights up every time you hit a key. If it was tucked behind a desktop out of sight, it wouldn't make a difference, but in the line of sight, it's distracting and for all its plus points as keyboard, you soon grow weary of the blinking thing.

Reg Rating 85%
Price £50
More info HP
Kensington Pro Fit

Kensington really set the bar for inexpensive keyboards that function well. The Kensington Pro Fit is a full keyboard with a spongy feel, and as a result is ultra-quiet to type on. The shape of the keys don't really do it for me, but I'm not complaining too much at this price, and while the glossy media controls are all a bit tacky – as are the larger-sized volume controls on the left – it's very useful that they're dedicated to these functions.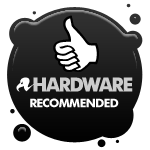 The dongle is memory-key size, but isn't a problem and there's a battery indicator too. For the low price of £25, it comes with a pretty good mouse as well. So if you're looking for a cheap keyboard and don't fancy the throw-away option that PC World has on offer, spend an extra tenner and get something of this level. Admittedly, its by no means brilliant, when compared to what else is on offer, the Kensington Pro Fit is excellent value for money.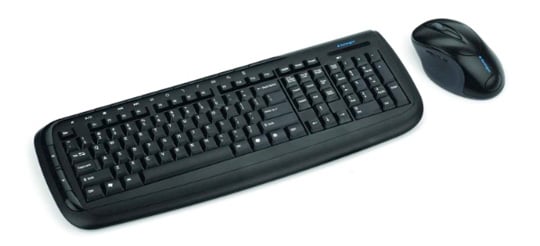 Keysonic KSK-3201

A brushed metallic finish coupled with black chiclet keys gives KeySonic's dwarf-sized device quite an executive look. It's roughly the same dimensions as the keyboard on a 10in netbook and I was reasonably content with how it felt to use. "X-Type membrane technology" apparently makes typing quieter, although I disagree, as there's a somewhat annoying spring-like sound I could hear when I hit the keys.
A rather novel idea is the built-in trackball at the top right corner clever and with the two mouse buttons over to the left. It takes a bit of getting used to though, and wouldn't be ideal for left-handed folk. I've seen a fair few of on-line comments with regard to range issues, but I had no such problems myself. KeySonic claim a 10m reach - my testing was usually within half of that and it worked fine. How much distance do you need?
There's also an on/off switch and underneath the battery flap is a great place to store the dongle - a nice touch I might add. Very cute.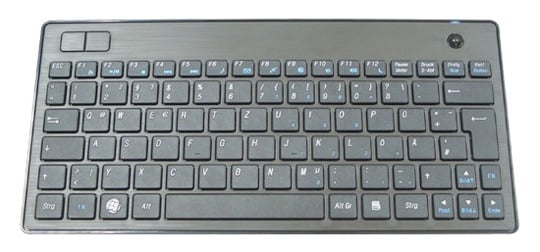 Reg Rating 75%
Price £33
More info MaxPoint
Logik LWMKBM10

I think this has to be, hands down, one of the worst keyboards I've ever laid my hands upon. However, the price does reflect that. The keys are horribly shaped and ooze tack, matched by the not so great typing experience that also generates a fair amount of noise. The hotkeys even wobble when tapping the main keyboard and the fact that some of them – such as the e-mail client key – didn't even work, doesn't bode well.
The huge chunk of plastic that acts as the receiver box is as big as the mouse and totally unnecessary in this day and age. I hardly have anything positive to say, except there is a battery indicator and for the small price of £15 you get a mouse thrown in. I suppose sometimes when you urgently need a keyboard that will only be used once, then it has a purpose.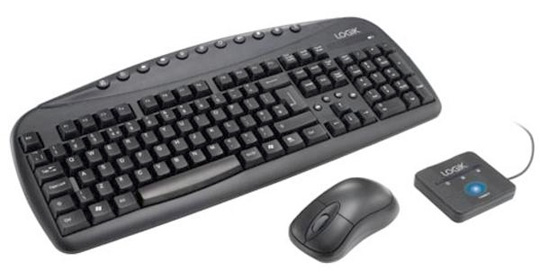 Reg Rating 40%
Price £15
More info PC World
Logitech Solar K750

Now here's something worth talking typing about, a keyboard that runs on solar power. So now I can be green-fingered without the requisite gardening skills and it's a fantastic keyboard too. OK, so it does have calculator-like characteristics, but it feels great to type on. I do like a good chiclet, and this is a quiet one, with a thin, but durable body.
There's an on/off switch to conserve power, with both the internal rechargeable battery and light levels checkable through an on-screen app. There's also 128-bit AES encryption to keep your pinkies' patter ultra-safe.
Not everything is peachy though - the body is a serious fingerprint magnet. It may come with a cloth for wiping the dirt off, but why anyone would make keyboards with gloss-black bodies, I'll never know. Other than that, and the fact the FN key is to the right of the spacebar, it ticks every box for me and the price isn't too steep for what you get - a quality keyboard with the bonus of never needing to change the batteries.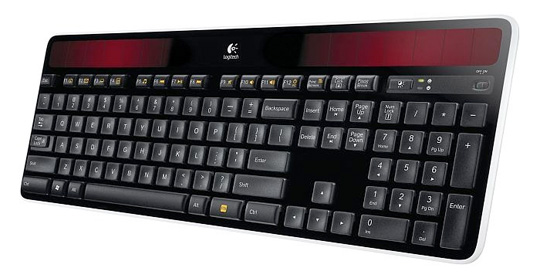 Reg Rating 90%
Price £70
More info Logitech
Microsoft Wireless Desktop 800

Microsoft offers a very standard model here that does little to impress. Despite being a full keyboard, the Desktop 800 is limited to just five hotkeys. These run on from the F keys, which along with the ESC button, are set lower into the body. The Desktop 800 is another keyboard with a black gloss finish covering most of the product apart from the keys. Again, it's destined to attract finger marks - it is a keyboard after all. Still, things could be worse, as it doesn't irritate too much while tapping away on it.
Yet, despite having a good shape, these keys feel tacky and cheap and heavy-handed typers are likely to make a fair amount of noise on them. There is a battery indicator too and while it's not as cheaply made as the Logik, if your looking for anything other than bog standard, shop elsewhere. It is only £30 though and comes with a very basic mouse.

Mini Bluetooth Keyboard

Have a look on-line for a Mini Bluetooth keyboard and you'll generate dozens of results, all very similar looking with samey features. This particular model sent over from Expansys is one of those clones. It's roughly the same size as an iPhone and is perfect for such use, as well as tablets and TVs. Each key doubles up with secondary features and there's even 11 with specific commands for mobile use.
Held like a phone or gaming pad, you end up typing with your thumbs, which can be quite a clumsy affair with fat digits. I often mistyped words by hitting other keys accidentally in the process of typing too quick. It's a nifty little device though that serves its purpose and has separate LEDs for connection and power status, as well as a built-in rechargeable battery, that gets powered from a USB port.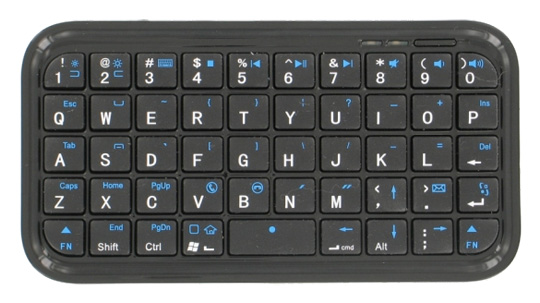 Reg Rating 75%
Price £20
More info Expansys