Original URL: https://www.theregister.co.uk/2011/01/29/review_icecrypt_t2400/
Icecrypt T2400 Freeview HD DVR
Media savvy?
Posted in Personal Tech, 29th January 2011 08:00 GMT
Review Icecrypt is a little known name in the UK. Their T2200 Freeview HD box was made by Topfield and the T2400 is in fact a UK version of a product from Korean PVR maker HomeCast. It's a twin tuner unit for FreeviewHD, available with hard drives of 500GB, 1TB or 2TB.

Icecrypt's T2400: the click wheel can be used to change volume and channel when the remote goes AWOL
The unit itself is slim with a front panel VFD readout – which is not so bright as to be annoying – showing a selection of icons to let you know the disk is in use, the channel or recording name, and other info. To the right is a flap concealing a USB port, and to the left is a click wheel with two small buttons below it. You can change the volume, or channel, and even access all the menus without the remote, although navigating the menus is a little fiddly at first.
The rear panel offers a power switch, HDMI out, twin Scarts, analogue stereo, composite video, optical SPDIF, Ethernet, USB and a serial port. There's no fan and the unit is very quiet in operation. The remote is fairly large, the buttons have a positive click feel when pressed and aren't as rubbery as some. It can also be used to control the TV.
Setup of the Icecrypt T2400 is straightforward, and once tuned the picture quality for both SD and HD channels is excellent, and you can opt to have 4:3 material pillarboxed properly, too. Although the HD picture is great, unfortunately there's no Dolby Digital transcoding, so you won't get a surround sound signal from the SPDIF connection, and it's not yet apparent if that will come later in an update.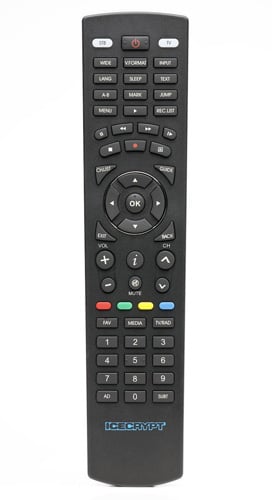 The remote can be programmed to control your TV as well
Most of the user interface is fairly clear and straightforward to use, with some nice touches – switch to BBC1, for example, when a programme's on that's flagged as being in HD, and you'll be prompted to choose the HD version of the channel instead – the same is true of setting recordings. The EPG supports searching by genre or keyword, as well.
Guide numbers
However, the EPG itself is arguably one of the weakest points of the T2400. It feels cramped, with just five channels displayed at a time. Even though you can change the time-window to cover up to three hours, you'll still have to do a lot of scrolling, and that's when an annoying flicker appears.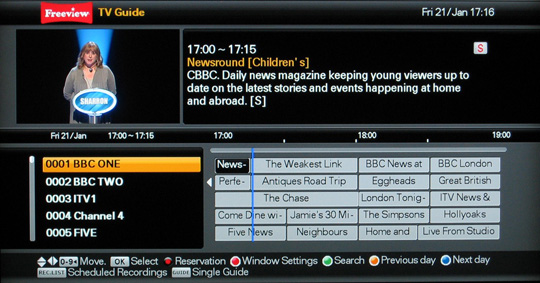 The EPG only shows five channels at a time
Recent firmware updates have added a single channel EPG view, which lets you see much more information at a glance, but it's still a little quirky, and you don't always end up viewing the listings that you expect to. For instance, switching between single and multi-channel views always takes you to the current live channel, not the channel you were browsing.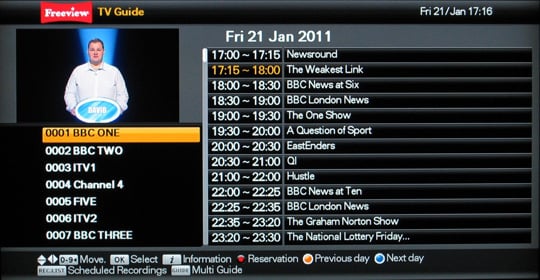 A single channel view makes it easier to find out what's on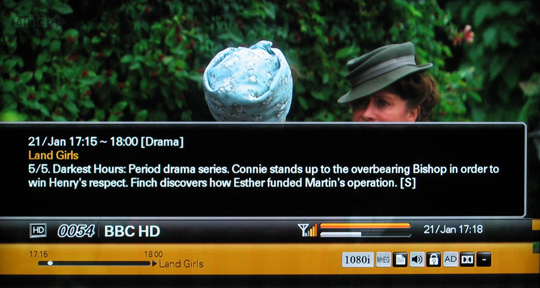 The on-screen displays are generally clean and informative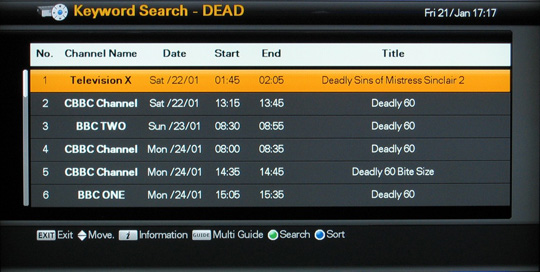 The EPG can be searched by keyword or genre
Those niggles aside, the box seems stable and it didn't miss any recordings. Moreover, the handling of things such as recommendations or setting timers from trailers is probably the best and most clearly explained that I've seen on any FreeviewHD unit.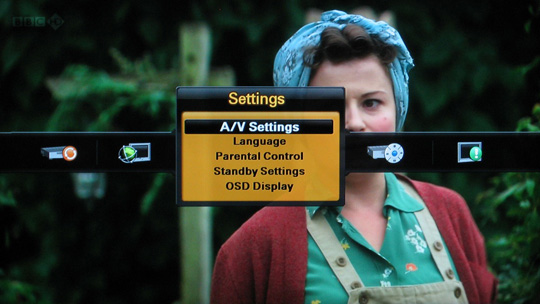 The menu system is straightforward, and can be operated without the remote
There's a reasonable range of navigation options when you're watching a recording, including direct jump by typing a percentage, bookmarking, resume play, and a configurable jump which defaults to four minutes – so a press to display the navigation bar, and then another to jump will banish most ad breaks.
Media show
The Icecrypt is also intelligent enough to let you watch a third channel from the available multiplexes while you're recording two others. Oddly, though, you can't pause live radio, unless you're recording it, and you can't save the rewind buffer either.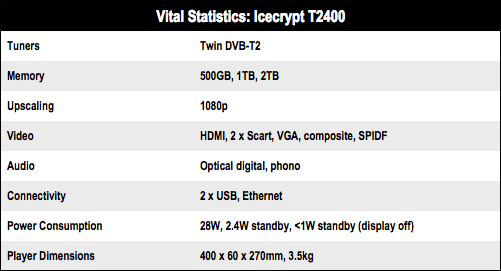 The T2400 doesn't have any DLNA or other network media playback facilities, but it does have a partition on the hard drive for media; you can view JPEG images, and play MP3 files, and play back video clips. Files can be played from USB, or copied to the hard drive, and an anonymous ftp server allows you to transfer content from your PC – though it only shows what's on the media partition, so you can't copy recorded shows from the box this way, and only SD recordings can be copied to a USB drive.

Nothing special here – but the T2400 is fanless, and quiet
Compatibility is limited, however; test MKV files played back, as did the output of the DivX encoder in SD; a DivX HD copy of the Sony Bravia Paint advert stuttered and appeared jerky at times, while an Xvid file didn't play at all, and files extensions other than avi, divx and mkv didn't even appear in the browser.
Verdict
Of course, some PVRs can't play any media files at all, and Dolby transcoding is still only found in a few. But nevertheless, at this price, it's a shame that these features missing, and that the EPG is somewhat flawed. If you can live with those limitations though, the T2400 is worth checking out. ®
More Freeview HD Set-top Reviews…

Digital
Stream
DHR8203U
Humax
HDR-Fox T2
TVonics
DTR-HD500
Group Test
Freeview HD
Receivers