Original URL: https://www.theregister.co.uk/2011/01/28/review_storage_iomega_ssd_usb_3/
Iomega SSD 128GB USB 3.0 drive
SuperSpeed performance anxiety
Posted in Personal Tech, 28th January 2011 07:00 GMT
Review Kingston Tech is not the only SSD manufacturer now bringing out USB 3.0 external drives. Iomega's unimaginatively named SSD Flash Drive comes in three capacities: 64GB, 128GB and 256GB. With the latter costing £624, it's a purchase that demands a significant leap of faith.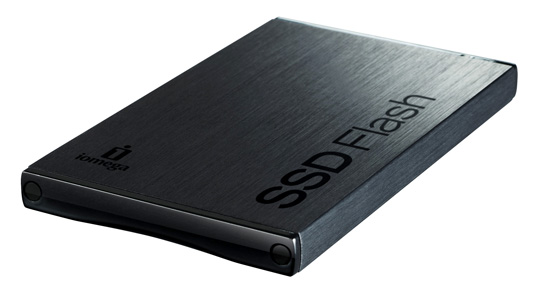 Iomega's SSD Flash Drive joins the SuperSpeed interface race
For that much money you might expect all sorts of fancy bells and whistles, but the only things you'll find in the box are the drive and a USB 3.0 Y-Cable, just in case you run into those dreaded low-power USB 2.0 ports. Despite a lack of hardware or software extras, the SSD Flash Drive does have one party trick; thanks to the inherently high performance of SSD's and USB 3.0's 5Gbit/s capabilities, Iomega claims you'll see up to 191MB/s reads and 130MB/s writes.
Performance aside, SSD-based external drives have one other huge benefit over traditional hard disks, namely, durability. Thanks to a complete lack of moving parts and a rugged aluminium enclosure, you're not about to lose your data when you accidentally knock the SSD Flash Drive off your desk as you reach for that vital early morning cup of coffee.

Sata SSD storage on the inside...
Upon further examination of the internal workings of Iomega's little black box, I discovered a very similar setup to that of Kingston's HyperX Max. In an aluminium nut shell, you have a Sata-to-USB 3.0 adapter mated to an SSD. In Iomega's case, this SSD is a Sata, 6Gb/s-capable 1.8in Micron RealSSD C300 – one of the fastest drives on the market at present.

...and USB 3.0 on the outside
Micron claims these drives are capable of reading at up to 355MB/s and writing at 215MB/s, a stratospheric amount higher than Iomega is claiming from its implementation. Can the Sata/USB adapter really be limiting it that much?
Speed limits?
Crystal DiskMark's 1GB file-size tests certainly seem to suggest as much. The interface adapter is a huge bottleneck. Never mind reaching the C300's true potential, neither the 64GB or the 128GB drives tested even approached anything close to Iomega's projected figures.
Benchmark Tests
CrystalDiskMark 3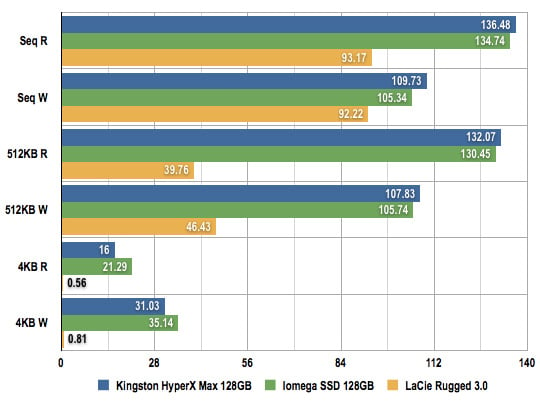 LaCie Rugged USB 3.0 hard drive shown to compare with SSD speeds
Longer bars are better
Now, for a buyer beware moment. Currently, the 64GB version has a known issue that cripples the write performance in these drives, amounting to about a throughput drop of around 30MB/s with large data chunks. Consequently, Iomega ended up sending me a 128GB drive unit for review which doesn't exhibit this drastic drop in speed.
Even so, the 128GB version fails to achieve its throughput claims and delivers a performance very much the same as Kingston's HyperX max (also 128GB). It is quite possible that both of these products use the same controller for the interface adapter, hence the similar throttling apparent in the real-world speeds these drives manage.

Counting the cost
Obviously Sata-to-USB 3.0 adapters need significant work before SSDs see their full potential unleashed in these external enclosures. They are, however, still a fair bit faster than their platter-spinning brethren.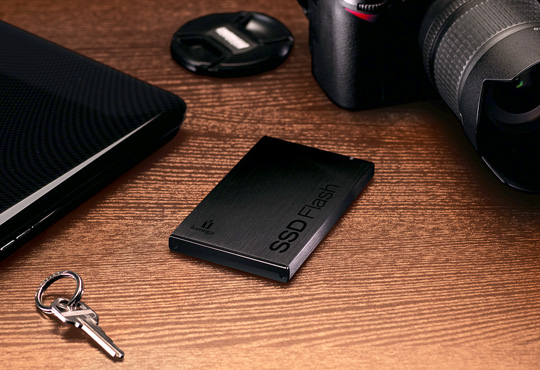 Performance claims err towards the theoretical and the price seems unrealistic too
Verdict
Certainly, Iomega is putting down a marker to show its presence in this current generation of SSD meets USB 3.0 storage, however, it is significantly more expensive than Kingston's offering. If you must have black aluminium, by all means buy Iomega's SSD Flash Drive, but if you're sensible, you'll go to Kingston and pay £100 less for the 128GB drive and £220 less for its 256GB variant. ®
More USB 3.0 Gear Reviews...

Kingston
HyperX Max
SSD
Buffalo
USB 3.0
ExpressCard 34
Kingston Technology
DataTraveler
Ultimate 3.0
LaCie
Rugged
USB 3.0