Original URL: https://www.theregister.co.uk/2011/01/28/games_review_dead_space_2/
Dead Space 2
The nightmare returns
Posted in Personal Tech, 28th January 2011 12:00 GMT
Review If you're of a nervous, sensitive disposition I advise you to look away now. For, you see, Dead Space 2 – Visceral's space-based survival horror – is instantly, and without question, one of gaming's most gruesome penny dreadfuls to date; eclipsing even its predecessor in the nausea-inducing stakes. Bodies will be mutilated, heads dismembered and innocents slaughtered – and that's just the game's introductory sequence.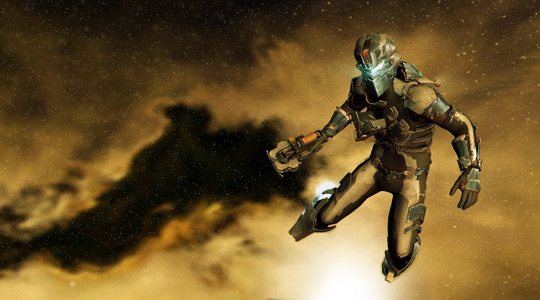 That was one dodgy vindaloo last night
Even its soundtrack, a disharmony of half-heard whispers and unseen scuttlings would be too much for many. However, with plasma cutter firmly in hand, I proceeded unwaveringly onwards – do try this at home.
Some three years have passed since Isaac Clarke's first outing on the ill-fated USG Ishimura and his encounter with those chimeras of hell and humanity, the necromorphs. The straitjacket encumbering him at the game's inception standing testament to the fact that his life hasn't exactly been a bed of roses since.
Indeed, with Clarke succumbing to increasingly frequent visions of his deceased girlfriend – and talk of him suffering from a unique form of dementia – you're left questioning exactly how much of the ensuing horror is real, and how much his personal nightmare.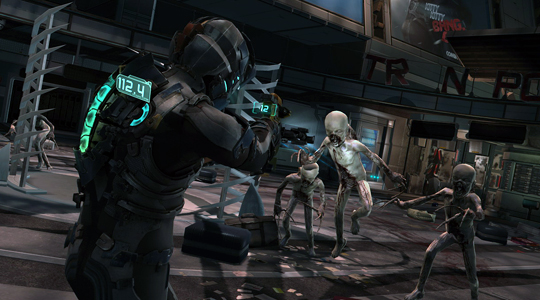 Beating off dead babies
What is for certain is that Clarke's not on the Ishimura anymore, instead finding himself on the Sprawl, a labyrinth of space stations complete with nurseries, schools and a surplus of workers – all ripe for corruption once the inevitable necromorph outbreak hits.
Telekinetic tech
Don't think that you'll suddenly be fighting through expansive, open environments outside of the starship's confines either, for the Sprawl's corridors and hubs are as scarcely lit, claustrophobic and paranoia-provoking as ever.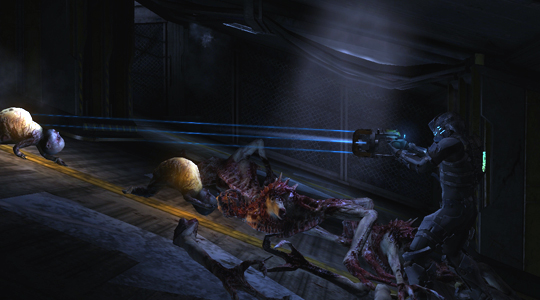 High-death with the blue ray!
Impressive use of dark and shadow serves to create an atmosphere dripping with disquiet, in which every shadow elicits suspicion. The only dependable light sources become the incandescent glare of computer screens and Clarke's torch, handily aimed at the same time as his chosen weapon.
Able to hold four weapons in his arsenal at once, and with stasis attacks (used to freeze the enemy mid-stride) and telekinesis at his disposal, Clarke is at least appropriately equipped once the necromorphs come out to play. In fact 'kinesis' plays an important role in many of the game's puzzles too, as power sources are swapped and traps sprung from a safe distance.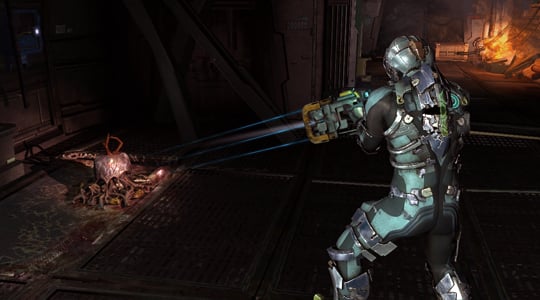 First you must find... another shrubbery!
Dead Space 2 has a new trick up its sleeve too, the top drawer, triple A, set piece. It's around the fifth chapter where this innovative ingredient is truly made apparent, as – without giving away too much – Clarke partakes in a spot of zero-gravity gymnastics, followed by a close-encounter with one of the more gargantuan horrors, all culminating in Clarke fending off waves of attack while snagged upside down.
Survival instinct
It's a thrilling sequence, easily on a par with anything seen in the action-adventure genre, and one demonstrating exactly how far this sequel pushes the existing Dead Space gameplay. As too does the heightened sense of storytelling, bolstered by the inclusion of a fully voiced and fleshed out Clarke, whose relationship with the Sprawl's other survivors drives the plot apace.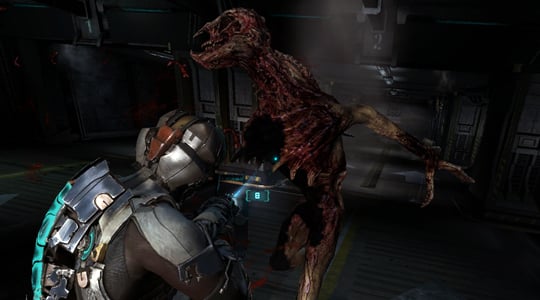 Shooting a load in the corpse
It isn't all good news, however. The flay or be flayed combat is disturbing at first, but something which you'll quickly grow accustomed to. Sure, the slightly-too-sick-for-its-own-good violence never gets any more palatable, but as Clarke habitually slices up a room of foes for the umpteenth time, the carefully built up façade of horror does begin to crack. Brand new varieties of adversary in the shape of Pack and Skulkers provoke some small tactical rethink, but not enough to wave a creeping feeling of monotony.
The fact that the necromorphs attack almost non-stop for the majority of proceedings also serves to dilute the atmosphere. As the Lovecraftian type horrors burst forth from stasis chambers, ceiling vents and more, you might have cause to jump, but the rather unsubtle shocks only diminish the fantastically creepy atmosphere so brilliantly built up during the game's early stages. That these sneak attacks frequently end in sudden (and cheap) death, further weakening the intended effect.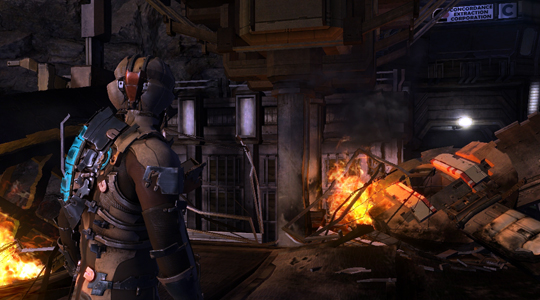 Wreckage makes the eyes glow
Tactics do however come to the fore during the many memorable boss encounters. Refreshingly, the key to victory is usually to hit upon the right tool and tactic for the job, rather than throwing masses of munitions their way – not that the aid of an upgraded weapon wouldn't come in handy of course.
Dead can dance
Workbenches and stores – which allow Clarke to upgrade equipment and purchase supplies respectively – are dotted throughout the Sprawl and are often situated nearby to the more difficult encounters. However, I did find myself on a couple of occasions besting these beasts by the merest of margins – my frustration at having to redo the fight numerous times tempered by the thrill of my eventual success (and this was on 'Survivalist' difficulty, the middle of five potential settings by the way).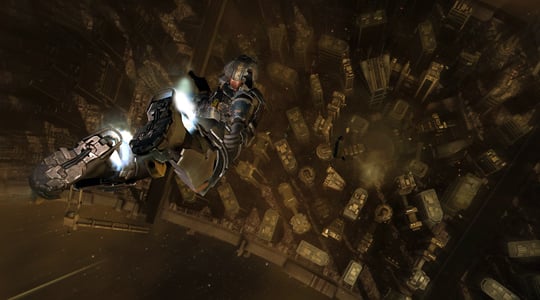 Now if I just open my para.. ah shoot!
A brief mention should go out to the inclusion of a multiplayer mode too. While unlikely to revolutionise the on-line world, the team-based missions prove a worthy addition, rather than mere filler. Objectives for the human team include vying to destroy markers, power up escape pods and so on, while the necromorphs must, you guessed it, stop them. Clear objective marking means newbies will be immediately mission-ready, while success breeds experience, which serves to unlock additional weapons, power and the like.
Playing as the necromorphs draws immediate parallels to Left 4 Dead's versus mode, with players able to pick from Pack, Lurker, Puker and Spitter types, according to taste. Spawning from various hatches and trap doors at the player's discretion, the key is to ambush the human contingent en masse. A lack of objectives other than 'kill the humans' is limiting, but charging at your opponent, limbs frantically flailing, is certainly entertaining.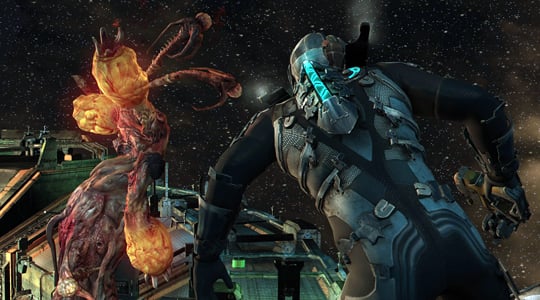 Looks like a warning.. on the back of a cigarette packet
Verdict
By introducing stellar set pieces and a more engaging main protagonist in the guise of a fully conversant Isaac Clarke, Visceral has succeeded in revamping an already great survival horror. Still to be mastered, however, is the subtle art of terror, as a surplus of stomach-churning gore and over-abundance of necromorphs serve to dilute an initially foreboding atmosphere. A great adventure game then, but not quite the fright-fest I'd hoped for. ®
More Games Reviews

Little Big
Planet 2
DC Universe
Online
Mass Effect 2
For PS3
World of Warcraft:
Cataclysm