Original URL: http://www.theregister.co.uk/2011/01/27/review_netbook_samsung_n350/
Samsung N350 dual-core netbook
Slimmer, faster and - ahem - pricier...
Posted in Personal Tech, 27th January 2011 07:00 GMT
Review The debate as to whether netbooks are evolving fast enough rages on. Some say manufacturers are guilty of laziness by continuing to churn out similar models, while others argue that there's simply no need for netbooks to evolve like standard laptops and that more attention should be put into making them cheaper.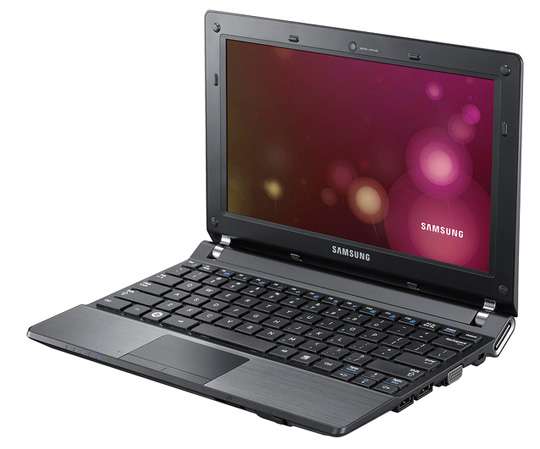 Samsung's N350: not totally dissimilar to the N230
One thing's for sure: this new N350 from Samsung is desperately similar to the N230 the company released towards the tail end of last year. But this is no bad thing. It means you get the same excellent keyboard, with well-spaced keys and minimal flexing, as well as stylish looks and a robust chassis.
However, although it might look like the N230, what struck me when picking up the N350 for the first time was how darn thin and light it is – at just 23mm thick and weighing a mere 1.03kg, it's super portable. Problem is, when you take a look at the specs the reason for its petite nature is immediately obvious: a super-thin battery with a paltry capacity of just 33Wh. In our video-loop test, this meant the N350 could only chug away for 183 minutes before entering a deep slumber.
A slender battery isn't the only change from the N230. As with Asus' recently-reviewed 1015PEM, the N350 employs Intel's latest dual-core Atom N550 processor, which ticks along at 1.5GHz. A single 1GB stick of DDR2 memory backs this up, and although accessible via a dedicated hatch on the underside of the netbook, there's only one slot so an upgrade will require ditching the current module and purchasing a 2GB version.


A slimline design, but it comes at a considerable cost
The big question is whether the dual-core N550 CPU is actually worth having. Take a glance at the benchmark scores and you'll see it clearly has an effect, beating all the single-core netbooks in PCMark05's CPU test. However, it's a very small gain, and in general day-to-day use I found it extremely hard to notice any improvement. Taking the relatively high price of the N350 into account, I'd much rather have a single-core version and save some cash (or get a bigger battery as standard).
Performance indicator
Performance aside, Samsung continues its trend of using matte displays as opposed to the eye-catching - and, of course, reflection-catching - versions found on most netbooks and laptops. While this 10.1in screen lacks the vibrancy of its glossy cousins, it's no slouch in terms of brightness; crank this beauty up to full whack in a dark room and you'll be reaching for your sunglasses. It also performs very well outside, even on bright, sunny days.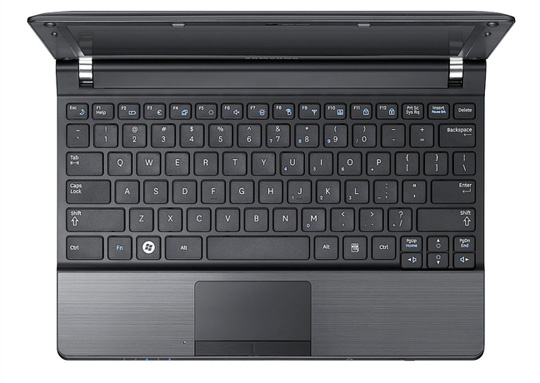 Well-spaced, responsive keys make for an excellent typing experience
Wireless in the form of 802.11n is provided courtesy of a Broadcom adapter, while Bluetooth 3.0 also makes its way onto the spec sheet. Samsung hasn't managed to include any USB 3.0 ports, but the three USB 2.0 versions should keep most users happy. Storage is also well-catered for, with a 250GB drive spinning at 5400pm.
The N350 manages to run at a whisper most of the time, and I didn't notice any uncomfortable hotspots during extended sessions. Like most netbooks, though, it's not best suited to upgrades. As mentioned earlier, getting at the memory is no problem, but the wireless card and hard drive are well hidden – I tried removing all visible screws, but belly of the chassis wouldn't budge.
Despite the N350's terrific display, excellent keyboard and overall decent design, it's simply too expensive. Sure, it's nice to know you've got a dual-core processor beating away inside, but I get the feeling most people would prefer the price cut offered by single-core models. Furthermore, unless you're running a benchmark you're very unlikely to notice any boost in performance.
Then there's the disappointment of the low-capacity battery. In my mind, the very nature of netbooks means decent battery life is a must. After all, why have a highly portable computer that can only manage a few hours away from a power socket? What's more, Asus' similarly-specced 1015PEM is on sale at roughly the same price yet lasts nearly two hours longer in the same test. The only consolation is that the N350's small battery makes for a thin and light netbook.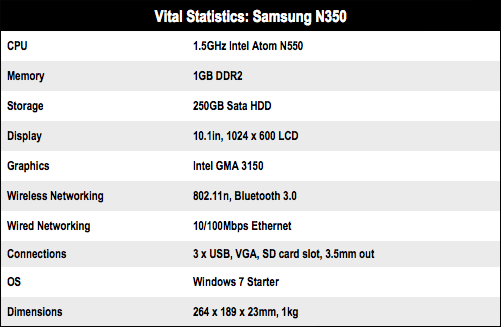 Benchmark Tests
PCMark05 Results
CPU

Longer bars are better
Memory

Longer bars are better
HDD

Longer bars are better
Battery Life Results

Longer bars are better
The price is right?
In the end, I can't help but think back fondly to the N230 I reviewed last year. It too had a £349 price tag, but its super-long battery life helped it pick up a decent score. However, despite being less than six months old, the N230 appears to have already been put out to pasture. At the time of writing, I couldn't find it on sale anywhere. The only conclusion I can draw from this is that Samsung reckons its customers will happily sacrifice a whole chunk of battery life for a miniscule boost in performance.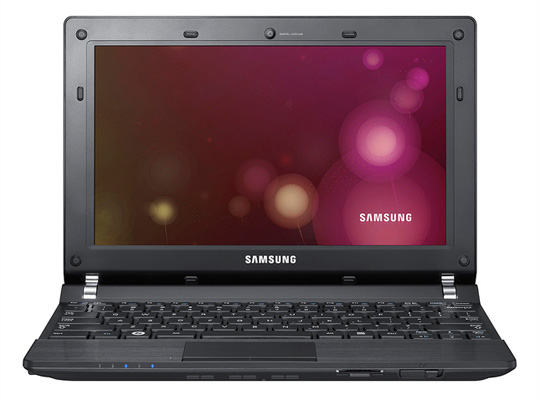 No glossy display for the N350
Verdict
Small, well-designed and comfortable to use, the N350 could have been a great little netbook. However, the relatively poor battery life and minimal performance boost offered by the dual-core Atom make its high price somewhat unpalatable. ®
More Netbook Reviews

Asus
Eee PC
1215
Samsung
X125
Dell
Inspiron
M101z
Group Test...
Netbooks