Original URL: https://www.theregister.co.uk/2011/01/27/review_gadget_htc_dg_h100_media_link/
HTC DG H100 Media Link DLNA adapter
Phone and PC to TV streamer, anyone?
Posted in Personal Tech, 27th January 2011 13:00 GMT
Review HTC's DG H100 Media Link is handy little gadget that can connect any HDMI-equipped TV to a DLNA-enabled wireless home network, so you can stream audio and video content direct from your phone or PC to the big screen.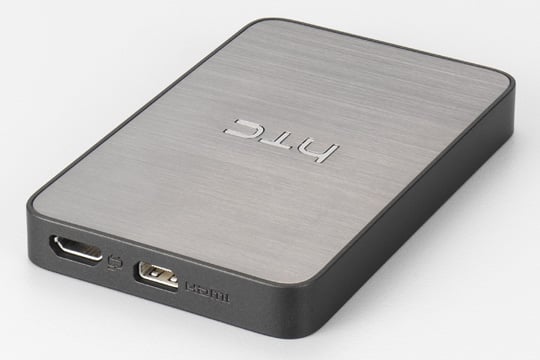 Mobile viewing: HTC's DG H100 Media Link
The Media Link is a very neat and sleek looking little rectangular metallic sliver measuring just 72 x 45 x 7mm. It's very easy to set up too – just plug it into the mains, connect it using the supplied HDMI lead to your TV and it will configure itself automatically.
It sets up its own Wi-Fi network which you can log into from your phone or PC to stream your media to the TV. This however is where it gets a little more complicated.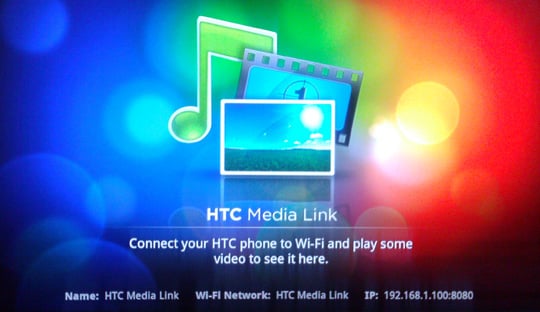 Media Link's TV home screen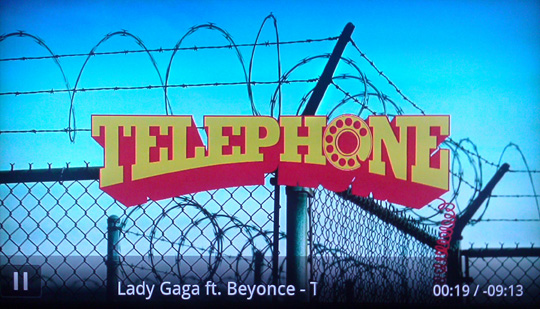 Playback on TV is smooth, although navigation is somewhat laboured
If you've got an HTC phone with DLNA, all is well. Using an HTC Desire HD with Media Link proved to be a fairly painless process. You find the device in your Wi-Fi network list, connect to it, and then access Connected Media in the menu. You'll then get a full list of all your music, pics and videos, any of which can be transferred to the TV with just a few seconds delay.
There's the feeling that the system still takes a bit of refining however. While you can skip through pictures you can't do the same with music or videos, and you'll have to come back to your track listing each time you want to change rather than simply hitting the play next button.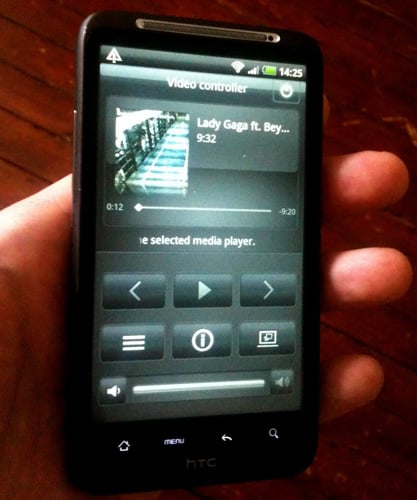 Handset control
Also, you can only play one item of media at a time, so you can't for instance set a soundtrack to play while you view your photos – you either get one or the other. It won't play absolutely anything, although it does support a decent range of formats with 3GP, WMV, MPEG4, H.263, H.264 and xvid video, AAC, AAC+, eAAC+, AMR-WB, MP3 and WMA audio, as well as GIF, JPEG and BMP images.
To stream from your PC you'll need one that's packing the latest Windows 7 OS – so no models of a certain age need apply. Sharing is done using Windows Media Player and you'll need to set your sharing settings to include Media Link. When configured, you can view and control your PC's content from your phone, which then works in exactly the same way as your phone-bound content.
So it works OK, but at the moment you're limited as to what you can use it with. To date HTC only has two DLNA-enabled handsets with the relatively high-end Desire Z and the Desire HD, and other brands' versions are still pretty thin on the ground too.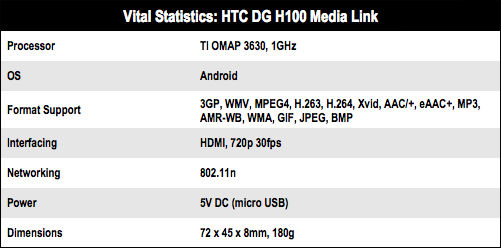 Trying it with a Samsung Galaxy Tab using that company's Allshare DLNA system was doable, but even clunkier than the HTC version, with slower browsing through the menus to find and play content, and no option to flick through photos.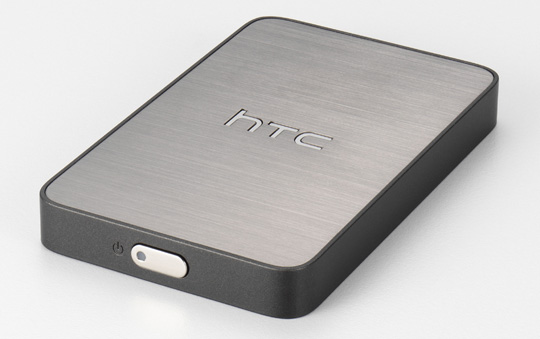 Needs refinement to play nice with other devices
Verdict
It's handy that HTC's Media Link works with any HDMI-equipped TV, and if you're using it with a DLNA-enabled HTC phone then it's a hassle-free way of getting your media onto the big screen. Even so, the operation could be made a little smoother and more flexible. Let's hope HTC addresses this, and perhaps the next incarnation will make it easier to use with non-HTC handsets. ®
More AV Gear Reviews…

Aavara PCE122
HDMI extender
Western Digital
WD TV
Live Hub
Gear4
UnityRemote
Group Test:
AV Receivers