Original URL: http://www.theregister.co.uk/2011/01/26/wtf_is_wireless_hdmi/
WTF is... wireless HDMI?
Look, ma, no cables
Posted in Personal Tech, 26th January 2011 13:00 GMT
We're now all used to HDMI, the digital equivalent of the once-ubiquitous Scart connector, the latest versions of which are capable of supporting multi-channel audio, 3D TV and a return channel, so you can feed the sound back from your TV's tuner to a surround sound system.
It has, to be honest, some rough edges here and there. It's not that unusual for people to find odd issues between different bits of kit, such as negotiation failures leading to blank screens, and the ability of one bit of kit to control another is often patchy.
These are all complaints you'll hear quite often if you read just about any AV discussion forum on the internet. There's one that's far less common, however: "If only HDMI didn't need a pesky wire to connect things up."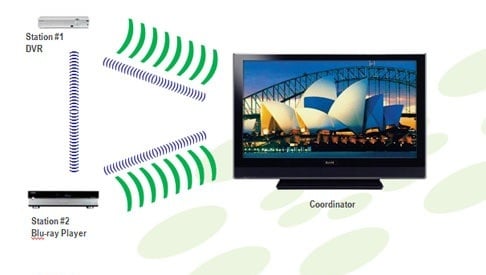 Beam video to your telly - over the air
That hasn't stopped several different groups of companies working on ways of transmitting HD video wirelessly over short ranges. You could be able to, for example, send video from a camcorder to your TV without having to plug it in. And if your TV set is fixed to the wall with all the cables neatly buried beneath the plasterwork, then a wireless HDMI connection could be just the ticket to connect up the latest gadget. So, what's it all about?
The first thing to make clear is that there isn't a wireless version of HDMI that's endorsed by the people who set the HDMI standard. In other words, 'wireless HDMI' is a generic term, rather than a specific set of interoperable products like those with the 'Certified Wireless USB' logo, which was all set to make a big splash a couple of years ago.
In fact, wire-free HD video connections was one of the things that it was suggested the WiMedia standard for ultra-wideband (UWB) communications might be able to provide. However, with a peak bandwidth of only around 480Mb/s, doing full HD was pushing the limits a bit.
Squeeze it until it hurts
That's not to say it isn't possible – there are some products like Q-Waves Quicklink HD, based on a chipset from WisAir, that will send HD video, but only from a PC. You can't hook up a Blu-Ray player, for example.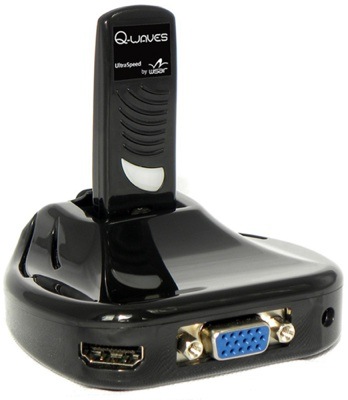 Q-Waves Quicklink HD
Slightly more flexible are products based on Cavium's PureVu technology, like the Actiontec MyWireless TV, which allow any HDMI device to be connected to any HDMI display, with Wi-Fi technology used to link transmitter and receiver. It can even send the same content to multiple displays. But there's a fly in the ointment: to fit 1080p content over a wireless link, it has to be re-compressed - using H.264 - so there's inevitably some loss of quality.
If you prefer your video not to be recompressed after it's come off the Blu-Ray or out of your Sky box, there are three potential competing systems that could provide a wireless replacement for your HDMI cable.
First up, the WirelessGigabit Alliance. Though not focused specifically on HD video, it aims to offer a high speed, high bandwidth system that can be used for a range of tasks. WiGig can use both the 2.4GHz and 5GHz bands that current Wi-Fi standards use, as well as taking advantage of space in the 60GHz band for higher bandwidth requirements, like driving HD displays.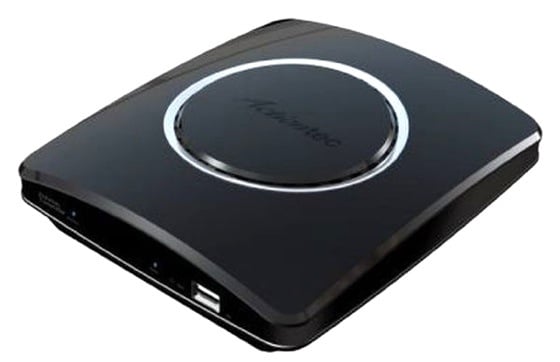 Actiontec MyWireless TV
With a single system that supports both display connections and network access, it's more an alternative way of getting HD material to a display than a straightforward replacement for an HDMI cable.
Real HDMI?
The two other systems are WirelessHD and WHDI. Both of these are more firmly focused on replacing the display connection. WHDI operates at 5GHz, while Wireless HD uses the 60GHz band. Both claim to provide ample capacity for full HD, and even 3D video.
While the 5GHz WHDI standard can penetrate walls, the 60GHz of Wireless HD operates at a much shorter range and only really works within a single room. Amimon is the main chipset manufacturer for WHDI, and the owner of the "video modem' technology that squeezes 1080p into the 5GHz band. Chip maker SiBeam is behind much of the WirelessHD equipment.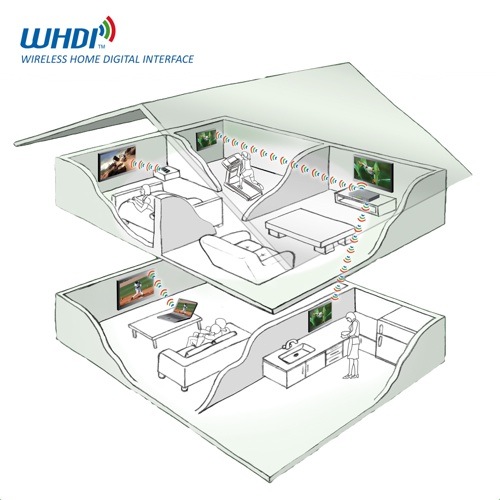 WHDI promises HD video streamed through walls
Many of the major consumer equipment manufacturers have a foot in both camps at the moment, though Panasonic, LG and Sony have all released TV sets with Wireless HD built in, and Haier has announced a range of TVs that will come with a WHDI adaptor to plug into the HDMI ports on one of your other devices.
What to buy?
Right now, there's still a limited amount of wireless HDMI kit available, and it's probably too early to say which will be the most dominant specification in future. But if you want to dip your toe in the water, Cable To Go's WirelessHD TruLink kit contains both a transmitter and receiver and can now be picked up for about £99 online.
If, that is, you're one of the few people who's found a problem that can be solved by wireless HDMI. ®