Original URL: http://www.theregister.co.uk/2011/01/26/review_e_book_reader_bookeen_cybook_orizon/
Bookeen CyBook Orizon
Kindle killer?
Posted in Personal Tech, 26th January 2011 07:00 GMT
Review Should you be considering Bookeen's CyBook Orizon as your new e-book reader, the only question you really need ask yourself is, do you want to pay an 80 quid extra for a touchscreen.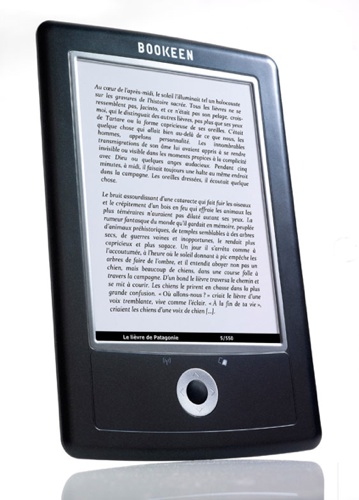 Bookeen's Cybook Orizon: spanning the gap between e-book readers and tablets
Amazon's drive to bring down the price of e-book readers means that the third-generation Kindle, as the best value product in its class, is the standard against which all others must be measured.
The Orizon, Bookeen's latest makes a good stab at giving Amazon a run for its money. They both sport a 6in screen, and they're much the same size, give or take a millimetre here or there. Bookeen heralds the Orizon as the "world's thinnest" e-book reader and, at 7.6mm, it is. But the Kindle is only 0.9mm thicker, and that's just too small a difference to notice.
Both readers can hold more e-books than you could possibly want at a single sitting - 2000 tops for the Orizon, 3500 on the Kindle - but the Bookeen can also use 2-8GB Micro SD cards too.
Both claim a continuous run battery life of three weeks between charges.
Both have Wi-Fi, though the Orizon also packs in Bluetooth 2.1, according to the Bookeen website, though there's no sign of it on the gadget itself. You won't need it in any case - USB is quicker and no less convenient.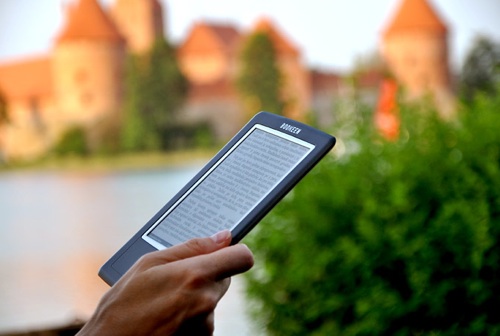 Outdoor reading, no problem
You might, I suppose, want to connect the Orizon to a phone for a bit of remote internet access, but frankly books are better downloaded by Wi-Fi, and while the reader has a browser on board - as does the Kindle - it's not a feature you'll be using often. It'll passes muster if you desperately need to use webmail, but that's about it. Most folk will prefer use their smartphone instead.
Lag
The Kindle has a physical keyboard for entering URLs. While the Orizon's virtual equivalent isn't hindered by the Kindle's clumsy system for entering symbols and its keys are sufficiently spaced to minimise mis-hits, you'll invariably find the screen struggling to keep up with your taps.
And with no cursor, even one that doesn't flash, it's hard to know whether the field you want to type into - the space for a web address or Google's search field, for instance - is the one that's going to receive your input.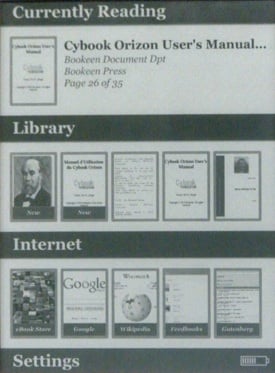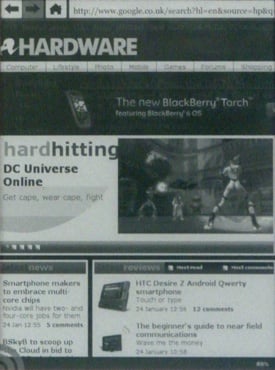 The Orizon's e-paper screen comes from SiPix rather than E Ink
The lack of feedback is incredibly frustrating at times, as is the general speed of the device. There's always a brief but very noticeable lag between tap and effect.
This is true of all e-book readers I've looked at, including the Kindle, but here it seems somehow exaggerated because you're steered to do everything by touch. Yes, swiping to turn a page does seem more natural than pressing a button, but if you're flicking through pages, it's pain in the proverbial. Thank goodness Bookeen has included its customary five-way navpad for quicker page-to-page movement.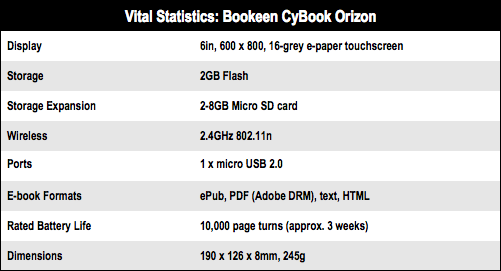 Tablet envy
The touchscreen is as much about competing with smartphones and tablets as making a better reading experience, and so is the inclusion of an accelerometer. It's crudely done. Lay the Orizon flat on the table then pick it up. The portrait display will flip to landscape as you lift the device. It'll go back again when you stop moving, unless you react too quickly and try to outwit it by rotating the reader, in which case the screen will go portrait, then landscape. By which time, you've turned it upright again, and added another screen rotation the Orizon has to catch up with.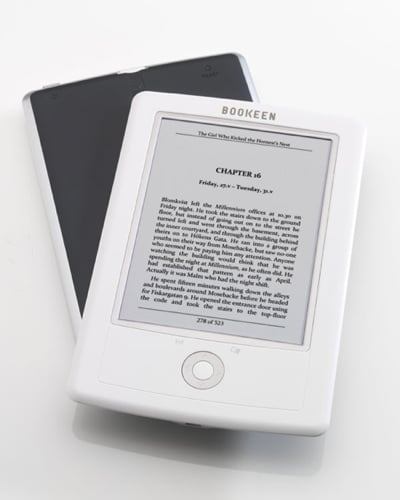 Well designed and solidly made
Would a faster CPU fix this? A display with a faster refresh rate certainly would. But short of going LCD, e-book readers can't do this yet. So why make your product behave as if they can?
The accelerometer can be disabled, thank goodness. And if you thus treat the Orizon as a traditional e-book reader and not as some kind of would-be iPad, you won't be disappointed. It's a good little reader. But if that's all you want, you may as well go the for the Kindle - it's cheaper and has a rather better screen.
Verdict
Bookeen has tried too hard to bridge the gap between e-book readers and tablets. As nice a reader as the Orizon is, the result is a gadget with unnecessary touchscreen text that has pushed up the price too far. ®
More E-book Readers

Amazon
Kindle 3
Sony
Reader
PRS-350
Samsung
E60
Imagin
IMEB-5