Original URL: https://www.theregister.co.uk/2011/01/26/games_reviews_little_big_planet_2/
Little Big Planet 2
Salvador Dali eat your heart out
Posted in Personal Tech, 26th January 2011 13:58 GMT
Review Sorry, did I forget your birthday? Ah, well that's because the Mexican and Japanese levels of the first Little Big Planet constantly occupy a large part of my addled brain. With the latest incarnation, Sony could have easily cashed in on people of my ilk, as we would have brought an inferior product just because it reminded us of the initial visually amazing, funny, charmingly innovative experience we got first time round.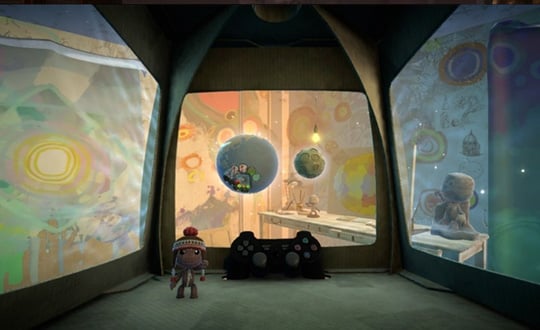 Time to hit the sack
Still, the company has gone the extra mile as it obviously believes that this is a franchise worth investing in and has decided to build on our dreams and, luckily for us, Sackboy is now back with loftier goals. Little Big Planet is truly a phenomenon and I've been waiting for this moment. I might even take a couple of hours off playing WOW CAT to burst some bubbles, and that's saying something.
For those of you who haven't played before you could be surprised at how simple a game this is. Burst bubbles by running and jumping across layered two-dimensional fields – filled with obstacles, switches, bounce pads, and monsters – to get goodies such as stickers and costumes. But the simplicity of the gameplay is balanced by the complexity and depth of the game's structure and beauty of its design.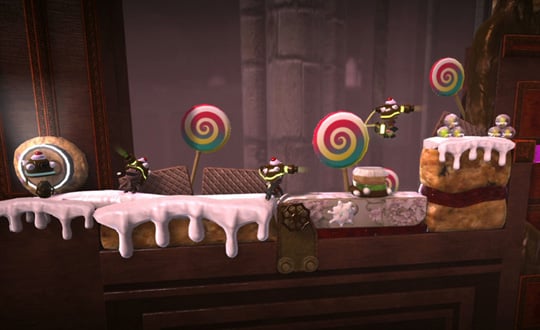 That's what you call a sweet level
Reminding me of the best days of Sonic, this is a side-scrolling platformer through and through. Little Big Planet 2 sees Sackboy, or in my case Sack girl, fighting the evil hoover Negativitron. If you're going to help the alliance save craftworld you'd better run because there's a ton of awesome levels on six stunning themed planets to fight your way through. With Larry Da Vinci as your guide, you'll be making friends and defeating enemies in no time.
We're jammin'
Completing a level where you ride first bunnies that jump and smash stuff quickly followed by the opportunity to mount puppies that give cool sonic barks to move things out your way and, last but not least, crazy kitties has been one of the defining moments of my year so far! I'm not joking either. The only part of the game that beats riding these critters was the racing rats mini game where you get to choose your track and beat your buddies by running over power ups in your own racing rat.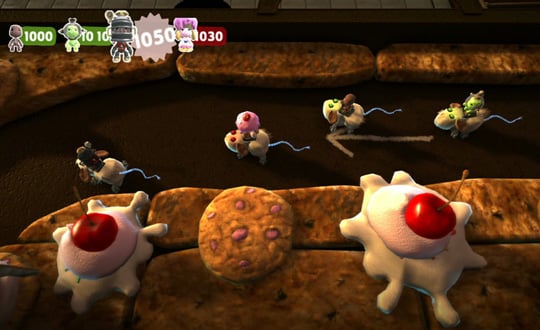 The rat race is a piece of cake
The bosses aren't all easy either – escaping being run down by a psycho monster chicken isn't as elementary as you would expect.
Making your life a little simpler are the gadgets that are available just when you need them. Sexy hat that shoots cakes that you can jump on to avoid certain death? Check. Jam you can throw to kills nasties and burst more bubbles to receive extra goodies? Check. Extremely difficult to master grappling hook which allows you to hook onto objects (and your friends, making them want to kill you)? Check. But really it's all about the 'Grabinator'. Just grab anything and throw it around or at the nearest baddie.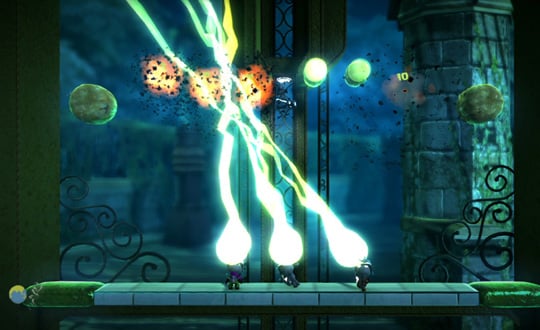 Goodness gracious...
I have never played Little Big Planet alone and to be honest can't imagine doing so. I feel it is fundamentally a social game and sitting next to your significant other or BFF congratulating each other on taking the time to master the grapple hook – it's a toughie – is what this game is about. Little Big Planet 2 has kept all the infectious charm of the first game, while making you feel you're getting an almost infinite amount of new content. Indeed, this is one game that is definitely value for money.
Customisation is custom
I love Sackbots. Well, to be exact, zombots. Sackbots are little robot non-playable AI Sackboys who have been altered by the nefarious Negativitron. I got to save them all and in return they will help you out. I managed to electrocute and burn more than a few of these little guys while taking them through the tasks you need to complete to get their unconditional love.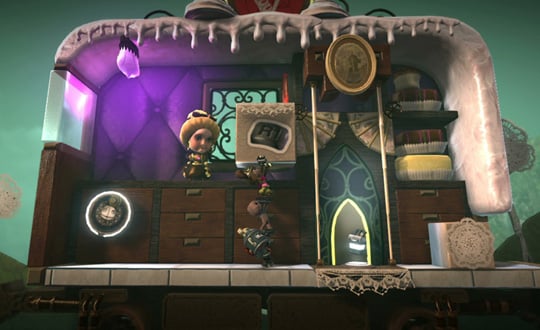 What a bunch of hangers on
You can also dress them up, resize them and program them with the weirdest characteristics. Whether you want them to be allies or enemies or just your own personal zombie cheerleaders, these little guys are ace. Get them to do your dirty work with the help of the Controllinator. Another really cool gadget that allows you to make stuff move just how you want.
Customisation usually means a new costume or haircut, Little Big Planet 2 is only limited by your imagination. Ever dreamed of having your own game development platform? Well, now you do. Yes, you've fought your way through beasties and welded cupcake guns to beat all your mates to the high score, but now the fun begins. Stephen Fry, the game's gentle host, will take your hand like a friendly giant and lead you through enough tutorials to make your mind boggle – which covers topics such as animation, music and scenery creation.
Ever get the feeling you're just a misunderstood artist? Well, wallow no longer. World wide exposure is just a click away. Just upload your designs to look like you're something straight out of Juxtapoz magazine. OK, so maybe your no da Vinci and you haven't got Sistine chapel amounts of time. Instead, why not have a look at the wealth of community created content and spend your time immersed in the creativity of others. Bored of flaming me? Comment on and rate someone else's surrealist fantasy.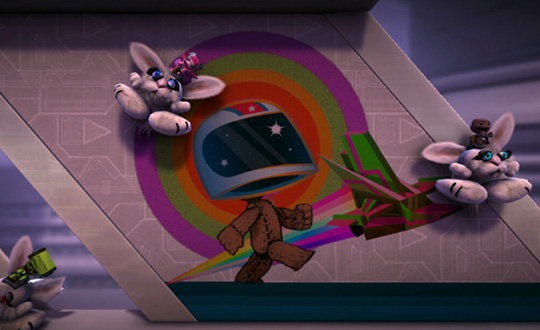 Hoppollo 11
Verdict
Above all, this game is stunning – literally, take your breath away colours and textures. I love this game and suspect, come December 2011, it will still hold its place as my game of the year.
Little Big Planet 2 does not disappoint, boasting loads of bold and beautifully diverse level designs and countless new collectibles. Some might be looking for more of a challenge but I don't think anyone could find this game dull. Ultimately, with the rewarding multiplayer game play and community customisation, this game is only limited by your time and imagination. ®
More Games Reviews

DC Universe
Online
Mass Effect 2
For PS3
World of Warcraft:
Cataclysm
Donkey Kong
Country Returns