Original URL: https://www.theregister.co.uk/2011/01/24/games_review_nova_2/
NOVA 2 for iOS
Shoot through padding
Posted in Personal Tech, 24th January 2011 16:31 GMT
Review Supersoldier required for highly autonomous role in planetary defence organisation. Duties include relentless futuristic combat, security door hacking and driving through superfluous vehicle sections. Must be highly competent with a variety of human and alien weaponry, and must wear own advanced battle armour. Will be comfortable cowering behind scenery while recharging shields and happy to engage in clichéd banter with stacatto-talking female AI sidekick. Only candidates with recent experience in fighting belligerent alien alliances and disarming omnipotent ancient artefacts need apply.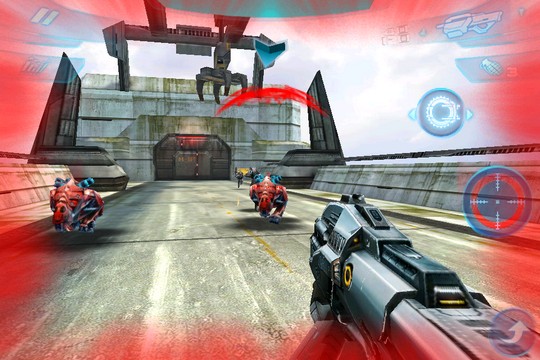 Seeing red
Halo's Master Chief may have missed Nova 2's job listing, but Earth needn't worry, his original iOS-understudy Kal Wardin returns as humanity's last line of defence in Gameloft's sequel to its hit FPS.
Kal's uncanny resemblance to Master Chief is just the tip of Gameloft's aping. Picking up where the original left off, Nova 2 re-plunders Halo's universe for inspiration, from orbital space jumps and sun-drenched tropical alien beaches, right down to enemy roll animations and the way Kal holds his rocket launcher. Environments, architecture, weapons, vehicles - wherever you look and whatever you're doing, Nova 2 constantly reminds of Bungie's epic sci-fi saga.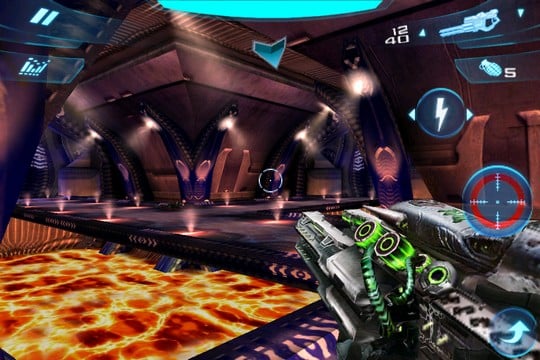 Nothing like a nice warm bath.. arrrgh!
It's testament to Gameloft's achievements, then, that blatant mimicry is easily overlooked in the face of technical mastery. Nova 2 might fall short of Rage and Infinity Blade's graphics, but it's worth remembering those games are essentially tech demos - ones which cleverly recycle assets and mechanics to elongate gameplay - whereas Gameloft spares little visual and mechanical diversity in cramming an first-person shooter experience into the iOS. And it's a technical feat Nova 2 sustains throughout an eight-hour campaign and online multiplayer modes.
Mech a lot of noise
Following in the long tradition of sci-fi sequels, the campaign advances the original's gameplay through an increased armoury, grander locales and a more bewildering story. Given the original wasn't renowned for exposition, Nova 2's narrative is probably best ignored. Suffice to say that six years have passed since the last pretext for single-handed intergalactic genocide, and some new, thinly-sketched macguffin now affords you carte blanche to do it all over again.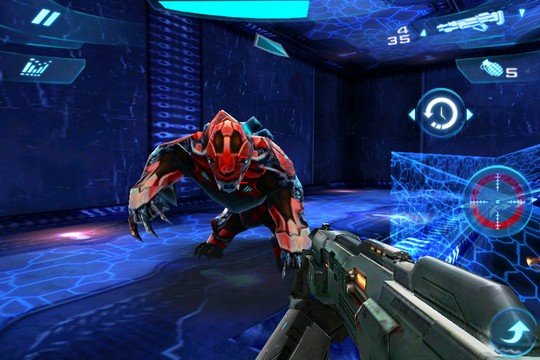 Let's play fetch, get a load of this!
A familiar range of weapons and special abilities facilitates your murderous vengeance through 12 familiar levels. But while alien plasma rifles and stasis fields will struggle to enthuse seasoned FPS players, a variety of situations and occasional scarcity of resources ensures Nova 2 entertains throughout.
Its grand set pieces might also be overly-familiar for those players, but they at least dare to look beyond Halo for inspiration, with mech combat inspired by FEAR, and an excellent sentry-gun section inspired by Half-Life 2's Nova Prospekt. Hacking also returns to provide an additional – if not taxing – distraction from regular combat, as do driving sections, in which you man jeep-mounted guns and ride rocket-firing hoverbikes. All of which helps, as they not only punctuate otherwise repetitive gunplay, but have the additional advantage of providing necessary respite from the FPS controls.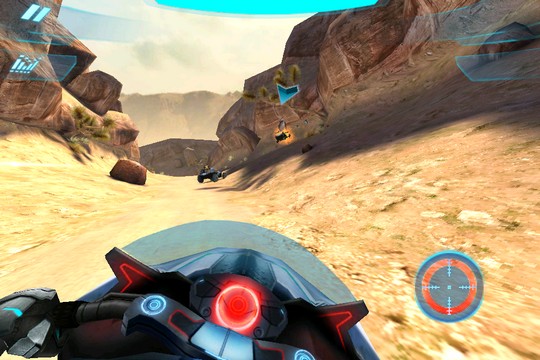 Shadow in the valley of death
While Nova 2 reconfirms Gameloft's touch-screen expertise, it also reinforces the iDevices' inherent FPS control limitations. With FPS grandmaster Id Software settling for an on-rails approach in Rage, it's obvious the twin-stick conundrum won't be solved through software alone.
A touch of bitterness
And so, despite further refinements in Nova 2 - including a useful customisation option that allows several interface buttons to be placed manually – no matter which iDevice you're playing on, and no matter what the configuration, the touchscreen-only tech compromises the FPS experience.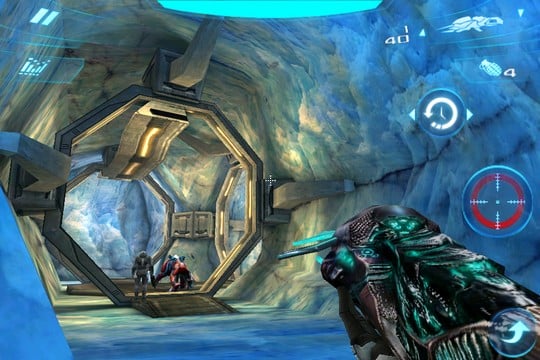 Hmm, my weapon appears to have turned into a giant caterpillar
Nowhere is this more apparent than in the otherwise competent online multiplayer mode. Playable locally across Wi-Fi and Bluetooth, or online via the free Gameloft LIVE!, Nova 2 offers the best online iOS shooter to date – almost mitigating the lack of Game Center support.
With up to ten-players playing on maps littered with jump pads and sprint routes, and with game types like InstaGib and FreezeTag, Nova 2's multiplayer harks back to the golden age of UT and Quake III Arena. But control issues are an ever present deterrent. And even though those issues are shared by all, it's hard to think why players would persist with the multiplayer offering when most have access to the superior controls offered by consoles and PCs.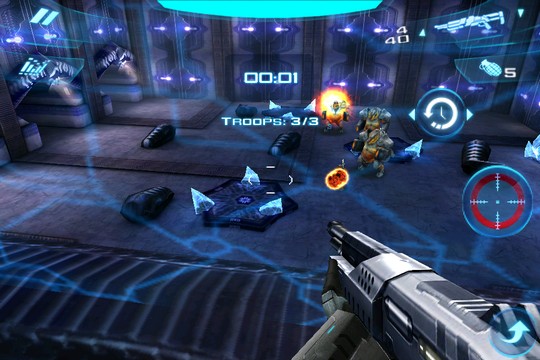 Hold on a sec..
Verdict
Nova 2 is a victim of the original's success. Despite overly-familiar gameplay, it's a highly polished, attractive and often enjoyable game. And at just £4, it represents great value for a lengthy, varied campaign and comprehensive multiplayer. But where the original proved gamers could play a full FPS on the iDevices, with the sequel unable to answer enduring control concerns, it's difficult to know why they would. ®
More Mobile Games Reviews

Lara Croft and
the Guardian of Light
Infinity
Blade
Ten Essential...
Android Games
Ten Essential...
iPhone Games