Original URL: https://www.theregister.co.uk/2011/01/24/carter_pav_flight_test/
'Personal Air Vehicle' VTOL jump-copter in key flight test
Whirly, winged wonder-craft gets automated controls
Posted in Science, 24th January 2011 14:03 GMT
A radical autogyro jump-copter "Personal Air Vehicle" able to make vertical takeoff and landings but cruise in winged flight like an aeroplane has achieved a key flight-test milestone.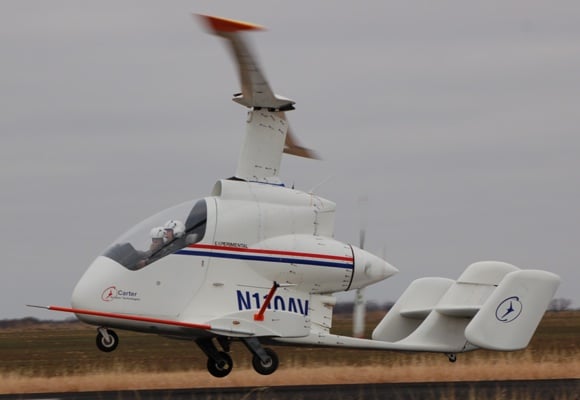 Wings optional
The Personal Air Vehicle (or PAV) is a new design from Carter Aviation of Texas, which has been at work on its "slowed rotor/compound" (SR/C™) technology since 1994.
"This is an exciting time for us," enthused company prez Jay Carter Jr in a statement announcing the first flight. "Our first aircraft proved the viability of our technology. This aircraft translates that technology into a viable consumer product."
According to the statement, released last week, the new SR/C PAV design completed a 36-minute flight on 5 January. A 30+ minute flight is an important achievement for Carter, as it is one of eight "milestones" specified in an economic-development-incentive deal the firm has with the city government of Wichita Falls, Texas (where the company is based).
An SR/C aircraft has wings and a propellor like a normal light aircraft, but it also has free-spinning rotors like an autogyro. A regular autogyro can take off following a very short roll, but it can't lift off vertically: however the Carter PAV is expected to be able to.
It does this by using a small engine-driven "pre-rotator" assembly to gradually spin up its rotors to high speed while sitting stationary on the ground. The pre-rotator doesn't have to transmit much power so it has insignificant size and weight compared to a helicopter's transmission: and the engine isn't required to furnish the massive grunt necessary to support the aircraft in a hover, either.
The weighted rotor tips nonetheless mean that after a while there is a large amount of energy stored in the whirling rotor disc, rather as in the case of a spinning flywheel. To lift off, the pre-rotator is declutched and the rotors' pitch increased so that they bite air instead of spinning without resistance. The aircraft lifts off.
Left to itself, the craft would soon come down again as the rotor blades slowed, but meanwhile the propellor is pushing it forward to flying speed and the blades begin to turn on their own due to the forward motion: the craft is now flying like an autogyro. As speed increases still more, the rotors are slowed down to reduce drag (this is the Cartercraft's other main special sauce apart from the pre-rotator) and the wings take the strain. At full speed, the jumpcopter is flying as a normal wing-and-prop light aircraft.
What's better, VTOL or road driving? DARPA wants both, of course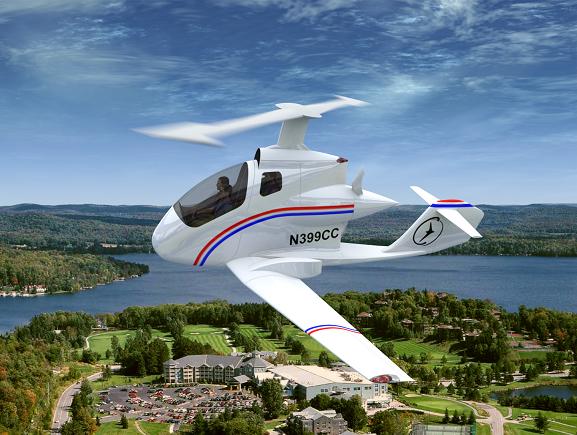 The ultimate plan
Having finished its journey, the SR/C craft can make a vertical landing in the same way as an autogyro (or a normal helicopter which has suffered an engine failure): as it descends to meet the Earth, the pilot pulls in more pitch and the kinetic energy of the falling aircraft is dumped into the rotor disc allowing a gentle set-down.
Carter has built and tested jump-copter aircraft before, but they seemed to lack one major PAV attribute: that of being easy to fly. Even experienced ex-military test pilots have suffered mishaps at the controls of Carter craft in previous years. According to the company, this has been addressed in the new PAV:
Most systems have been automated with new computer controls, greatly reducing the pilot workload.
Test pilot Larry Neal adds: "This aircraft is unbelievably fun to fly."
At the moment the PAV is being tested for low-speed and vertical-takeoff and landing operations. Once this phase of trials is complete, its wings will be attached and flights at higher speeds making use of the rotor-slowing tech will be carried out.
Apart from the economic-incentive deal with Wichita Falls, Carter Aviation sold the rights to use its technology in unmanned aircraft in 2009 to successful robocraft operation AAI in 2009 for an undisclosed sum. The firm is also part of a team contending to build a flying VTOL offroad vehicle for famous Pentagon crazytechbureau DARPA under the Transformer TX project. If that effort proves successful, a turbine-engined jumpcopter with folding wings and rotors, equipped with robust wheels and transmission allowing offroad driving on the ground, would be built for the US Marines.
As for the more normal 2+2 PAV now flying in Texas, it seems to have many of the attributes of our long-desired flying car: it is potentially fairly quiet, it can take off and land vertically, and it needn't be a lot more expensive than a regular light aircraft. Now with automated controls, it might be possible for people other than highly-trained professional pilots to fly it. It is expected to make a jump liftoff with full fuel and 1,000lb of payload, and cruise at better than 200mph.
On the downside, it can't be driven on the road, a useful option for dealing with bad weather and making the journeys to and from airstrips or helipads. The PAV's wings and rotors can't fold, either, meaning that its owner needs a 45-foot-wide space to park it.
It could be that ground-drivable but non-VTOL designs like the Terrafugia Transition (now being redesigned following initial flight tests) will prove more popular – or that neither design philosophy is viable, and PAVs/flying cars remain as far off as ever. It's encouraging to see some progress being made, however. ®