Original URL: https://www.theregister.co.uk/2011/01/21/review_gadget_aavara_pce122/
Aavara PCE122 HDMI extender
The long run
Posted in Personal Tech, 21st January 2011 07:00 GMT
Review Ever fancied watching a Blu-ray movie in the garden? Always wondered what it would be like to isolate your Xbox 360 so you could hear the gameplay over the sound of the jet engine Microsoft calls a DVD drive? Many of us would probably like to, but 50 metre HDMI cables tend to go for £300 apiece – not exactly what you'd describe as a cost-effective arrangement.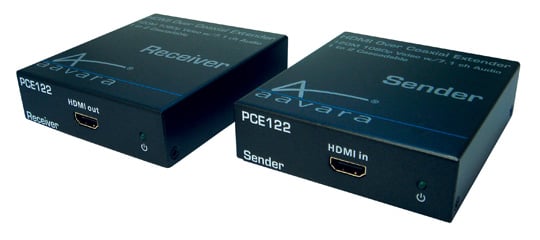 Cable TV: Aavara's PCE122 sender and receiver units
Now the Aavara's PCE122 HDMI over coaxial extender from Keene Electronics, is not exactly a cheap alternative,but it is more flexible and allows you to send 1080p HDMI signals distances up to 120 metres using inexpensive coax cable.
On a more serious note, if you are a publican or owner of a similar public venue who relies on such things as Sky Sports to draw in customers, it's likely you had the building wired with coax twenty years ago. Now the high definition age is here and you need to connect up those shiny new HD panels, you'll need something along the lines of the Aavara PCE122 if you want to avoid closing the pub to have it rewired. Not to mention the exorbitant cost of doing so.
With Keene flogging sender/receiver pairs for £487 and individual receiver units for £262 each, you're still going to have to dig deep, but it's the versatility that's key here. Thanks to a feature known as cascade, units can be daisy-chained with up to five receivers in each chain. Given also that the sender unit itself has two outputs, it is possible to cascade the same signal to a maximum of ten displays.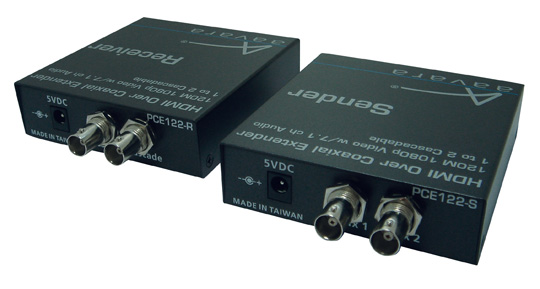 Multiple units can be linked together to form a display cascade
With each unit capable of boosting a 1080p signal 120 metres (230 metres for 720p), using a five-unit chain, it is conceivable that the final receiver could end up 600 metres away. Albeit a bit of a pain to change the disc in your Blu-Ray player at that distance though.
3D perspective
Now before you get too excited, while the Aavara box is fully HDMI 1.3 and HDCP compliant for all your 7.1 channel audio and 1080p video needs, 3D viewing is another matter. If you're thinking of delivering 3D content you'll might want to to consider finding something officially HDMI 1.4 compliant.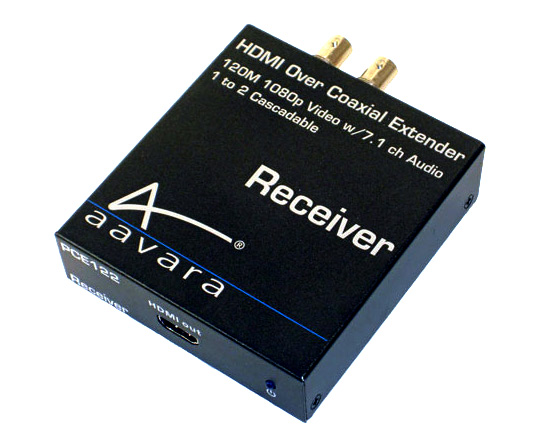 Delivering 3D content may well be a possibility, but not at full-resolution
That being said, from a technical point-of-view, any high-bandwidth HDMI 1.3 implementation should be able to support 3D up to 1080i. The official word from Keene is that – as even Sky uses a hybrid variant for HDMI 1.3 for its 3D boxes – it may be possible to relay these signals. Until compatibility testing is completed, Keene is saying that the PCE122 is not currently 3DTV capable. Blu-Ray 3D content requires HDMI 1.4 and is thus not supported at all.
Once you've determined that you'll not be stepping outside of the realms of HDMI 1.3, the remaining issues are ease of installation and configuration. All in all, it's very simple, just connect your existing coax feed, attach an HDMI cable and plug it into the wall. Oh, and don't mix up the sender and receiver units.
With each box measuring in at 92.4mm x 117.8mm x 29mm, it should not be difficult to conceal behind most wall-mounted televisions, but it would certainly be useful if the casing had been designed with wall-mounting slots.
As I was lacking a 120 metre coax run, I performed my tests using a 50 metre run with F-Type connectors. The Aavara Units are fitted with locking BNC connectors, but do include F-Type to BNC adapters. It should be noted that when using these adapters, the 1080p transmission range is limited to 90 metres.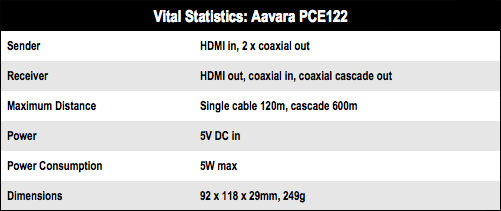 Distance runner
In all tests performed, there was no observable loss in quality in either audio or video streams. In fact, the most limiting factor was the range of my Xbox 360's wireless controller as I attempted to play GTA IV from the other side of the house. Incidentally, Aavara also produces a rather more expensive IP version, the PB5000 if Ethernet is your cable of choice.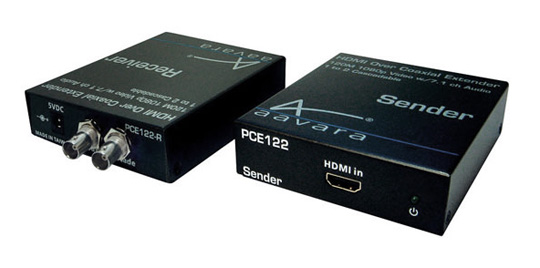 Not cheap, but neither are the alternatives
Verdict
The Aavara PCE122 is certainly a great device for those needing to distribute HD signals across long distances, but it's quite an investment to simply get away from a noisy Xbox. Public venue owners though, would be wise to consider this option over the cost of rewiring. ®
More AV Gear Reviews…

Western Digital
WD TV
Live Hub
Gear4
UnityRemote
Sling Media
Slingbox
Pro-HD
Group Test:
AV Receivers