Original URL: http://www.theregister.co.uk/2011/01/20/review_storage_buffalo_linkstation_pro_duo_nas/
Buffalo Linkstation Pro Duo 2TB Nas
Putting in a performance
Posted in Personal Tech, 20th January 2011 13:00 GMT
Review Apart from the silver-on-red "V" sticker, Buffalo's V-Series Linkstation Pro appears identical to the original LinkStation Duo Nas box. Even on the inside there are many similarities, such as Buffalo's remote WebAccess, DLNA and iTunes DAAP media streaming along with a BitTorrent client and are standard. Likewise, the V-Series box comes complete with RAID 0 and RAID 1 support, not to mention the identical on-board system software.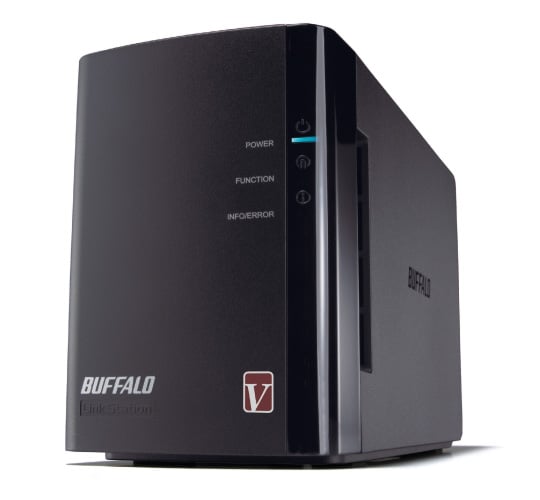 Speed bump: Buffalo's Linkstation Pro Duo
At this point it's all sounding rather much the same, until you get to Buffalo's performance claims. Recalling that the original LinkStation topped out around 35MB/s, Buffalo is now claiming 72MB/s but doesn't say if this is a read or write figure. Such performance boosts are attributed to a new 1.6GHz CPU of unspecified origin.
Easily one of my favourite features of the original Linkstation Duo's design was the innovative quick-release rail mounting system, which allowed the user to change both drives within 30 seconds. It seems Buffalo was pleased with this one too, and rightfully so, as it features in the LinkStation Pro. Simply pull the ring-tab whilst depressing the plastic catch and the drives slide right out!
The build quality is also just as good this time around. Clocking in at 2.3kg in an 86 x 204 x 127mm frame, the V-Series feels equally as solid and physically reliable. This is one Nas box that won't fall apart on your desk.
As far as the user interface goes, it is once again – you guessed it – the same. Not that there was anything much wrong with it before though. I found the web interface to be uncomplicated and easily navigable, albeit somewhat slow to load when moving to the next page. This was one aspect I had really hoped Buffalo would have improved upon.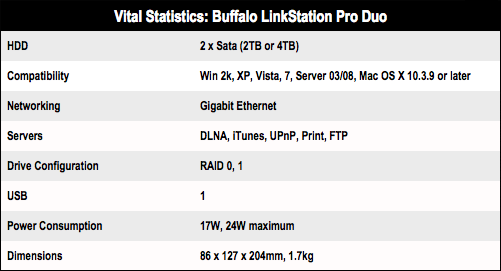 To see if the LinkStation Duo Pro was close to reaching Buffalo's performance claims, I ran tests with Crystal DiskMark 3. It didn't manage the claimed 72MB/s, however, this Linkstation is hugely improved over the previous model.
CrystalDiskMark 3 Benchmark Tests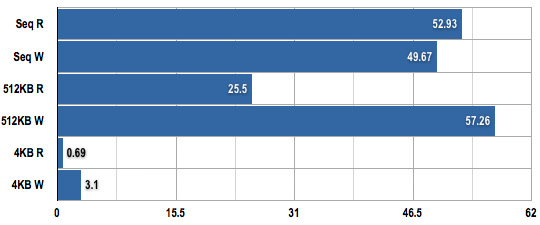 Throughput in megabytes per second (MB/s)
Longer bars are better
With 1GB sequential reads 20MB/s faster on average and both 1GB sequential and 512KB random writes seeing a 30MB/s boost, it puts in a a pleasing performance. However, the drive does still suffer from a speed deficiency when it comes down to the 512KB random read test, but still shows a 5MB/s improvement.
The new CPU is obviously helping the V-Series Linkstation Pro Duo here, but there's yet one more change – faster hard disks. The old LinkStation Duo was equipped with 5400 RPM Samsung EcoGreen drives, now the LinkStation Pro duo comes equipped with 7200 RPM Seagate 7200.12's, at least in the 2TB review unit.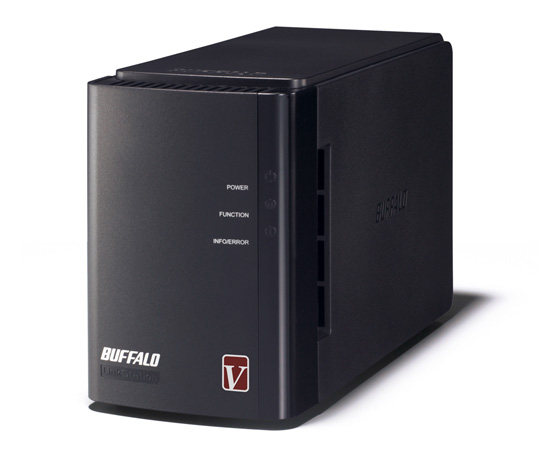 Improved performance and pricing
The annoyance of network disconnections that accompanied the use of USB storage devices and printers is also absent in this revised version. This greatly improves the user experience when it comes to using the Direct Copy backup feature from flash drives and the like. Unfortunately, it is still limited to supporting only a handful of common file types, thus rendering it still rather useless for proper backups.
Shop around and the 2TB V-Series LinkStation Duo can be found for just over £200, with 4TB going for about £330 – approaching a third less than previous incarnations and a fine example of the ever falling cost of improving technology.
Verdict
Apart from the niggles of slow page loading, Buffalo has evidently improved upon its respectable Linkstation Duo and made it competitive with some bigger players in the NAS market – although it's certainly no Synology box – drastically reducing the cost along the way. The upshot is the V-Series LinkStation Pro Duo turns out to be a decent Nas box with an array of highly useful features and performance to match for a very agreeable price. ®
More Network Storage Box Reviews...

Western Digital
My Book Live
Synology
DiskStation DS411+
Cloud Engines
Pogoplug
Verbatim
MediaShare