Original URL: https://www.theregister.co.uk/2011/01/20/games_review_dc_universe_online/
DC Universe Online
Get cape, wear cape, fight
Posted in Personal Tech, 20th January 2011 16:03 GMT
Review The backstory to DC Universe Online reads like that of so many of Metropolis and Gotham City's superheroes and supervillains. Lift the cape and pull back the mask and DCUO reveals itself as a regular-Joe action-brawler that gained special powers after falling into a vat of MMORPG mutagen.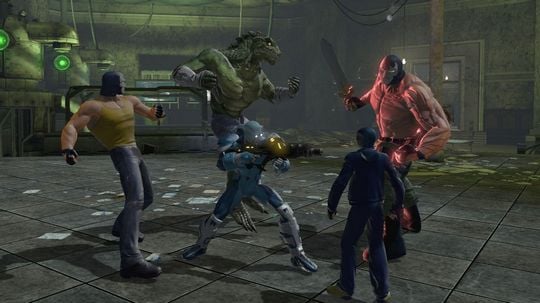 Pick on someone your own size!
The result is a symbiosis of the relentless immediacy of traditional open-world actioners, such as Crackdown and Prototype, with the the questing, progression and social interactivity of MMORPGs, such as WoW and Everquest. It's a clever attempt to combine the genres and reconcile often disparate types of gamer, and it's one that almost works. But, like all superheroes, DCUO constantly struggles with its double identity: part mild-mannered introduction to persistent online gaming and part powerful alter ego satisfying an exacting audience of seasoned PC players.
DCUO's familiar fiction cleverly eases noobs into the esoteric MMORPG world. Character customisation is demystified by choices grounded in comic book lore: male or female; good or evil; cape or wings; spandex or combats; super speed or flight; ice blast or magic. But simple choices belie a deep customisation system. The choice of mentor – Superman, Batman or Wonder Woman for good; Lex Luther, the Joker or Circe for evil – informs main campaign questing. Primary powers decide combat styles. Secondary powers determine roles in group play - tank, crowd control, or healer. And your costume... well, that just makes you look super cool or epic fail.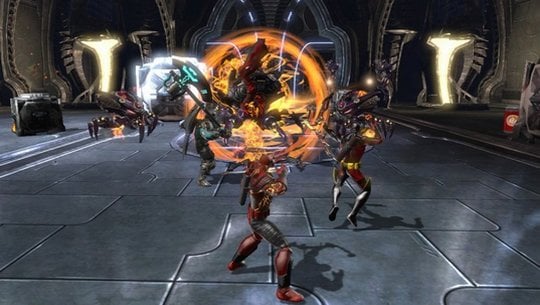 Is it a bird, is it a plane? Whatever it is, kill it!
DCUO's opening few hours reinforce Sony Online Entertainment's effort to appeal to all players. Simple, bite-sized quests introduce combo mechanics to veterans more used to ability-based combat, while offering novices time to grow accustomed to equipment menus, maps, quest lists and skill trees. And after just a few hours of levelling, the playing field is itself levelled.
Working for the legends
One further concession to novices, however, ensures DCUO is one of the easiest MMORPGs for soloing. In fact, the current level cap of 30 can be reached without so much as waving to another human player. It's a system many will baulk at as contrary to custom. But with co-operative play an ever-present choice in all quests - Team-Ups, anyone? - and some restricted to co-op only, it's an egalitarianism that broadens appeal without sacrificing the core doctrine of community.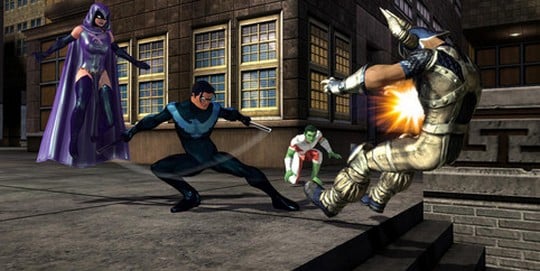 Just can't stomach it
Whether you superhero solo or gang up as supervillains, DCUO's questing remains the same. Just like comics, main quests form encapsulated stories, where successive mini-quests need completing before progressing to a final dungeon. For example, one sees you rescuing Harley Quinn from the Joker's Fun House, where Robin has restrained her in an attempt to extract information for Batman about the Joker's deadly toxin.
Beginning outside, the objective is to defeat 20 Gotham cops, with additional experience points awarded for completing optional objectives, such as looting their bodies for incriminating evidence. After achieving the main objective, it's on to the next encounter, against tougher opponents. Once you've completed a few, you'll head into the dungeon for further mini-quests and a boss-fight against a prominent DC character, in this case Robin.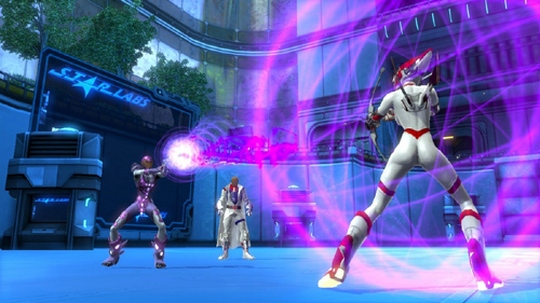 Unload in the pink ring
It's a pattern unfortunately repeated ad nauseum through the main campaign – one which fails to maintain interest despite impressive re-dressing of characters and stages. So it's left to narrative and progression to sustain the experience. And in these, at least, DCUO is a worthy MMORPG.
Comical effect
SOE has done a great job in capturing the look and feel of DC comics, even though the PS3 version is pegged back at 720p. The voice work and scripting are of high quality throughout, compelling you onwards where mechanics fail to. And levelling is as addictive as in any great RPG, although there's little opportunity to grind, as combat outside of quests yields relatively low XP.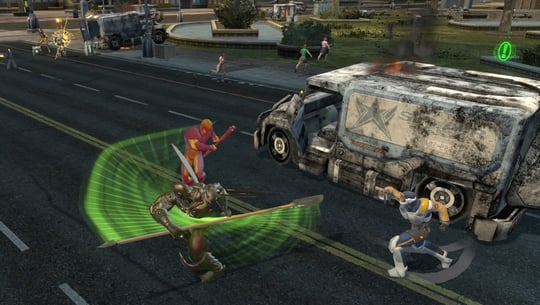 Road rage
There are also several other game modes in the current build to keep players occupied. Player versus player (PvP) can be toggled at any time to raise the challenge in the regular world. And you can take part in PvE or PvP arena combat.
PvE events follow a similar pattern to regular quests, but on a larger scale and in distinct locales, such as the desert base of Area 51. PvP events allow you to use your own character, or play as a legendary DC character, in common game modes like King of the Hill. But it's going to take a while for many PS3 players to understand the role requirements for both, and you're quite likely to be teamed up with three silent damagers, all unwilling to adopt a different role.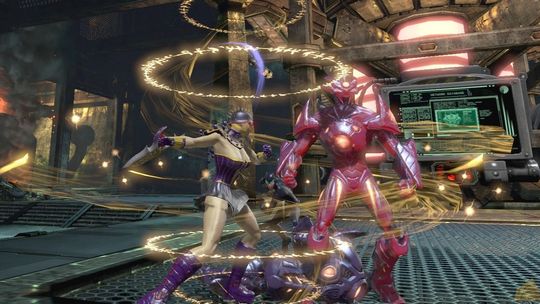 Circular beating
Verdict
For a vanilla build, DC Universe Online is an accomplished first attempt. Its idiosyncrasies work well to introduce new players into the genre and attract seasoned players seeking a fresh experience. As you'd expect with any new MMORPG, it's a little rough around the edges. Latency occasionally rears its ugly head, with character skins the most notable casualty. And the camera often confuses, especially in combat. But the real disappointment is that a game so huge and complex is undermined by a problem so prevalent and simple: that questing can often feel like a chore. ®
More Games Reviews

Mass Effect 2
For PS3
World of Warcraft:
Cataclysm
Donkey Kong
Country Returns
Doctor Who:
Return to Earth