Original URL: https://www.theregister.co.uk/2011/01/20/apple_touchscreen_mouse_patent_filing/
Apple seeks touchscreen display mouse patent
Poke, tap, and tickle your colorful rodent
Posted in Personal Tech, 20th January 2011 20:21 GMT
Apple has filed a patent application for a mouse with a context-aware, configurable display perched on its back.
As described in a US Patent and Trademark Office filing entitled Computer Input Device Including a Display Device, the mouse would have an LED, LCD, OLED, or TFT display inside that would project its contents through collimated optical fibers to a curved, touch-sensitive surface.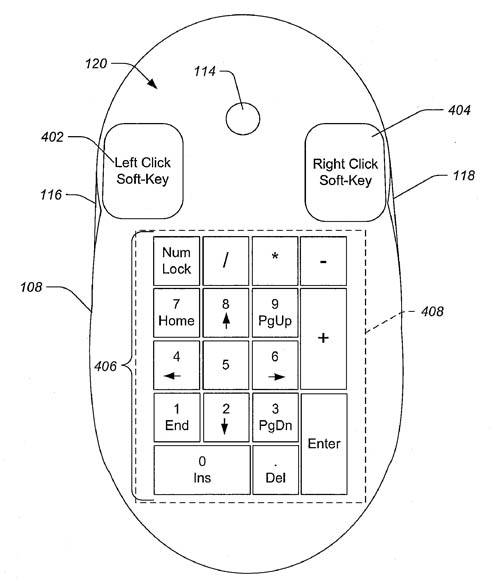 'It's a mouse!' 'It's a touchscreen interface!' Stop – you're both right
That surface could display user-selectable icons or other navigation elements, or could provide: "Options to improve the appearance to a user, such as, for example, user customization of appearance, [providing] the potential to improve the user experience with the input device, even apart from adding functionality."
To accomplish the goal of both a mouse-mounted touchscreen interface and the display of photos of Junior and/or The Lovely Wife, the input device would need to be equipped with an impressive array of electronics, including a processor, memory, movement sensors, display circuitry and more – not to mention boring ol' buttons and scrolling-control elements.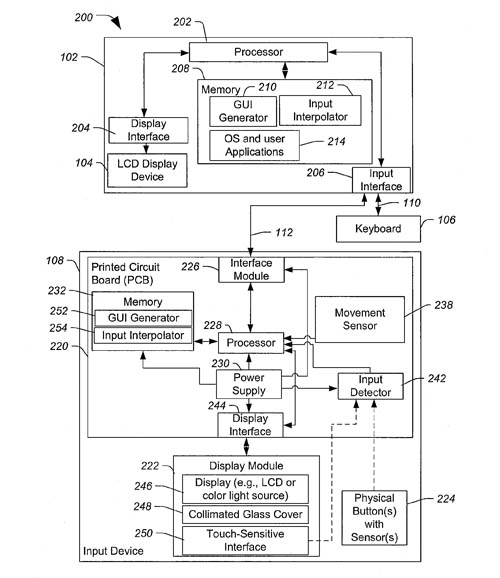 There's a lot going on inside Apple's proposed more-magic than Magic Mouse
What all that electronic goodness would add to the price of such a mouse is not mentioned in the filing. Nor, for that matter does the filing discuss why anyone would want to visually search out and tap on interface elements on a handheld device such as a mouse, other than saying of current user interfaces: "It is not always apparent to the user which input should be used to access particular application functions; the functionality to a user might be improved through a more communicative input device."
The idea of context-sensitive interface elements is not a new one. Keyboards with display-based keys that change in reponse to context have had a long history, including such questionable projects as the Optimus Maximus keyboard – which was among the winners of Wired's 2006 Vaporware Awards – and the less-ambitious United Keys 205Pro.
Multifunction mice are also not unheard of. Although we're not aware of a mouse that performs such complex tricks as Apple envisions, 3Dconnexion offers the SpacePilot Pro – "The Ultimate Professional 3D Mouse" – that includes an LCD display with which you can, among other things, check your email and calendar.
Other tricky mice have also been offered to what must be described as a less-than-receptive market. 3M, for example, makes a mouse with a built-in numeric keypad, the LX451. Weterm Electronics and others make telephone-equipped mice, and Sony offered a mouse with a VoIP-app phone.
One intrepid hacker even married a LogiTech mouse with a Nokia phone, and dubbed it the LogiNoki. We wonder what Apple might call its touchable display mouse – the iPoki? ®