Original URL: http://www.theregister.co.uk/2011/01/19/review_iphone_printer_bolle_bp_10/
Bolle BP-10 iPhone photo printer
Photographs from your mobile without AirPrint
Posted in Personal Tech, 19th January 2011 13:00 GMT
Review Here's a home photo-print 'toaster' with a difference: it can't be plugged into a computer, nor does it support Wi-Fi. Instead, it comes with a built-in dock for an Apple iPhone. As such, the Bolle BP-10 is promoted as the world's first dedicated iPhone printer. In other words, it won't print from anything else.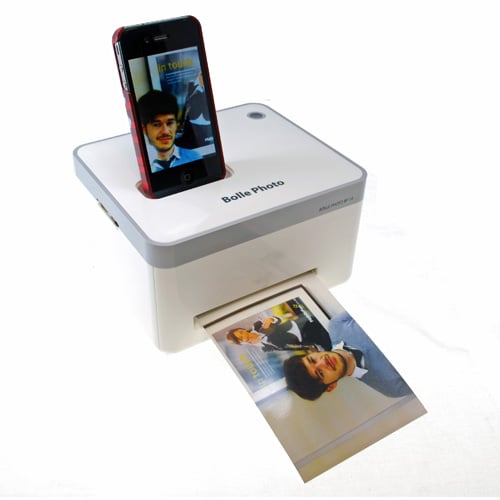 Bolle BP-10: whenever your iPhone is sitting in the dock, it is being recharged.
The printer is small, shiny and white, and notably lacking in paper trays, flaps and other fragile bits that manufacturers usually invent for users to snap off by accident. The only external features are the dock and power button on top, an output slot at the front, and the power cable exiting the rear.
To print from an iPhone to the BP-10, you first need to download and instal the free Bolle Photo app from the iTunes App Store.
This little program lets you choose a picture from your iPhone's Camera Roll or other image libraries in Apple's Photo app, then choose whether you want to output it as a full-size 4x6in print or a selection of miniatures on a single print: a multiple of four or a crammed arrangement of two small and eight tiny versions.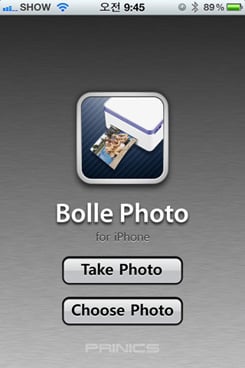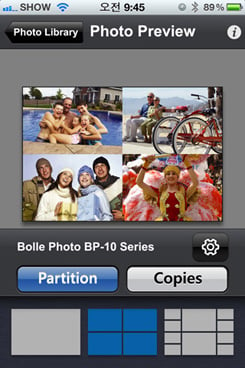 Choose an image using the Bolle Photo app, slot your iPhone into the dock and start printing
This done, you set it to print, pop the iPhone into the BP-10's dock and let it do the business. Each glossy, borderless, 6x4in printout takes a minute to complete.
Fitting and replacing the consumables and print media is a single-step operation because the card and colour thermal dye films are combined into one dual-roll cartridge. This is loaded into the side of the printer behind a removable door (at last, something to snap), and that's it: you're ready to go.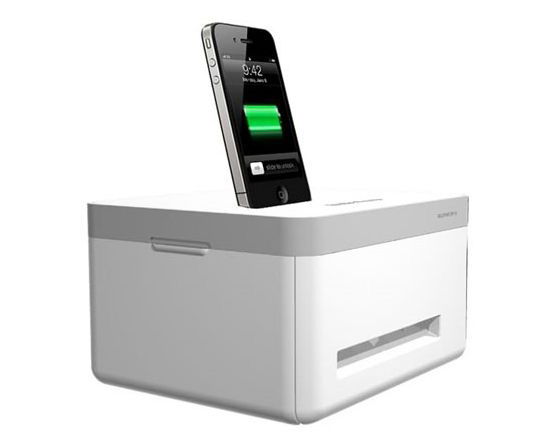 Whenever your iPhone is sitting in the BP-10's dock, it is being recharged
When a photo is being printed, it begins to emerge from the output slot at the front, gets sucked back inside for the next dye colour, emerges, goes back inside and so on four times until the job is done. On the final pass, the card is cut and delivered onto your tabletop (or the floor if you positioned the BP-10 at the edge of the table).
The results are really quite good indeed, with bright, saturated colour and no apparent noise, grain or dither. Several shots I thought were pretty duff on my iPhone came out beautifully as 6x4in prints from the DP-10.
On the down side, it is a noisy printer in operation. It wouldn't bother anyone during a party but it will annoy the family if you start printing in the living room while they're watching TV. Another minor irritation is that the BP-10 seems to keep consuming 3.5W from the mains even when it's switched off.
Remember, too, that the iPhone dock connector is purely for connecting your phone to the printer: there is no further connection to a computer, so it does not double-up as a dock for iTunes synching. Still, it's good to know that the phone will not be running flat while printing off dozens of shots throughout a children's birthday party.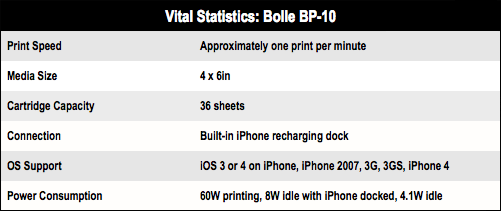 The only thing that I found genuinely annoying, though, is the way the Bolle Photo app pre-renders each photo file before printing. I don't object to the few seconds it takes to do this, but I do dislike that it dumps this Bolle-rendered version of the photo back into my iPhone's Camera Roll, cluttering up my photo libraries with multiple, lower-resolution duplicates and miniatures.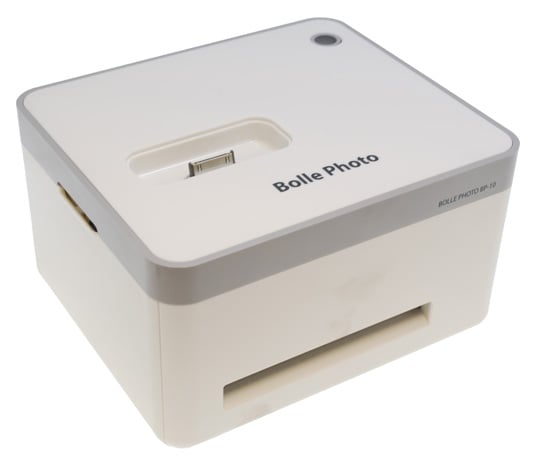 The lack of flaps and trays makes for a lovely, clean and robust design
Verdict
I won't try to justify the concept of a 'toaster' photo printer: you either think these things are a great idea or expensive junk. But compared with other 6x4in printers, the BP-10 is priced reasonably; even the media and dye cartridge, costing £13.23 for 36 prints, works out cheaper per print (36p) than those from many competitors. The only problem is that it really is a one-trick pony: it won't print from a PC, a Mac, a non-Apple mobile phone, or (AirPrint fans take note) even an iPad. ®
More Printer Reviews…

AirPrint
Utilities
Budget
Mono Lasers
All-in-One
Inkjets
Desktop
Colour Lasers