Original URL: http://www.theregister.co.uk/2011/01/18/review_smartphone_lg_optimus_7/
LG Optimus 7 smartphone
WinPho 7 handset with a DLNA difference
Posted in Personal Tech, 18th January 2011 07:00 GMT
Review One of the problems with the recent raft of Windows Phone 7 handsets has been trying to tell them apart. Microsoft has kept such a tight rein on the specification for each handset running its reborn operating system that there isn't really a great deal of room for manufacturers to manœuvre. They've all got a minimum of 8GB of onboard storage, a 1GHz processor, a large touchscreen and at least a 5Mp camera. Still, LG has had a go a diversifying by including it DLNA networking capability in its Optimus 7 E900 handset.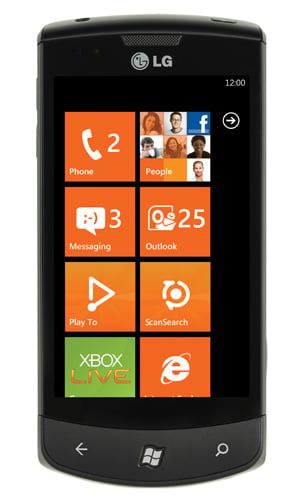 Trying to be different: LG's Optimus 7
Measuring up at a fairly chunky 125 x 60 x 12mm, the LG Optimus 7 weighs 157g. The weight is due at least in part to the metallic casing, which gives it a bit of a premium feel. Unfortunately, the same can't be said for the raised Windows button on the front which feels a little loose and cheap in contrast to the rest of the casing.
Around the sides are a volume rocker and camera button, with a micro USB power/sync slot covered by a plastic grommet. On top is a 3.5mm headphone jack and a teensy power/lock button. On the back is the camera lens, flash and self-portrait mirror encased in a neat little roundel on the aluminium back plate.
The 3.8in LCD screen includes multi-touch capability and is fast and responsive in use. It's a goodly size – though it doesn't cover as much ground as the HTC HD7's 4.3in – and while it offers 800x480 resolution, it doesn't quite match the AMOLED display on Samsung's Omnia 7 for contrast and sharpness.
WinPho 7 is proving to be an interesting compromise between the flexibility of Google's Android and the restricted ease of use of Apple's iOS. Out of the box, the tile-based system is straightforward to get to grips with and while you can rearrange the tiles to suit yourself, there are no power-hungry widgets to drain your battery.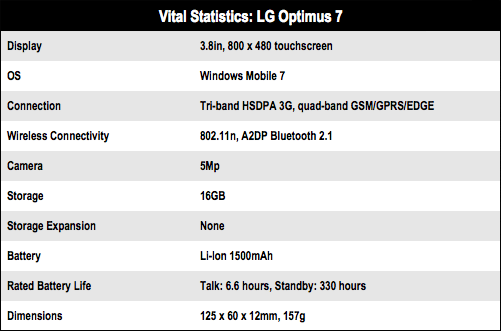 One way network
The Windows Marketplace is still in its early stages, but LG has added a few apps of its own to make the Optimus 7 more appealing. The 'Play to' feature, for instance, allows you to connect to a DLNA-enabled home network and play music or video from the phone wirelessly to other networked devices.
I tried it with the Raumfeld system that I've been testing recently for Reg Hardware and it worked a treat, instantly finding the speakers and playing back music without any argument. There's a slight delay – so it takes about five seconds either way to register your play and pause commands – but otherwise it was painless.
It's a useful feature, but would be even better if you could use it to stream content from your network to the phone, like you can with Samsung's AllShare on the Android-powered Galaxy S.
Sample Shots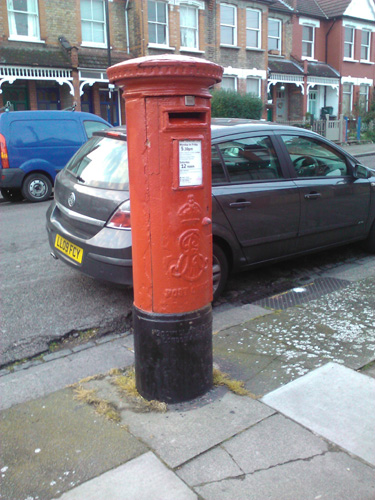 Click for a full-resolution image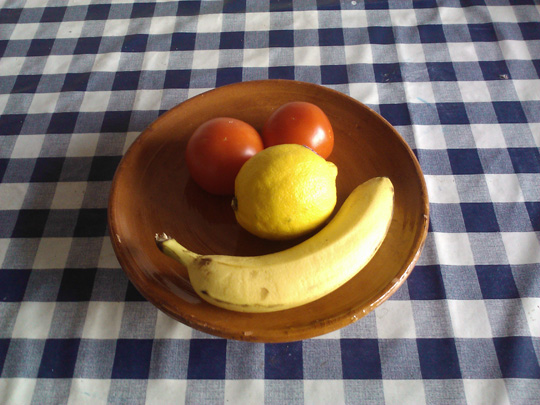 Click for a full-resolution image
The Optimus 7's 5Mp camera offers autofocus, digital zoom and a not terribly good panorama feature, as well as anti-shake and 'intelligent shot' auto mode. There's also 720p HD video which will record in 16:9 aspect ratio for that widescreen cinema feel. Picture quality isn't bad overall, though it doesn't particularly distinguish itself.
Also on board and hidden in the camera settings is ScanSearch, an augmented reality app that works in a similar way to Layar, where you use the camera to find an image of a street, GPS locates your position and info about surrounding businesses such as restaurants and pubs is overlaid on the screen. It works okay, though the info is still a bit limited – there's more available on the Maps app.
Socially adept
The Optimus 7 is available exclusively with Vodafone for now, so there's also a link to Vodafone's 360 My Web service. Once you're there you can back up your contacts, pull together your social networking feeds and access Vodafone-only apps, should you feel the need.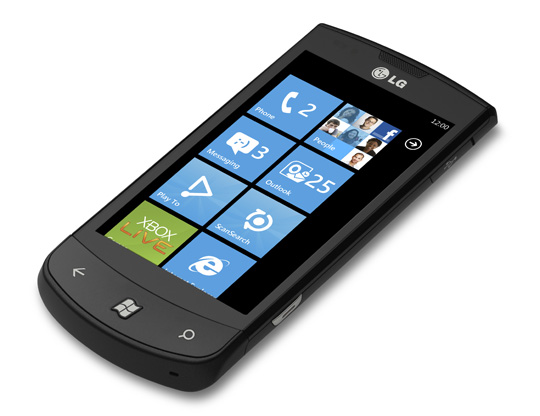 Not exactly outstanding, but certainly very capable
Syncing your music and films on your PC is easy using Microsoft's Zune software – either with USB or wirelessly using your home network. Films render well on the screen, however, there's no option to stretch letterboxed movies to fit the screen dimensions. There's an FM radio which worked fine albeit very basic and the limited support for RDS doesn't extend to displaying station names in the preset menu.
WinPho 7 doesn't support memory cards yet, but thankfully the Optimus 7 has a bit more memory on board than most, with 16GB of storage available. The 1,500mAh battery seemed to hold up fairly well, delivering a good day and a half of fairly heavy use.
Verdict
There's not a huge amount of difference between the current array of WinPho 7 handsets but LG's Optimus 7 distinguishes itself by being Vodafone only and offering a few unique apps, notably its DLNA networking feature. These aren't enough to put it head or even shoulders above the pack but it's a strong, well-spec'd device that's definitely worth a look. ®
More Smartphone Reviews…

HTC
HD7
BlackBerry
Torch 9800
Samsung
Omnia 7
Apple
iPhone 4