Original URL: http://www.theregister.co.uk/2011/01/18/games_review_mass_effect_2/
Mass Effect 2 for PS3
Saga shoots over to Sony
Posted in Personal Tech, 18th January 2011 17:01 GMT
Review Saren, Reapers, Blue Suns, Geth. If these names mean nothing to you then consider yourself in the position of the majority of PS3 owners: that of never having experienced Mass Effect. That's because Mass Effect, BioWare's seminal action-RPG, never made its way onto Sony's console, instead finding a home on only Xbox 360 and PC.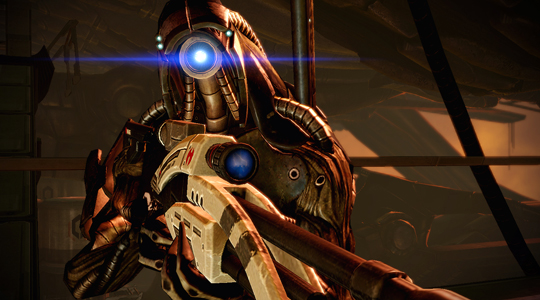 I spy with my little tube...
Thankfully, its follow-up has made the journey to PS3, and BioWare has done a superb job of introducing the sequel to series newcomers. How? Well, after an initial flurry of action by way of an introduction, players are greeted by an interactive comic which condenses the entirety of the original's plot into mere minutes.
The clever part is that even the game-shifting decisions taken in the telling of the original's story are replicated, so that you'll take those same moral choices and contend with the consequences in the proceeding plotline of Mass Effect 2 - ingenious, huh?
Players reassume the role of chiselled hero, Commander Shepard, humanity's last hope against the Reapers – a species of super-aliens out to wipe all traces of sentient life from the galaxy starting, as is their want, with outlying human colonies.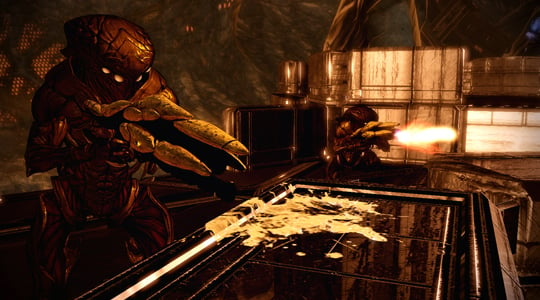 Too many shots can make you sick
This time Shepard's working for Cerberus, a shadowy section of humanity run by the Illusive Man - think X-Files' Smoking Man and you won't be too far off. How do you defeat super-aliens? Simple, go out and recruit a team of ultimate badasses and, for the first portion of the game at least, that's precisely what you'll do.
Team talk
As the game proper begins you'll find yourself back in possession of a ship, the Normandy. By plotting a course through the various solar systems you'll be able to reach those planets highlighted by the Illusive Man as containing potential crew members. Successfully recruiting this collection of mavericks and ne'er-do-wells will usually trigger further missions, each new addition approaching Shepard with requests to take care of unfinished business from their shady pasts.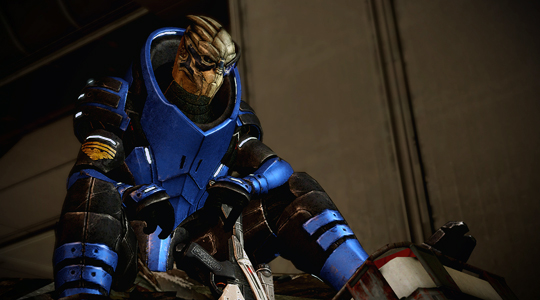 Blue? Not surprised with a face like that!
Whether to act or turn a deaf ear is entirely up to you. Gain their trust however, and said team member will often expand his - or her - repertoire of powers on the battlefield ensuring maximum destruction. Your allies are either of the big muscles, big guns variety, or the deft yet packing one hell of a lot of biotics type - biotics being Force-esque powers which can be used to literally throw enemies about like ragdolls. When venturing on away missions Shepard is usually free to choose two companions from their ranks and choosing your team correctly can really ease proceedings. Once planet-side there's generally some preamble of introductory story and a little exploration of the always lushly detailed environments before the action starts.
Thankfully, the preamble is of a high standard and the dialogue tightly edited to ensure every encounter is pertinent to either Shepard, or one of his crew mates, without becoming laboured.
Missions will often present you with a choice, to do the right thing or the self-serving one, what you choose will shape your relationship with both your squad and the NPCs you'll come into contact with. You'll even occasionally have the chance to interrupt NPCs mid-flow with either a positive (L2) or negative (R2) interjection, act fast though as the window is fleeting.
It's once the inevitable fighting kicks off that ME2 really shines, moving seamlessly from a first-class adventure to an even better shooter, one featuring the kind of beautifully integrated cover-and-fire mechanics found only within the likes of Uncharted and Gears of War.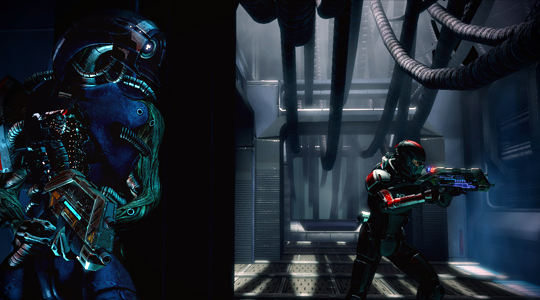 Around the corner was certain Geth
Yes, you'll spend a lot of time cowering behind any number of bulkheads, walls and desks as the bullets rain down, while begging your shield to regenerate, but it's for these kinds of seat-of-your-pants moments that we play videogames, right? Team mates even prove useful, responding to orders to find cover intelligently, while cycling through weapons and powers is made simple via some handily mapped button presses.
Draw your weapons
Enemies are cast from human, alien and robot - all drawn in magnificently crisp detail and featuring an admirable degree of imagination and diversity. Just as diverse are the range of attacks and defences they'll deploy against you, many able to hit you with just as much heavy weaponry and biotics as you hit them.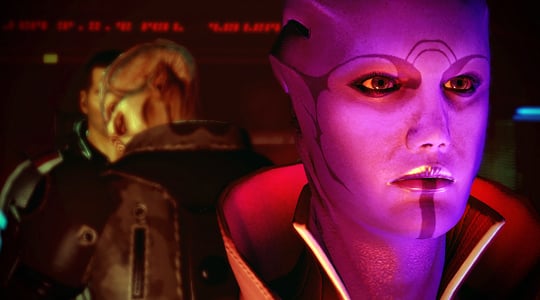 Pink's new music video had a futuristic feel
Interestingly some will also come decked out in combinations of energy shields and armour which can nullify many weapons - equipping yourself with the right tools for the job becomes more and more important as progress to latter stages is made, particularly when those boss characters come out to play sporting ridiculous combinations of armaments and defences.
Completing missions will award you with Squad Points used to further your character's attributes and, assuming you discovered new weapons and tech on your travels, a chance to research even better equipment.
In fact, a trip around your ship's various decks will reveal not only armoury and tech lab, but also mess hall, engineering, cargo deck and more, all populated with the ship's crew and your recruited heroes, all happy to chew the fat. It truly is an involving multilayered world in which you tread.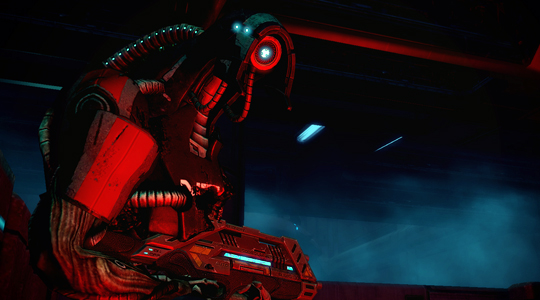 Reddy to fight?
This review has intentionally avoided revealing any plot secrets but rest assured that while straight out of the pages of the likes of Alastair Reynolds and Frank Herbert, ME2's plot is the stuff of sci-fi blockbusters, full of all the hammy emotion, double-crosses and universe-ending danger you'd expect. The PS3 version also includes the downloadable content already available on PC and Xbox 360 to give users the complete experience.
Verdict
So, was it worth the wait? Definitely. While it's a shame that the original Mass Effect didn't tread the path from Xbox 360 to PS3 first, it's testament to its sequel that it demands purchase regardless. Boasting the kind of epic action that few games can offer, and peppered with imaginative locales, foes and plot lines, Mass Effect 2 is the kind of game we all hoped for when the likes of the PS3 and Xbox 360 were first revealed; role on ME3, due to see the light of day on all platforms simultaneously. ®
More Games Reviews

World of Warcraft:
Cataclysm
Donkey Kong
Country Returns
Doctor Who:
Return to Earth
Tron
Evolution