Original URL: https://www.theregister.co.uk/2011/01/18/bbc_tesla_edinburgh_e_car_shenanigans/
Who are the biggest electric car liars - the BBC, or Tesla Motors?
Kryten from Red Dwarf weighs into 'leccycar race row
Posted in Science, 18th January 2011 13:41 GMT
Comment In a world-gone-topsy-turvy moment, the BBC has been accused of virulent anti-green bias by advocates of electric motoring, including Kryten from Red Dwarf and - of course - famous battery-car manufacturer Tesla, maker of the iconic Roadster.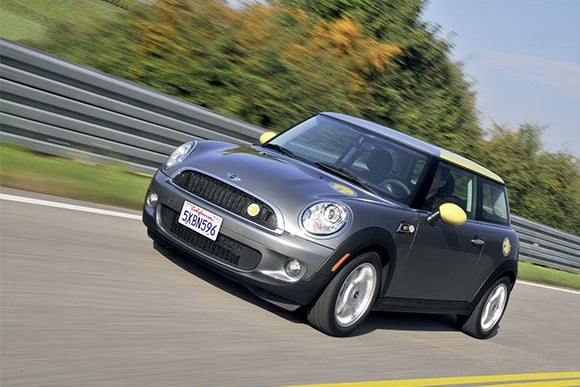 Don't try doing an Italian Job in one of these (maximum load 195kg including driver and passenger).
The Beeb coverage which has Robert Llewellyn (the actor who played Kryten, also well-known for revealing his intimate personal details on Twitter) and Tesla so wound up is this effort last week from BBC business journo Brian Milligan. Milligan decided to drive from London to Edinburgh in a battery-powered car, to see how long it took and how easy it was to do.
The car obtained by Milligan was a "Mini E", a Mini with its normal propulsion (engine, gearbox etc) replaced by a comparatively cheap, low-performance electric drive train. You can't buy a Mini-E; forty of them were made by BMW and leased to users (for £330 per month including insurance and maintenance) in a beta-test project of the sort common in the alternative-vehicle-tech world.
To cut a long story short, Milligan finally nursed his 'leccycar into Edinburgh on Friday four days after setting out, having achieved average speed (over the time spent driving and charging) of six mph. The journey had been far from simple, as public charging points remain thin on the ground in old Blighty - and are sometimes so far apart that the Mini-E struggled to reach the next one. The trip was also uncomfortable at times: Milligan was compelled to turn off his heater in sub-zero temperatures in order to eke the last few miles out of his battery.
"Not exactly impressive, or very practical, but then I'm sure Stevenson's Rocket didn't go very fast the first time he tried it," wrote Milligan.
Before it had even finished, Milligan's journey had made Llewellyn incandescent with rage. He blogs (verbatim)*:
Why did the BBC choose or allow Mr Milligan to make this absurd journey, who's editorial decision was it? What is their motivation? ... BBC news have shot themselves in the foot in their eagerness to belittle and undermine a now rapidly emerging and disruptive technology. It's worth reading the comments at the bottom of BBC page. It proves I am not alone in my suspicions of their motives. The only possible explanation of their need to do this daft prank is to please someone powerful within the BBC. I truly don't know who? Do you?
Llewellyn was particularly unhappy with the Beeb's description of the Mini E as "a mass market EV ... this is the sort of car us normal people can expect to drive".
Indeed, so cross was the thespian and electrocar enthusiast that he got up at an early hour of the morning last Wednesday to lend his presence to a PR counterstrike mounted by Tesla Motors against the Beeb's journey. The firm, describing Milligan's reporting as "BBC bias" and "myths perpetuated by a BBC correspondent" decided to lend one of its latest, arse-kickingest Roadster Sport models to electric-vehicles enthusiast David Peilow in order to show that a battery car could make the journey to Edinburgh in "a single day".
What kind of person really, really loves the Tesla Roadster? Not the sort of person who can afford one
Peilow normally works as a satcomms engineer, and as such is not enormously rich and cannot afford to own an £88,000 car like the Roadster Sport (an enhanced version of the normal Roadster, itself very much in the supercar price bracket). However he has been lent Roadsters by Tesla in the past for use in publicity-stunt journeys. He drove one from London to Land's End and back in 3 days last year, going so far as to install high-powered 32A power sockets at various handy locations en route beforehand and personally building an armoury of special recharging cables and power bricks ("I think I could have connected to a lamp post if necessary").
As will be apparent, the Roadster driven by Peilow is a very different vehicle from the Mini E used by Milligan. It uses a Lotus body instead of a Mini one, and the Tesla power train inside is hugely more capable. It can't offer high top speeds (the Roadster is governed to a maximum of 125mph to avoid damage to the battery) but it has neck-snapping acceleration and its powerpack will hold 56 kilowatt-hours, for a rated range of more than 200 miles from fully charged.
Cutting a somewhat shorter story short, Peilow's Tweets tell us that having set off shortly after 6am on Wednesday he reached Edinburgh just before 1am the next day, a day and change ahead of the Beeb's Milligan despite having departed a day later. The Roadster's greater range meant that Peilow was much less constrained in his choice of places to charge up, so he could take a shorter route: probably a trifle over 400 miles, judging from his description of the journey, as opposed to the 484 miles covered by Milligan.
The average speed of the Roadster over the whole journey was approximately 20 mph as compared to the Mini E's 6 mph. Road speed will have been higher, of course. By Peilow's account he stopped twice to recharge, spending 9 hours in total plugged in: he therefore averaged about 40mph on the road.
Tesla - and electro/green motoring enthusiasts all across the internet - hailed Peilow's journey as a triumph, a devastating riposte to the lying BBC and its suggestion that "mass-market" electric cars are impractical for long journeys, and probably will be for some time.
But in fact, Llewellyn's fulminating aside, the Mini E is a lot more like the type of battery car ordinary people will be able to afford than a Roadster Sport is. And even once there are charging points everywhere (which there could be soon, the government has supposedly assigned tens of millions in funding to boost EV infrastructure) there will be serious issues for people trying to make long journeys in such cars - Mini E or Roadster.
This is because e-car batteries can't be charged up at all quickly. Using a specialist 240V, 32-amp supply - representative of the sort of charging point that could be widespread very quickly, and the rating that its users' home charge points have - a Mini-E can recharge in 4½ hours. The maximum amperage it can take, according to the makers, is 48: thus the fastest it can possibly, theoretically be juiced up without damage is 3 hours. If the luckless Mini E driver is compelled to use a normal UK wall socket, it will take well in excess of 10 hours.
The story is not dissimilar with the Roadster. The quickest that its bigger battery can safely be charged is 3½ hours, using an extremely powerful 70-amp specialist charging station which Tesla will sell you for a four-figure sum and which must then be installed in your garage by a qualified electrician. Using a more normal but still high-power 32-amp outlet will be an overnight job for a full charge, and if reduced to using a conventional UK wall socket a Roadster driver will require 20 hours or more (a couple of days if it is a feeble US one).
These lengthy charge times are the great weakness of EVs. Even with 32-amp charge points everywhere, Mini-E style mass-market-ish vehicles would take at the very least 8 hours on the road to Edinburgh (8 being the fastest possible time to cover 400 miles at a not-ideal-for-the-battery steady 50 mph) and at least 13 more hours charging. A day's journey would have become at least two days' (not many would want to go for the optimum cycle of two hours driving followed by four hours charging sustained for say a day and a half) and the saving of using cheap 'leccy as opposed to heavily taxed motor fuel would be wiped out by hotel bills.
Are garages, supermarkets etc really going to let you park on their expensive tarmac for most of the day just to sell a few pence-worth of 'leccy?
Even the Roadster, probably the ultimate that can be achieved by e-cars, took much, much longer to get to Edinburgh than a fossil-fuelled one would have done (about 12 hours longer). Most people getting up hours before dawn would expect to have finished that journey by the afternoon: Peilow didn't get there until the early hours of the next day. Hopefully he took a nap during one or both of his lengthy charging stops for the sake of safety, as strictly speaking he shouldn't still have been driving.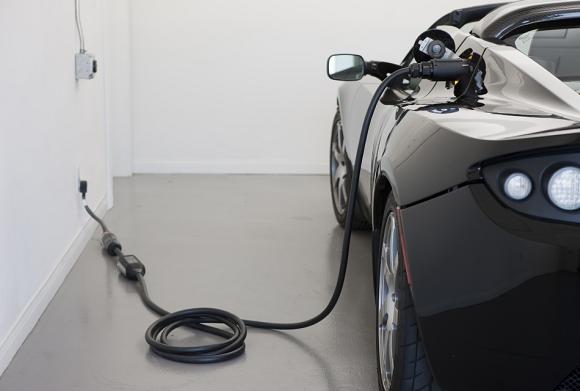 If you use this sort of socket, this is mainly what your Roadster will be doing.
Then we come to the awkward fact that an awful lot of people don't have private driveways or garages, and thus won't be able to charge up EVs at home. It will be distinctly tiresome for them to have to park up for several hours minimum at a service area or supermarket car park every few days, and they probably won't be allowed to do so in many cases. Even in the present day the Beeb's Milligan encountered one public charge point whose software limited users to two hours to "stop people blocking access for everyone else": fortunately, as he needed a 10-hour charge to make it to the next one, site management altered the settings specially for him.
Garage owners, already under severe financial pressure due to the very high level of tax on motor fuel, are accustomed to being able to turn over a customer who will be spending tens of pounds every few minutes at each pump: they are simply not going to allow e-car drivers to sit on their scarce forecourt space for hours on end in order to sell a few pennies-worth of 'leccy. The same will be true, though not quite so starkly, in the case of supermarkets and service areas, both of whom work their car parks intensively.
The infrastructure required to make mass e-car use work is not, then, on the same scale as that required for internal-combustion ones: it is hugely bigger. To make it really work, pretty much every designated public or on-street parking space in the land will need to be furnished with a high-power outlet (and, more expensively, payment and metering equipment). The main cost of charging up your e-car when away from home will not be the electricity - as Llewellyn and his chums correctly say, this costs pennies (though it won't if much of it is to be generated by renewables, but let's not even get into that today). No, the main cost of charging an e-car other than at home will be the fee for the parking space and (often enough) the bedroom or waiting-room for the driver while the charging happens.
Then we come to the great unmentioned spectre of e-cars - battery wear. The reason you can't buy a Mini-E is not a sinister motor-industry conspiracy: it is the fact that "frankly, at this stage, we're not really sure about the long-term endurance of the batteries of the Mini-E", as its makers say.
Things aren't much different with the Roadster, in fact. Tesla has said that its cars are expected to lose as much as 40 per cent of their battery capacity (and thus, range between charges) during their lives: as "range anxiety" is already the defining problem of electric cars, this is potentially a very serious cloud on the horizon for them. And the Roadster is top-end, so lesser e-cars - the sort that ordinary people will actually be able to have - will probably suffer worse.
So who's really being untruthful here?
None of this is to say that the e-car's problems can't be solved: for instance the prospect exists that new li-titanate battery tech may come on the scene, able to recharge in minutes rather than hours or days. Garages would be much more likely to deploy the necessary industrial 3-phase power outlets on the forecourt if such cars ever became widespread, though perhaps disappointingly it would remain impossible to charge up one's e-car so fast using home wiring.
Something else might happen to change the picture and make the future of the e-car rosier. But for the foreseeable future, there are enormous obstacles facing any mass takeup of e-cars.
So was the Beeb's piece "bias", "myths", "ludicrous", "absurd", as Tesla and Llewellyn have said?
Not so much, more like a bit naughty. It was plainly done from a more critical standpoint than most e-car journalism is - you do have to suspect that Milligan and his biz-section editors are personally a lot more sceptical about e-cars than even the average motoring hack, let alone green cheerleader-reporters like the Beeb's Roger Harrabin. It is, as even Milligan admits, really a bit unfair to the Mini-E to drive it to Edinburgh at midwinter - this says nothing about the car's performance as it was designed and intended to be used.
The Mini-E - or anyway its possible production successor - is meant to be a runabout for short commutes, shopping trips, school runs: the consumer sacrifices many of the capabilities of a combustion-engined car, but evades pretty much all of the various motoring taxes - a large proportion of the cost of running and fuelling a normal car - and gets to feel a bit smug. (Much though in fact you would actually do better overall for the environment to buy a fuel-sipping ecodiesel than a Mini-E style electrocar; and somebody has to pay the motoring taxes, so the present tax exemptions can't persist if e-cars become common.)
So the Beeb biz guys were a bit naughty: but they admitted as much, and their facts all seem to be in order. Can one say the same for the e-car lovers?
Certainly one can for Peilow: his Edinburgh stunt was every bit as meaningless as the Beeb's, but like Milligan he reports his facts accurately (if a bit less accessibly thus far - though no doubt, based on past form, we'll see massive detail in due course).
Tesla Motors, though, don't adhere to the same high standard. Following the completion of Peilow's and Milligan's journeys, their famously strident PR department issued this press release. It says:
An electric vehicle enthusiast went to great lengths - nearly 500 miles - to dispel myths perpetuated by a BBC correspondent ...
No he didn't. It shouldn't have been a lot more than 400, if you believe Google Maps. Why not give us the actual figure, rather than bumping it up to the next hundred? And Tesla goes on:
David Peilow reached his destination within a day. In fact ... Peilow appears to be the first person ever to drive an electric vehicle from London to Edinburgh in a single day ... Peilow departed Wednesday morning from Tesla's London showroom. He arrived in Edinburgh that night ...
That all sounds a hell of a lot better than "he got there in less than 24 hours on the road" or "he arrived 19 hours later". You could almost imagine that a normal, safe day's driving would get you from London to Edinburgh in a Roadster. And that last sentence isn't just spin, it's falsehood - Peilow actually arrived early the next day.
Perhaps worst of all, Tesla PRs tell the world that Peilow charged up "at conventional 240-volt outlets when necessary". He certainly did not: his first charging stop made use of a highly unconventional 70-amp specialist Tesla charging point, lent for the occasion by a Roadster owner in Nottinghamshire. For the second one he used a high-powered 30-amp outlet.
"Conventional" UK 240-volt sockets, the ones we all know and love, are limited to less than 15 amps and would have lengthened Peilow's journey by at least 36 hours.
That's a very untruthful press release indeed. If anyone here deserves the words "myths", "bias", "ludicrous" etc it isn't the Beeb. It's Tesla Motors PR - very much not the sort of people one would want to be a shill for, it turns out, even if you do get lent a Roadster for a few days. ®
Bootnote
*For some reason Llewellyn has changed the url of his e-car blog section to say "electric cars". It used to be called "electric car ranting", which seemed a better fit.