Original URL: http://www.theregister.co.uk/2011/01/17/gt_online_storage/
Online sync'n'store services
Your files on the cloud to access from... anywhere
Posted in Software, 17th January 2011 11:00 GMT
Group Test For the last couple of years, I've been walking around with a tough, shock-resistant memory stick in my pocket . It contains an emergency back-up of all my current work files - and has prompted more than one comment along the lines of, "is that a memory stick in your pocket or are you just pleased to see me?"
However, 2011 could be the year when I finally dump my embarrassing digital appendage and migrate my files to that nebulous digital nirvana known as "the cloud". There are now several online storage services that allow you to upload documents to a server so that you can subsequently retrieve them from any location in the world that has internet access.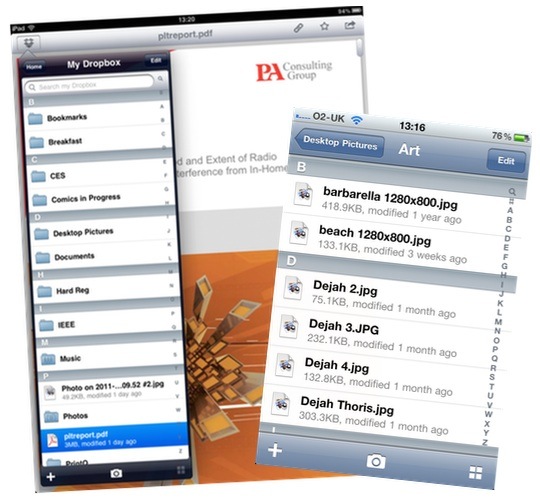 Access your cloud-synced files on multiple devices
Of course, many of these services have been around for years – especially if you also include the likes of Flickr and YouTube, which are really just a form of online storage for photos and video files. But the now widespread adoption of Wi-Fi networks, mobile broadband, smartphones and, soon, tablets makes it much more likely that you'll want to access your important files when you're away from home or your office.
Cloudbusting, Daddy
Big names such as Amazon, Microsoft and Apple are helping to drive this move to online storage, but there are lots of smaller companies offering their own over-the-net back-up and storage services too. In fact, the six best-of-breed services I'm reviewing here are just the tip of the iceberg.
You could also sign up with rivals such as BackBlaze, JungleDisk, iDrive and Norton Online Backup, and there are plenty more to choose from. Most external hard disk manufacturers, for example, also offer some form of online back-up to complement their hardware, so there's no shortage of online storage options available.
There are quite a lot of differences between all these services, though, so it's worth taking some time to think about exactly what you need before making your choice. The good news is that quite a few of these services are free – or at least provide a limited amount of online storage for nowt, along with the option to rent additional storage for a monthly or annual subscription fee.
Back-up basics
The most basic services are those, such as Mozy and Carbonite, that specifically focus on backing up files from your main machine. Such services typically offer 'unlimited' online back-up for your files for a flat subscription fee, so you could theoretically back-up the entire contents of your computer's hard disk, including the entire operating system.
In practice, though, you'd be unlikely to back-up more than a couple of hundred gigabytes using current broadband speeds - if you do, Carbonite warns you that your initial back-up "may take several days" to upload, for example. Even so, that would still allow many users to store all their crucial files for barely a fiver a month, which is good going for reliable and theft-proof off-site storage.
Review: Amazon S3

The 5GB "free usage tier" that Amazon offers to users of S3 – short for "simple storage service" – might seem to put it alongside the free offerings from the likes of Mozy, Dropbox and SkyDrive. However, S3 is a different kettle of fish altogether, and is very much aimed at big business users who need many terabytes of secure, online storage.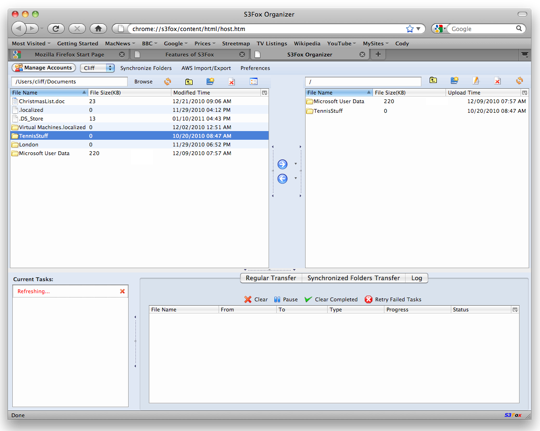 It's not bad value for money, with prices starting at around 9p per gigabyte, but the rather complex pricing scheme means that you also have to take into account the total amount of data traffic that passes through your online 'bucket' each month.
Even more complex is the system of credentials that are required before you can upload even a single file. That level of security will please Amazon's corporate customers, but it left me in a state of utter bewilderment. In the end I was only able to use S3 with the help of a Firefox add-on called S3Fox Organiser, which provides a more user-friendly front-end for the service.
Reg Rating 50%
Free Storage 5GB
Extra Storage Variable
More info S3
Off site but out of sight
Services like Mozy and Carbonite provide you with software that works very much like a conventional back-up program – except, of course, that your files are backed up to an internet server rather than an external hard drive or memory stick that is physically plugged into your computer. And, like an ordinary back-up program, that software will also allow you to download and retrieve your files whenever you need them.
But, as I've already mentioned, the primary focus is on backing up files from your main work computer, and that approach can be quite limiting given that many of us now work on multiple computers and mobile devices in different locations. Back-up centric offerings generally allow you to view or download your stored files using a web browser, but that's no real substitute for desktop file-system access if you're transferring a large number of documents.
Review: Carbonite

Carbonite doesn't offer any free online storage at all – other than a 15-day trial account – but it's good value if you need more than the limited free storage that is available from its rivals. For a flat annual rate of $55 (£35) - less if you buy more than one year's usage at a time - you get "unlimited online back-up", although the FAQs on the Carbonite web site do warn you that back-up speeds slow dramatically after the first 200GB.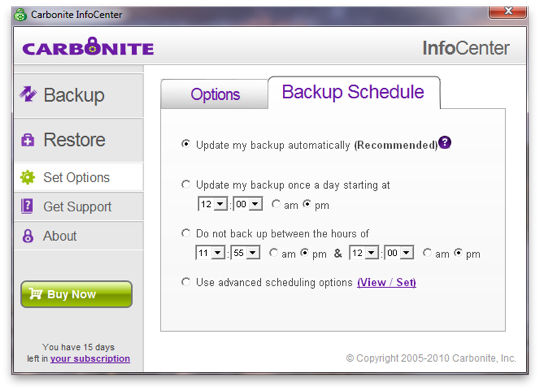 The Carbonite software can be set to perform constant, incremental back-ups, or to perform scheduled back-ups at specific times. The software runs on both Macs and PCs, and there are Carbonite apps that allow you to access and view your stored files on BlackBerry, iOS and Android devices. However, your Carbonite account only allows you to back-up files from a single computer.
Reg Rating 70%
Free Storage None
Extra Storage Unlimited for $55 (£35) per annum
More Info Carbonite
In sync
Fortunately, there are other online storage services that do provide a wider range of features, such as the ability to sync files across multiple devices, and also to share your files with friends or colleagues too.
One of our favourites here at Reg Hardware is Dropbox, thanks to the splendid simplicity of its underlying concept. The free-to-download Dropbox software creates a special folder on any computer or mobile device that you want to use – including iOS devices, BlackBerries and Android smartphones, as well as Macs, PCs, and Linux machines – and any file that you keep in that 'dropbox' folder is automatically copied to the cloud and to all your devices. This means that you can work on a file using your Mac at home and it will automatically be waiting on your PC at work the next day.
Review: Dropbox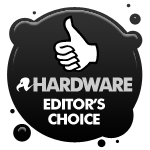 Dropbox doesn't give you a huge amount of free online storage – you get a relatively modest 2GB for free, and its monthly 'Pro' plans are more expensive than rivals such as Carbonite and Mozy. However, its flexible synchronisation features are dead handy if you need to keep a set of files up to date on more than one machine. Synced files, and those still being transferred are clearly marked.
The Dropbox software is extremely easy to use and runs on an impressive range of devices, including PCs, Macs and Linux machines, as well as iOS, Android and Blackberry mobile devices.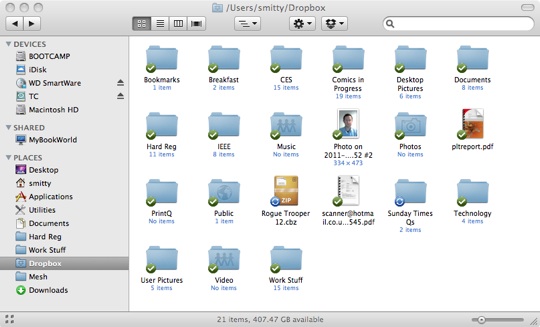 Files placed in one machine's Dropbox folder automatically sync to the cloud and to all the other devices linked to your account, making use of local network links if they're available. There's even a 'selective sync' option that allows you to select specific files for syncing. You can also access your files using a web browser if you need to, making Dropbox a really useful tool for people who regularly work on different computers in different locations.
Reg Rating 80%
Free Storage 2GB
Extra Storage 50GB: $10 (£6) per month. 100GB: $20 (£13) per month
More info Dropbox
Your files, anywhere
You could also browse your files at your leisure in a coffee shop using such services' sync apps for your iPhone or Android handset. And, if all else fails, you can access your files using a web browser too. In other words, you've got access to all your important files on any digital device in any location that has Internet access. You can also let friends and colleagues in on the act too, as many services like Dropbox allow you to create 'public' folders for sharing files with other people.
Price can be an issue if you need more storage than the sync services provide for free. Dropbox, for instance, only provides 2GB of storage for free – which would be just about enough for my personal batch of work files – but the next step up is $10 (£6) per month for 50GB, or $20 (£13) for 100GB. Even so, its flexible and easy-to-use syncing features are really useful for people who frequently switch between multiple devices and locations when they're working.
Review: Apple MobileMe iDisk

Apple's MobileMe provides a wide range of online services, including synchronisation of email, contacts and calendar info across Macs and PCs, as well as iOS devices. However, its iDisk online storage feature is actually a relatively minor part of that overall suite of services, which means that MobileMe isn't the best choice if you're simply looking for low-cost online backup.
You can access your iDisk and other MobileMe services through a slick browser interface, or via the iDisk app for the iPad, iPhone and iPod Touch. Needless to say, Apple doesn't acknowledge the existence of any other mobile devices. Macs, but not PCs, have desktop access to the iDisk.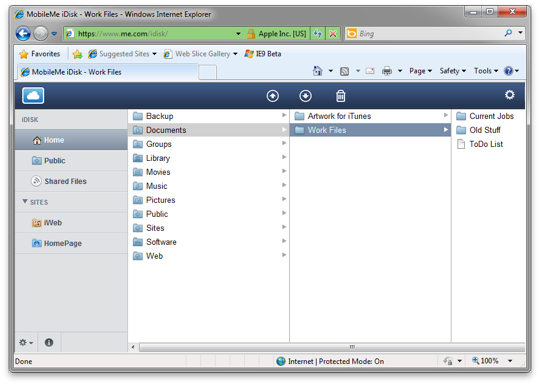 The storage space on your iDisk can be used for backing-up files, but it doesn't allow you to sync ordinary files and documents that you might need for work. That means that it's more expensive than Carbonite or Mozy and less flexible than Dropbox. I found it a bit slow, too.
Even if you're a MobileMe subscriber for the data synchronisation or other features, you'll probably need a second service for file syncing.
Reg Rating 60%
Free Storage None
Extra Storage 20GB: £60 per annum. 40GB: £90 per annum. 60GB: £120 per annum
More info Apple
Sky high
Alternatively, if you want the maximum amount of storage for the smallest amount of cash then Microsoft's SkyDrive is hard to beat. SkyDrive's 25GB of free storage is the largest I've seen offered – although you do have to access it through a web site that is festooned with deeply tacky advertising.
Like Dropbox, SkyDrive allows you to create public folders for sharing photos and other files with your friends. However, the key feature of SkyDrive is that it's part of Microsoft's wider suite of Windows Live online services, and is designed to tempt you in so that you become dependent on other Microsoft services, such as the online 'web app' versions of Word and Excel.
Review: MozyHome

Mozy provides unlimited online back-up for a flat rate fee – although, annoyingly, the $55 (£30) price listed on the company's US website is translated straight into £55 on its UK site.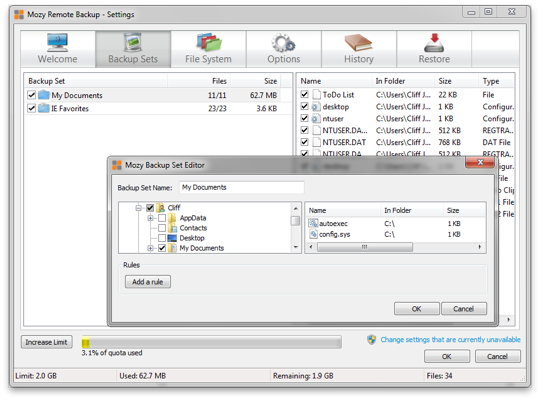 Mozy is perhaps the most limited of the online storage services I've looked at here. It focuses on very simple back-up tasks, allowing you to automatically back-up files from two computers using the Mozy software - which runs on both Macs and Windows - and to restore those files back onto each machine when required.
But the software feels a little cumbersome, and I found myself having to wade through tedious FAQs before I could figure out how to create my first "backup set". There are few additional features, such as file synchronisation, nor even any apps for smartphones or other mobile devices, suggesting that the developers haven't really noticed the whole mobile computing business that's been going on lately.
Reg Rating 60%
Free Storage 2GB
Extra Storage Unlimited for £5 per month/£55 per year
More info Mozy
Web apps
This 'suite' approach is taken to its extreme by Apple's MobileMe service. Apple's intention is to get you to upload all your personal files and information into the cloud – and if you end up so reliant on the service that you keep paying £60 a year for them, all the better. It also provides all sorts of Apple-esque multimedia gimmickry, such as online videos and slideshows, and even a feature for locating lost iPhones.
Its iWork.com service is similar. It's free, but you have to buy Apple's iWork productivity suite for either Mac or iPad. Purely document centric, it's designed as a to make presentation, word and spreadsheet files that you have created available on one the move, or to other people for collaborative working. It's fine if you only work with those document types and those apps, but I'd prefer something more generic.
Review: Microsoft SkyDrive Live Mesh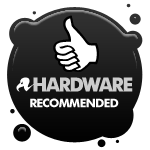 Microsoft offers two online storage services, of which Live Mesh is the most versatile. You can download the Live Mesh software onto a Mac or PC, and then use it to upload and store up to 5GB of files online. It also allows you to create a folder that syncs your files across the cloud and multiple compiuter. You can sync your Internet Explorer favourites too.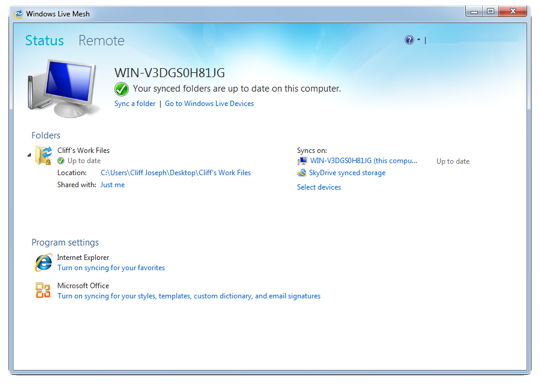 The Live Mesh software is very straightforward and easy to use, although Microsoft manages to confuse matters by creating an odd overlap between Live Mesh and the more basic SkyDrive online storage option. The 5GB of storage provided by Live Mesh is actually just a chunk of the larger, 25GB of free storage that is available with SkyDrive – which you have to sign up for separately.
That seems unnecessarily complicated, but at least you've got 25GB of completely free storage available for back-ups, even if only a 5GB chunk of it can actually be synced via Live Mesh. Unlike Dropbox, it's never clear which files have synced and which have yet to be copied up or down the link.
Reg Rating 75%
Free Storage 25GB (SkyDrive) 5GB (Live Mesh)
Extra Storage N/A
More info Microsoft
Verdict
I'd suggest that most folk simply looking for a cloud-based 'drive' on which to hold the contents of their computer(s) in case of emergency will get a better deal from services such as Carbonite and Mozy that offer flat-rate subscription plans and dedicated back-up apps. Of the two, Carbonite has the edge. It's easier to use, and you can view your files on a broader array of devices.
Apple's MobileMe has iDisk, and if you're subscribing to MobileMe for file syncing, you can use free software to back up key files, but not your whole machine - you don't get enough online storage for that.

If you just need to dump a bunch of files online, you'll appreciate the 25GB of free storage provided by SkyDrive, and its LiveMesh add-on provides machine-to-cloud-to-machine syncing - handy if you want to access your files when you're not connected to the internet.
But, despite its higher cost and lower bundle of free storage - though you can increase this a little by recommending the service to friends, if they subsequently sign up - Dropbox remains the easiest to use and best multi-device file syncing system.
Cloud storage is here to stay, and since so much of it is free there's no reason why you can't try out one or more of them in order to see which one suits your needs best. After all, all you have to lose is that unsightly bulge in your trousers… ®