Original URL: http://www.theregister.co.uk/2011/01/14/review_synology_usb_station_2/
Synology USB Station 2
Neat networker for external drives and printers
Posted in Personal Tech, 14th January 2011 07:00 GMT
Review Network storage is a 'good thing' in the same way as a Big Top; great as long as you don't have to set it up. Selling Nas boxes to consumers needs the hassle taken out of the installation – and what if you already have a drive you're not using? Synology's USB 2 Station aims to ease both problems.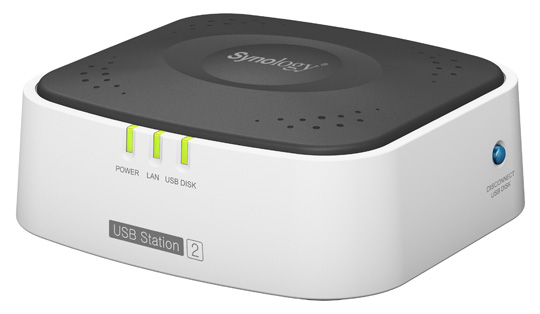 Making connections: Synology's USB Station 2
Network attached storage is pretty useful for media serving and back-up. There are plenty of Nas boxes for home networks, from companies like Netgear and Buffalo, but these are dedicated units, focusing on the drives. If you want something more general purpose, perhaps because you already have a spare drive or because you want to network a printer, too, Synology's USB Station 2 may be more attractive.
The small white and slate box is a Nas without any drives. Instead you have two USB 2 sockets at the back, to which you can attach external hard drives, SSDs, USB drives or printers and make them directly available as network devices.
The networking side has a gigabit Ethernet socket, though if it's connected to a gigabit network, data throughput will be governed by the speed of the USB 2 connection, usually a lot less than the 480Mbps maximum. Most homes, at which the USB Station 2 is aimed, still have 10/100 Ethernet, so swapping the Sata link in a typical Nas for USB 2 here should make little difference.
But why are there only two USB sockets? Synology suggests you use USB hubs to increase the number if you need them, but four sockets would be a more reasonable provision.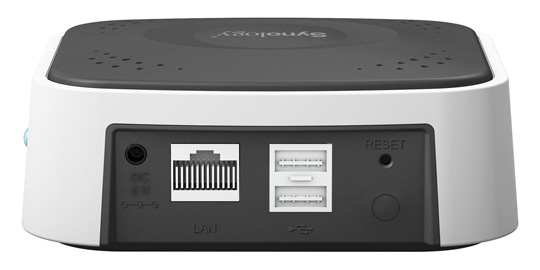 Drive data transfer speed is determined by the limits of the USB 2 interfacing
The unit is controlled initially from Synology's DiskStation Manager 3 (DSM3), a Java-based applet which runs happily under IE 7, Firefox 3, Chrome 5, Safari 4 and any later versions. As a browser-based app, it's not bad cosmetically, with funky transparent file browsers and neat little icons.
It handles account setup and configuration, so you can control access to parts of any drive you have connected to the device. Creating accounts and protecting areas of a drive may be necessary – even if you're using the device in the home – as intelligent teenagers might otherwise indiscriminately fill your storage, but many people will still want to plug and go, and here DSM3 isn't that convenient.
If you want to copy files from a local machine to a drive attached to the USB Station 2 you have to select 'Upload overwrite' or 'Upload skip' in the DSM3 file browser, and hunt for the local files in a separate dialogue – hardly intuitive. There's also a filesize limit imposed by Java – 2GB for older versions and 4GB if you have the latest incarnation.
Better to map the drive attached to the USB Station 2, so you can treat it as a network drive under Windows. You need to run the Synology software on each machine that needs to access a drive or printer and there's no 'mapping wizard' or auto-setup, which would make it friendlier for inexpert customers.
The device can act as a print server, which is a useful extra, and there's a list of printers here that have been tested with the USB Station 2, but there are likely to be many more. Any well-behaved USB printer should work, though be aware this is only for network printing. The USB Station 2 doesn't support network scanning from all-in-ones.
When I copied 4.7GB of data (a DVD's worth) from a client drive to an external 320GB USB drive connected to the Synology device, it took 10m17s and copying it back took just over a minute less, at 9m14s.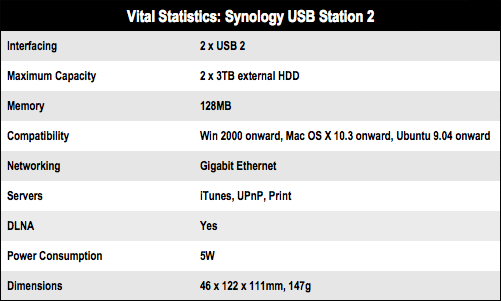 I then copied the same data, across the same 10/100 network and router, to a 1TB Netgear Stora drive for comparison and saw 9m17s and 8m38s, respectively. So, even though the transfer rate should be throttled by the speed of the LAN, the Sata-based Nas is still noticeably quicker, by around 8 per cent on average.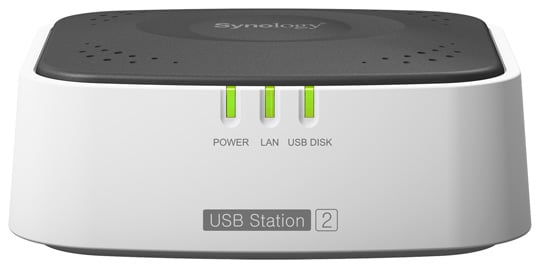 Simple, effective, but pricey
Other software supplied with the USB Station 2 includes Audio Station, for music housekeeping, Internet radio and iPod playback and Download Station for working with torrents when local computers are turned off overnight. There's an iTunes server built in and DS audio enables streaming to iPhone, iPod and Android phones.
With an RRP of £85 and on-line price not far short of that, the USB Station 2 looks overpriced. Rival products, such as Seagate's FreeAgent DockStar – which has three USB sockets and a hard drive dock built in – costs little more than half this Synology device.
If you need to add the cost of a suitable USB drive, you're looking at £130-140. For that money you can get something like a Stora or Buffalo's LinkStation Duo as a discrete unit, already populated with faster, Sata drives and with RAID options for improved security.
Verdict
The USB Station 2 works well enough, though its speed is restricted compared to a Sata-based Nas (particularly if you run a gigabit LAN) and it should be around half the price. If Synology wants to play in the consumer market, it should make Windows setup more straightforward, or even automatic, and be a bit more generous with the USB sockets. ®
More Network Device Reviews...

Sling Media
Slingbox Pro-HD
Cloud Engines
Pogoplug
WD Livewire
Powerline adaptor
Verbatim
MediaShare