Original URL: https://www.theregister.co.uk/2011/01/13/review_laptop_asus_nx90jq/
Asus NX90Jq 18.4in Core i7 laptop
Notebook audio gets the B&O treatment
Posted in Personal Tech, 13th January 2011 13:00 GMT
Review I first encountered Bang & Olufsen in my teens. A friend's father had a Beocenter music system, which we fledgling audiophiles were, of course, both in awe of and barred from touching. The sleek lines, matt black controls and aluminium panels of that and other early B&O systems instantly sprang to mind when glancing upon the Asus NX90Jq notebook for the first time.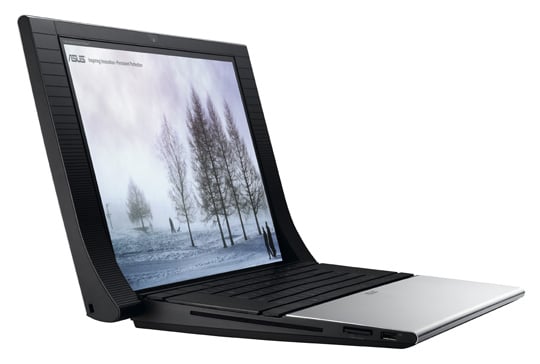 Asus is hoping to set the benchmark for laptop audio with the NX90Jq
The case is mirrored aluminium, solid and very striking. The 18.4in LED backlit screen is a glossy and deep black. Enclosing this like monolithic bookends are twin speakers with towering resonance chambers. The keys are chunky and though plastic, are of a high quality matt black, which again echoes the classic B&O design. Even the box it comes in has more than a passing resemblance to a guitar hard case. If you want luxury on a laptop, this is it.
However such opulence has its costs, and I don't just mean the £2,500 price tag. This is a very heavy machine. It doesn't seem like the sort of hardware that would suit a 'road-warrior' type of user. There's a note about using it on planes in the all-too-brief user guide, but I'd say this was impractical if not undesirable given the size and weight of this machine. Or maybe it's because I don't generally travel in the intended class for users of the NX90Jq.
It's also fairly unwieldy. Lifting the lid or pushing the screen back to get a better view tips the whole thing backwards, so you either need to hold the base before doing this or leave the notebook open. Given these points, it's plain that the NX90Jq is better suited for a more static role in the home or (executive) office, as a desktop replacement. Indeed, it is in this environment that the underlying strengths to match those good looks are revealed.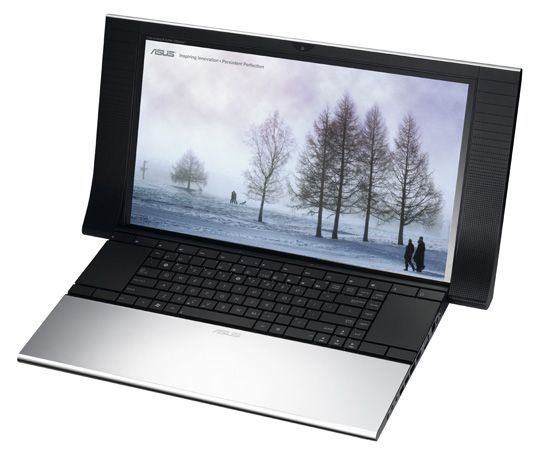 A desktop replacement, and then some
Given the B&O involvement, the NX90Jq does actually sound fantastic. The ethereal tones that launch Halo came booming from the twin speakers and scared the willies out of my cats. Dolby 5.1 DVDs of Sigur Ros and Led Zep played on the unit's Blu-ray drive were reproduced as clear as a bell. No distortion occurred even at the louder end of the scale – it's definitely the best sound reproduction from a laptop that I've encountered.
Big audio dynamite?
This audio performance is courtesy of ICEpower, Bang & Olufsen's integrated amplification system, which offers an 11W amplifier, custom audio codec and those speakers. Audio tweaking above and beyond the standard Windows 7 media controls is provided by the Asus SonicMaster utility. This allows adjustment of vocal clarity, bass and surround sound with cute and responsive onscreen controls.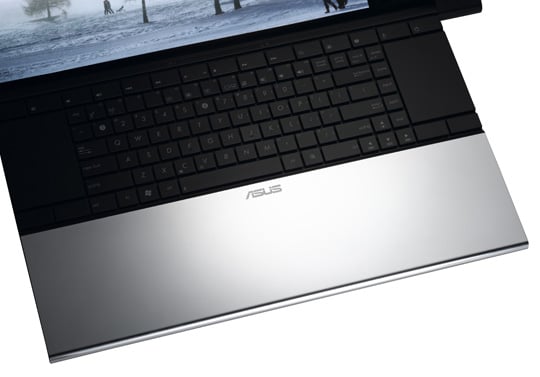 Dual trackpads surround the keyboard – might be good for deejays, but take some getting used to
Video quality is very good, thanks in part to the 1920 x 1080, Color-Shine display but also to the selection of screen modes such as vivid, home theatre, soft and the like. Using these, I could apply more faithful colours and deeper blacks to DVDs and Internet TV, which otherwise would be a bit lacking in punch. Once applied, viewing video became a largely enjoyable and seamless experience.
The NX90Jq has rather an overabundance of keys. One is assigned solely to rapid switching of Power4Gear modes. Others are dedicated to the screen display modes, media control, brightness and sound control, each with a HUD style screen display. These are useful, however, and the HUD animation is a nice touch. In addition, there's a range of combo function keys including sleep, screen off and a duplicate set of sound controls. .
I have to say, the side-situated dual trackpads on this model just don't work for me – not in normal laptop operation, at least. They offer gesture control, and I suppose the alternative pad and buttons could serve in dual handed mode (or if you're a DJ mixing virtual decks), but as a control method it just got annoying – very fast. I can see it's an attempt to break out of the laptop design orthodoxy, but I resorted to a mouse in the end.

Comprehensive interfacing includes USB 3.0, eSata and HDMI
An antenna port is situated next to the DC power point, with an FM radio antenna and coaxial TV adapter supplied with the NX90Jq. There's a HDMI port and a combo headphone/SPDIF output for connection to a hi-fi system. Thankfully, for such a media-centric device, the NX90Jq runs very quietly, which is surprising for such a big machine.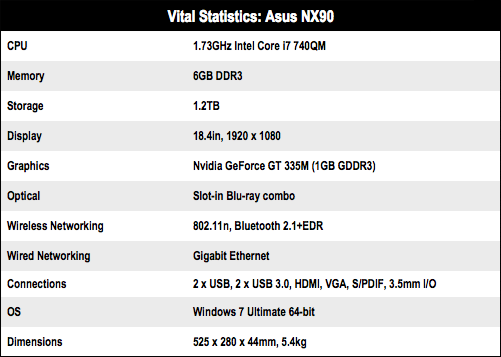 Performance tests
The NX90Jq review unit came loaded with 64-bit Windows 7 Ultimate. It runs on a 1.73GHz Intel Core i7-720QM CPU and is a strong contender in its PCMark test class. Compared to other i7 models tested, only the 17in MacBook Pro had a better overall score, while in other tests it was an outright winner, Indeed, apart from my trouble with the trackpads, I found the NX90Jq to be a very snappy mover.
Benchmark Tests
PCMark Vantage Results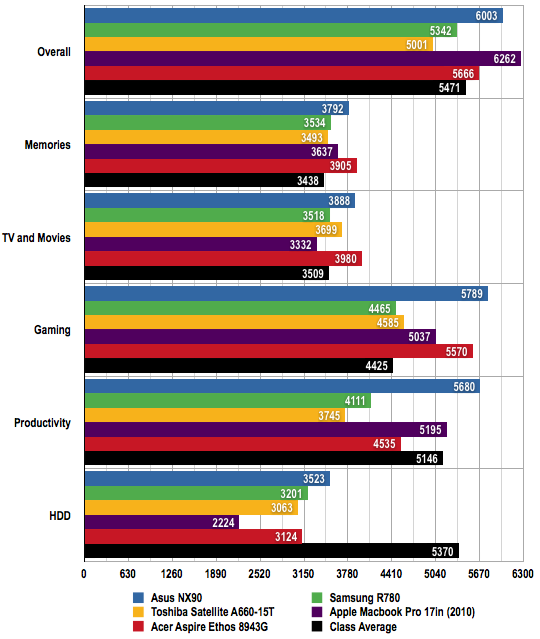 Longer bars are better
Battery Life Results

Battery life in minutes
Longer bars are better
Graphics are driven by a Nvidia GeForce GT 335M GPU, a mid-range CUDA-capable card that copes well with most games and HD video with ease. Battery life isn't great though. In tests, a full battery yielded only 75minutes. The Asus Power4Gear utility is in place for more economical use of the power, but running the NX90Jq in Entertainment mode provided only an extra 15minutes of battery life.
Port authority
The Asus NX90Jq also includes two USB 3.0 ports, which adds a touch of future-proofing, and two USB 2.0 ports, one of which doubles as an eSata interface. Bluetooth 3.0 and Gigabit Ethernet are also provided, as is 802.11n Wi-Fi.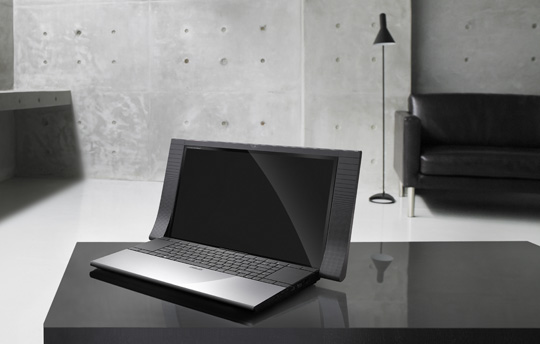 Looks good, sounds good, performs well, but costs a packet
Alas, there are no instal discs with the NX90Jq, apart from a rather unexciting Asus utility disc. Instead, I was pestered to run the Create Recovery DVD (which uses up to six blank DVD-Rs) to create a set of backup discs. Various Cyberlink multimedia apps and some undemanding games are also preinstalled.
In real-world use, the i7 drove anything I threw at it very well – CS5 versions of Adobe Photoshop and Premiere Pro both ran with a performance that compared favourably to the Mac Pro desktop I'd been using them on. I also ran the NX90Jq through its paces with 64-bit versions of Autodesk's Maya 2011 Suite. Again, the combination of big, high quality display and a powerful processor with 6GB of RAM to play with, made this a productivity winner.
Verdict
The Asus NX90Jq is a well-specified machine which packs a punch in terms of audio performance. Its striking design suggests it would be ideal as the centrepiece of a home entertainment centre, albeit a relatively expensive choice. Given the battery life, weight and balance issues, together with those dual trackpads, and I can't say I would be tempted lug it around it as my day-to-day laptop, but you'd certainly create an impression if you did. ®
More Notebooks Reviews...

Acer
Aspire 5940G
Apple
MacBook Pro
17in
Samsung
R780
Toshiba
Satellite
A660