Original URL: https://www.theregister.co.uk/2011/01/12/review_smartphone_google_nexus_s/
Google Nexus S Android smartphone
Powered by Samsung
Posted in Personal Tech, 12th January 2011 07:00 GMT
Review What do you want from a smartphone? Good looks? New, new features? Decent battery life? The latest operating system? If so, the Nexus S should be right up your alley. The latest Android handset comes direct from Google but where its predecessor, the Nexus One, was made by HTC, this one is created for Google by Samsung.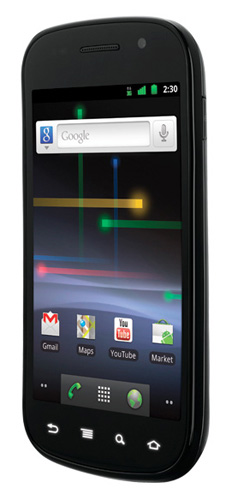 Home-baked Gingerbread: Google's Nexus S
It's slim, sleek and curvaceous, and like the best catwalk models, as light as a feather. The shiny-plastic casing may not be to everyone's taste, but it helps with the weight and lends a showbiz glamour. Every edge and corner is rounded and there's a hefty swelling at the base on the back – otherwise it's quite a slim handset.
The 4in display – bigger than the HTC Desire, iPhone and Nokia N8 – doesn't bulk the phone up too much, as nearly the entire front of the device is its display. This phone has an eye-searingly colourful AMOLED screen which is hard to take your eyes off. And the front of the phone is slightly curved, so it will hug the contours of your face that little bit more closely when you're on a call.
One last thing about that striking display is the way it switches off. Instead of simple blackness, it animates into a black background with a white line that folds in on itself like a traditional TV. A small thing, but deeply enjoyable. The front of the phone has no buttons, only four backlit icons for Back, Menu, Search and Home. They're subtle lines which vanish utterly when the screen is off.

Slim, for the most part
Anyway, you've switched the phone on, so you can get your first glance of Gingerbread, the latest edition of Android, version 2.3. Since this phone comes direct from Google, there's no additional skinning as there would be if this were an HTC or Sony Ericsson phone, say. But that doesn't mean it's bland – the latest interface has a quietly improved look that's demure rather than cartoony.
Touch and go
And there are navigation sophistications built into Gingerbread. Touch the base of the display and five thumbnail cards appear, showing you what's on which screen. Note there are only five homescreens – HTC's Sense overlay offers more. Never mind, five is plenty and the actual widgets (not the shortcuts) are smaller. For instance, unlike the Nexus S, HTC's dedicated Twitter client for HTC Sense takes up a whole screen.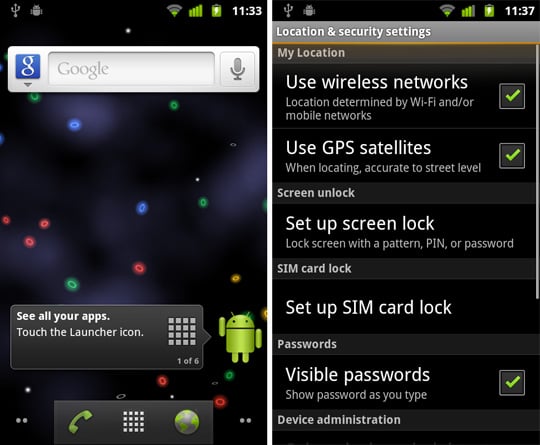 Home screen and set-up options
Explore further and the new Android keyboard is significantly improved, so texting and e-mailing will be easier. The predicted word ribbon that appears as you start tapping aims to improve with use, as Gingerbread spots what you most frequently say – not that you're predictable, of course. Copy and paste is also better, with clear and easily managed text markers.
Like the iPhone 4, the Nexus S includes a gyroscope which app developers can use to add an extra dimension to gaming. This will work well with the accelerometer and digital compass for motion-controlled games. Gingerbread also enables you turn your phone into a mini Wi-Fi hotspot, so up to six people can log on to the Internet through the phone's 3G connection.
And here comes the biggest innovation: NFC or Near Field Communication. This is the technology built into Oyster cards and other contactless devices, and can be used to turn your phone into a credit card to pay for low-price items, for instance. Well, one day, anyway, as there are no programs to take advantage of it yet. Will you still be using the Nexus S by the time this technology takes off, though? We'll see.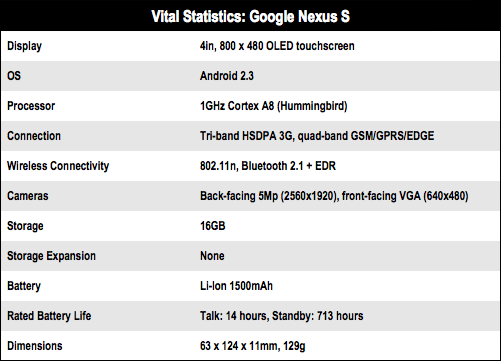 Camera shy
The Nexus S camera is a mixed bag. The 5Mp snapper at least comes with a flash this time and there's a front-facing camera, too. So far, so good. But when it comes to video, the phone disappointing as it only manages standard-definition recording, not the HD capture possible on many smartphones now.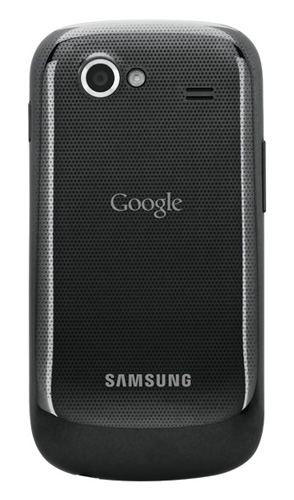 Instead of HTC, Samsung takes on the honours of producing this Googlephone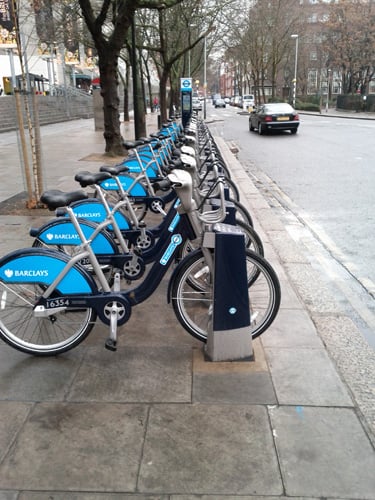 Click for a full-resolution crop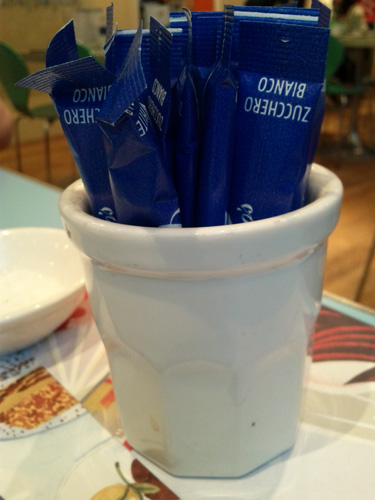 Click for a full-resolution crop
There's one other major disappointment and that's the absence of removable memory. You'll find a decent 16GB of built-in memory (like the smaller-capacity iPhone) so it should be acceptable but Android phones before this have had microSD card slots to expand storage to suit. And there's no 32GB option available, unlike Apple's phone. It's a curious omission and, we hope, not a sign of things to come.
Your call
Signal strength is good – I had no trouble making calls and sound quality was fine. There's noise cancellation to help, but this is software-based rather than on the Nexus One that featured an extra microphone to make it work. Call quality is often overlooked in smarties, so it's good to see it prioritised here. And battery life, that other bugbear in big-screen phones, is excellent, much better than the first Nexus.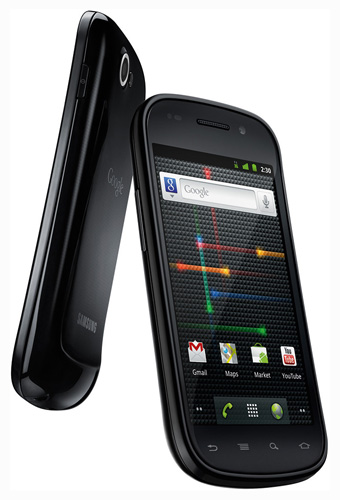 Storage aside, Android fans won't be disappointed
Verdict
Do you like Android? If so, it's hard to find a better piece of hardware to go with it, unless you want a chic metal casing like the HTC Desire HD. But if you want the joys of Gingerbread now, instead of waiting for the networks and manufacturers to update their handsets, this is the phone for you. Plus, it has a great screen, splendidly fast CPU and pleasing design, all in a light package. The constricted memory may be a problem for some, but that's one of few faults on board here. ®
More Android Smartphone Reviews...

LG
Optimus One
HTC
Desire HD
Motorola
Milestone 2
Acer
Stream