Original URL: https://www.theregister.co.uk/2011/01/11/review_pmp_archos_43/
Archos 43 16GB Android PMP
iPod Touch worrier?
Posted in Personal Tech, 11th January 2011 07:00 GMT
Review Archos has embraced Android with the fervour of a kid in a sweet shop and is in the process of releasing a range of devices with screen sizes ranging from 2.8in - called the 28 - to 10.1in - called, yes you guessed it, the 101, all running Google's mobile OS.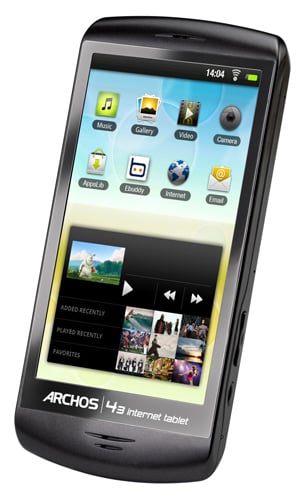 Archos' 43: Android tablet or PMP?
The 28 and 32 are more pocket media players than tablets, while the 70 and 101 are more tablets than media players. However, slap-bang in the middle is the 43, which is a little of each. In short it's a device aimed squarely at the current big boy on the connected-PMP block, Apple's iPod Touch.
With its 4.3in screen the 43 is larger and heavier than the iPod Touch but not by much and with no hardware buttons on the fascia, Archos has managed to keep the bezel width to a minimum to deliver a device sleek and pocketable device. It's a solid and good looking bit of kit too, thanks to its rounded, gunmetal grey and partly stainless steel body. Usefully, Archos has fitted a stand at the back making the 43 resemble a half-scale Archos 5.
The 43's internal spec is impressive and includes a 480 x 854, 16m colour LCD display, a 1GHz ARM Cortex CPU, 802.11b/g/n Wi-Fi, A2DP Bluetooth, 16GB of internal storage with a card slot for 32GB more and comprehensive codec support too, all tied together by Android 2.2, aka Froyo.
Alongside the usual 3.5mm audio and micro USB data connectors, the 43 also has a mini HDMI port to connect it to a telly, but Archos doesn't supply a cable, alas. Invest in a micro USB adapter and the 43 will act as a host, allowing you to play or transfer content directly from USB storage. For wireless media access you get UPnP and Samba file share protocols.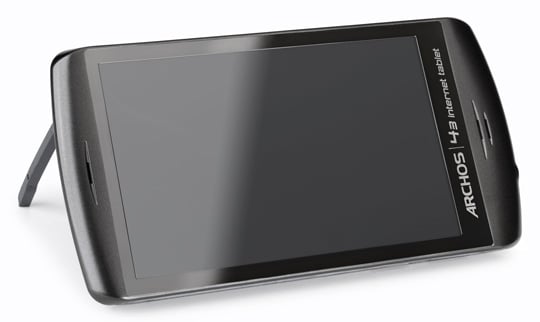 Built-in prop stand for video viewing
The touch screen is resistive rather than capacitive, but it's a reasonable example of the breed and gives little away to the average capacitive panel with a quick double-tap zooming into web pages and images, in place of a pinch. Visually, it is bright, crisp and colourful and upholds Archos' established excellence in this area.
Page turner
The display also performs the handy trick of rotating through 360 degrees, no matter what the screen is displaying. Given that all the controls are displayed on the screen, everything is always in the right place, no matter which way you hold the device.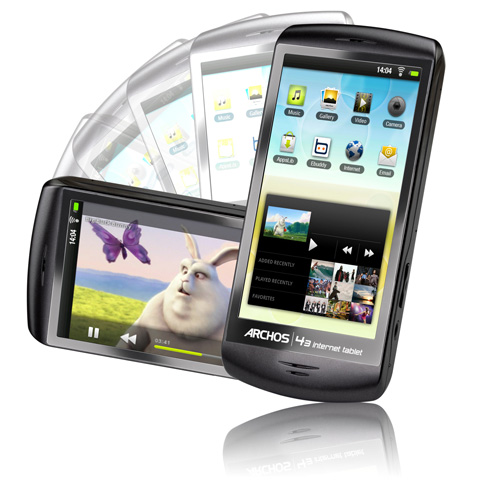 Screen layout follows the orientation
The user interface doesn't stray too far from the Froyo norm, but Archos has added a selection of media applications and widgets. There's nothing revolutionary about them but the 3D picture gallery and cover-flow album selection are a step up from the plain Android norm.
Despite running Froyo, the Archos 43 lacks Flash. While technically supported, Archos has yet to get certification from Adobe, so you will have to wait for the plug-in to arrive before you can watch video in the web browser.

Palm-sized and 9mm thick
Flash apart the 43 can handle an impressive array of audio and video files with Ogg, Flac, MP3, AAC, DivX/Xvid, WMV and H.264 all covered, as well as MKV, AVI, MP4 and QuickTime video containers. Video resolutions are supported up to 720p. Most still image and subtitle types are accommodated too, and if you cough up $15 (£9.50) for the "Cinema" plug-in, you can also play VOB, TS and PS video as well as AC3 audio.
Content can be loaded by drag'n'drop or via an MTP media player, but you can't synch playlists, they have to be set up on-board. Support for gapless albums ripped using LAME is excellent.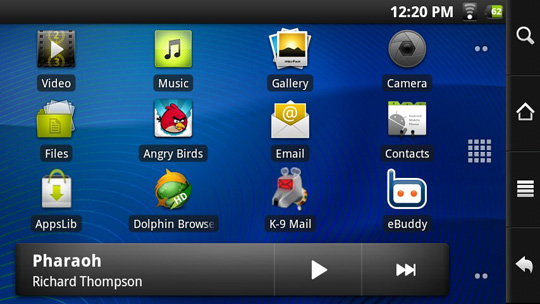 Landscape menu
Not being a Google approved device there's no Google account sign-in, nor Google apps like Talk or Navigation. The Navigation app is not such a big loss because the 43 doesn't have a GPS chip. The Android Market is also absent.
Nice touch?
Though it's not growing as fast as I had hoped, Archos' own apps store called AppsLib isn't wholly useless and contains eBuddy, K-9, Facebook for Android, Aldiko and the Dolphin HD web browser, to name but five popular Android apps I use regularly.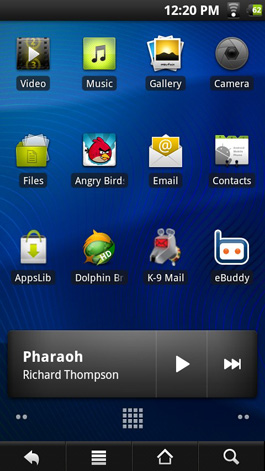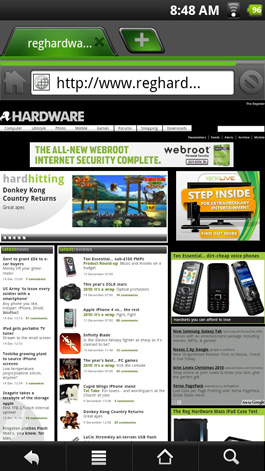 Portrait menu and web browser
When it comes to gaming, the resistive screen does let the 43 down somewhat. The ToonWarz demo was certainly playable but I was always aware that the screen was only capable of analysing one input at a time, so you can run and sidestep or look around and shoot, but not both at once.
I also tried loading Gameloft's superb N.O.V.A. onto the 43 but it refused to run. It's not all bad news though, you will find Angry Birds in the AppsLib and that played a treat even without the pinch-to-zoom facility.
Other apps can, of course, be loaded easily enough if you can find an installation package. Skype, for instance, performed perfectly, though I needed to use the earphones to hear anything because, while the app worked with the microphone, it wouldn't talk to the 43's excellent mono speaker.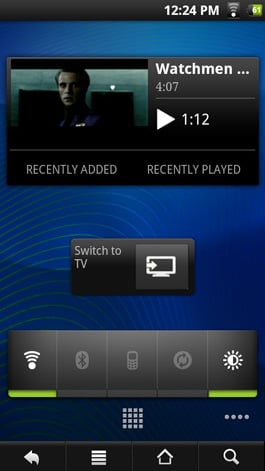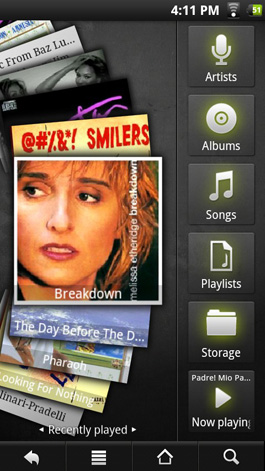 Widgets and music player
Take the low-rent bundled earphones out of the equation and audio reproduction is very good, with music sounding rich and warm with plenty of low-end power, but not at the expense of definition in the upper frequency ranges.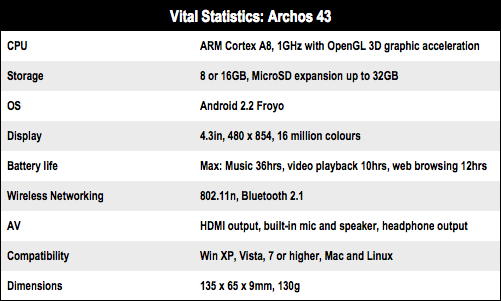 Sound offerings
Sound modification is limited to bass and treble adjusters, six preset EQ lists and a 3D expander. Still, these do their job well enough and are also available for video playback. Indeed, the 3D expander put some impressive space around Chad Kroeger's vocals on a 720p video of Nickelback's Savin' Me.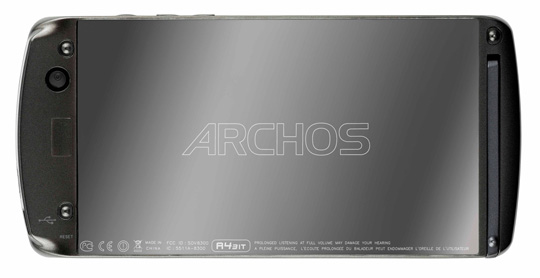 Only a 2Mp stills camera but 720p video capture is supported
Despite being a basic 2Mp fixed-focus affair, the 43's camera can record 720p video in H.264 with AAC audio – a spec straight out of the iPod Touch playbook. The results aren't up to Apple's standards though, and the recording options are basic to the point of non-existence but the results are still quite watchable.
Archos says a full charge of the 43's fixed battery is good for 12 hours of web surfing, 36hrs for music and 10hrs of video playback. I found those last two figures to be about right managing 33 and 8.5 hours while looping 256kbps MP3 and standard def H.264 files, which is near enough the same as you will get from an iPod Touch.
Verdict
At under £170 the 16GB Archos 43 has a significant price advantage over the iPod Touch, which will set you back £189 in 8GB and £249 in 32GB form. Yes, the Touch has a massively larger applications offering – and is by far the better recommendation for gamers – but if you want a device more for listening to music, watching video and browsing the web, the Archos 43 certainly has its appeal. ®
Thanks to AdvancedMP3Players for the loan of the review sample.
More PMP Reviews...

Samsung
Galaxy Player 50
Sony Walkman
NWZ-A845
Cowon
iAudio J3
Apple iPod
Nano 6G