Original URL: http://www.theregister.co.uk/2011/01/11/review_onkyo_cs_545_mini_hi_fi/
Onkyo CS-545 combo mini hi-fi
CDs, remember them?
Posted in Personal Tech, 11th January 2011 12:00 GMT
Review For music fans who aren't ready to let go of their CD collection comes the CS-545, a mini system from Japanese audio specialist Onkyo. Aside from the disc drive, there's an integrated iPhone/iPod dock, stereo line input at the back, radio tuner with 30 presets each for FM and DAB and an alarm timer. You can plug in a USB memory stick at the front for digital music formats too – more on that below.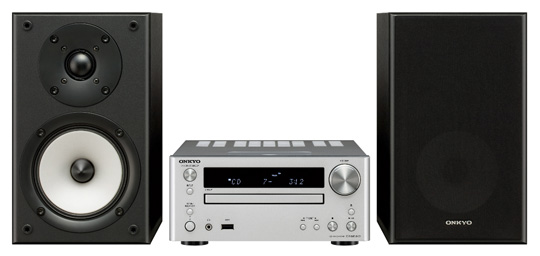 Onkyo's CS-545: available with or without speakers, grilles are removable
The unit is available with Onkyo's D045 two bookshelf speakers or you can opt to use your own speakers with the CR-545 standalone receiver (£245), available in silver or black. The speaker connections have screw terminals and more robust 'banana plug' binding posts, and there's a subwoofer output for beefing up the sound, if you have a spare sub. The D045 speakers are well made, with a focus on mid-range response, thanks to the 12cm cotton and aramid fibre drive unit.
The main unit is easy to use, however, the remote control is ugly and carries 42 buttons, which is about two-dozen too many if you're after ease of use. There are needless and over complicated duplications on the handset, like three play/pause controls – one each for CD, iPod or USB – even though the single one on the receiver works across all modes.
Still, the audio quality is indisputably good. From the esoteric pop of Jonsi to the evocative folk of The Unthanks and Neil Young's fittingly named recent album Le Noise, the Onkyo produces a spacious, warm sound for a relatively small system.
It fares well with MP3s too, especially those at a 320kbps. For example, the two-part title track on Lone Wolf's The Devil and I is a gloriously rich blend of piano, vocals plus a thunderous bassline, and the system never loses a grip of these parts.

Not the simplest of handsets, and look at all those pause/play buttons
The downside of the USB connection is that it only supports flash media, not bigger hard disk drives, and the only formats accepted here are MP3 and plain old WMA – not Pro or Lossless versions – and you can't copy from CD or radio to USB. However, it does play from MP3 players that mount as a mass storage device.
Aerial view
A docked iPod is the only way the system can play the iTunes default AAC format (copy protected and non-DRM) as well as Apple Lossless and uncompressed WAV or AIFF. Its USB playback is incompatible with these files. That also rules out others such as FLAC, which is a shame given the product's quality aspirations, and if you use an iPod for non-lossy files, it needs to have a huge capacity to be worthwhile. Although it docked with an iPhone without a hitch during the test, a couple of 'vintage' 2005-07 era iPods mysteriously failed to play.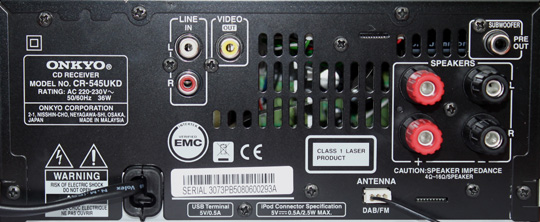 Decent speaker terminals, but no convenient way to attach a 'proper' radio aerial
The digital radio reception on the CS-545 is a bit hit and miss. The only supplied antenna for the UK model is a length of thin wire and the receiver lacks a standard socket for easily attaching an alternative, such as a rooftop antenna.
Compared to radios with rod aerials in the same ground-floor position it fared much worse at picking up DAB adequately, although FM was fine. It worked better upstairs but that wasn't really where I wanted to put it. If you plan to use the DAB tuner, ensure you live in a strong reception area. At least transmissions are being expanded in some regions.
While DAB is a divisive topic, the most adaptable products are likely to be multi-platform hybrids, as James Cridland's blog sensibly explains. It's disappointing that the CS-545 lacks options to stream audio from computers, Nas drives or the internet.
Together with BBC radio's recent launch of higher quality streaming, it's a missed opportunity, though I suspect a network connection in a hi-fi is of little interest to 'typical' consumers yet.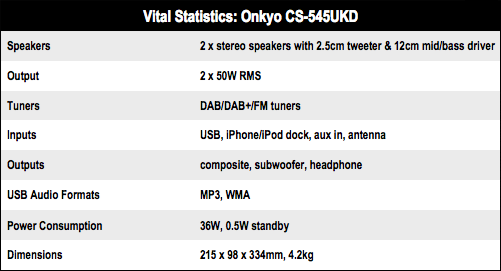 Quality player
You can overcome this by attaching a netbook or a dedicated speakerless audio streamer, such as the Logitech Squeezebox Receiver or Sonos ZonePlayer 90, to the line input, but that's hardly elegant. If you're the type of person to rip your CD collection in Flac to a Nas drive and then sell the original CDs, this product isn't for you.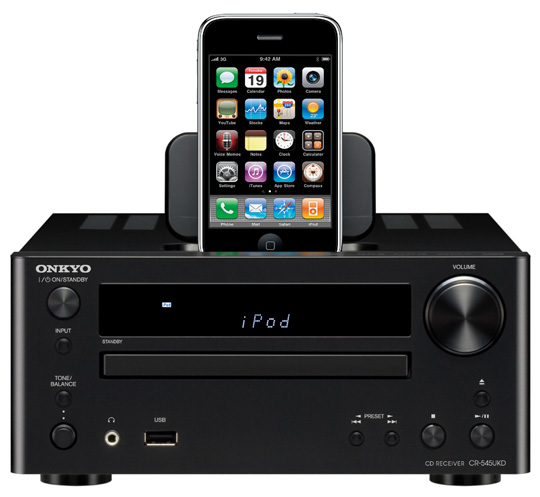 Format support is limited if you don't take advantage of the iPod dock
Verdict
You can spend extraordinary sums on high-end iPod docks, while the opposite end of the market is flooded with cheap and nasty systems. The CS-545 strikes a good quality balance between those extremes, and it's more than a just a dock. Much of its cost goes towards audiophile-grade processing and amplification circuitry rather than state-of-the-art frills.
However, it's undermined by its remote control, potential issues with older iPods and digital radio sensitivity. Ignoring networking to rely on CD, MP3 and iPod makes it all seem a bit 2004. If your taste for the high-tech has moved on from when Dido, Maroon 5 and Norah Jones dominated the charts, then you should look elsewhere. ®
More Audio Gear Reviews…

Group Test
Surround Sound
Amplifiers
Arcam
Solo Mini
Teufel
System 8
THX Ultra 2
Ixos
Divo