Original URL: https://www.theregister.co.uk/2011/01/10/verity_stob_swedish_noir/
The Girl with the NSObject Class Reference tattoo
Verity tackles Swedish noir
Posted in Verity Stob, 10th January 2011 11:30 GMT
Stob What better occupation, at this time of year, than to polish up one's IT skills with some background reading? What have the great programming publishers got lined up for our delectation in 2011?
Alas, as far as this reviewer is concerned, these rhetorical questions must remain unanswered. A certain Amazon parcel, containing several kilos of Addison-Wesley's and O'Reilly's latest, is delayed-believed-lost in the region of the Park Royal depot, and I haven't got time to go running off to shops to acquire replacements. That tap-tap-tapping at the window is Dudley Deadline, and he is wearing his mean face.
This is the sort of situation that distinguishes the ovine from the caprine. But have no fear. My name is Verity, and I am your Nanny for today. We can get through this; we have seen worse.
It so happens that I do have to hand a couple of paperbacks, freshly bought, which represent a very Swedish approach to modern software issues. And we all know how important the Swedes are becoming in our speciality, what with Joe Armstrong and everything. If you are sitting comfortably, I shall begin.
The Girl with the Dragon Tattoo
(Author: Stieg Larsson, pub: Quercus, 538pp.)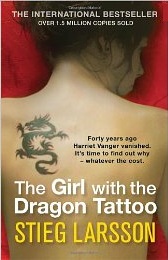 The late Stieg Larsson's book is a quaint, nostalgic look back at the very early days of the computing - ie five years ago - masquerading as a ripper thriller. The text was originally written in Swedish, but has been translated into idiosyncratic English for the convenience of Anglophone readers.
The translation contains various curiosities. The computer abbreviations are spelled out with full stops, thus: 'A.D.S.L'. This makes them look like defunct trade unions, as referenced in yellowing press cuttings from the mid-1960s. One wonders: what has the Association of Domestic Servants and Loafers got to do with the Interweb? However the 'AK4', apparently a kind of rifle (see p10), is presented unpunctuated, following some linguistic algorithm that I do not pretend to understand.
We may be confident that Stieg Larsson was an Apple fan. Not only does he make the hero purchase an early model iPod as a Christmas gift, Stieg actually stops the action and uses the narrator's voice to recommend an OS X shareware program called 'Notepad' (a very confusing name for Windows users), even bothering to supply its url in the text.
However, he does allow some characters to use Windows. Here is a summary of the principals and their machine/OS choices:
TGWTDT characters and computers

| | | |
| --- | --- | --- |
| Character | Occupation | Machine |
| Hr Mikael Blomkvist | Our hero, a middle-aged, journalist who is the editor-in-chief of Millennium magazine. For some reason, not really made clear, all the women in the book are keen to hop into bed with Blomkvist. (Incidentally, if you turn to the author's biog at the front of the book, you will find that in real life Stieg Larsson was a journalist: editor-in-chief of Expo magazine, founded 1999. Just saying.) | Apple iBook, see, eg, p124 |
| Frk Lisbeth Salander | Kooky, gothy 'genius computer hacker' (says back cover blurb), not afraid of wandering the wrong side of the law when justice requires it. The eponymous girl. | Apple iBook 600 (p193), then Apple Powerbook G4/1.0 GHz with 960 megs of R.A.M. and N.V.I.D.I.A. graphics 'which shook the P.C. advocates' (p194) |
| Hr Hans-Erik Wennerstrom | Maxwell-like entrepreneur and fraudster, and oppressor of Hr Blomkvist. | I.B.M. (sic) laptop, using the software programme (sic) Microsoft Explorer (sic, no 'Internet') to surf the web, p471-472 |
| Hr Benny Bjorn (not his real name, which I withhold to avoid spoiling the surprise) | Incredibly evil and unpleasant serial rapist and Nazi, who starts off by forcing his sister into incest, then goes on over a period of many years to kidnap, imprison and murder a long string of women. Also vivisects a cat, by way of a change. | Dell laptop, model unspecified, p416 |
Do you notice anything? Just as the moral allegiances of cowboys used to be identifiable by the colour of their stetsons, author Larsson distinguishes a good egg from a bad one by the egg-in-question's choice of computer. The heroes are all equipped with Macs; the villains must click through their wretched and perverted lives with Windows.
God knows I carry no spear for Microsoft, but I do think this is taking fanboism a bit far.
 (I would love to know if this computer brand-based approach is also used in the other two volumes of Hr Larsson's Millennium trilogy. If anybody happens to have read them, an answer in the comments section much appreciated.)
Most of the proactive computing is performed by tattooee Lisbeth Salander. She is one of a rare breed of computer specialists, first identified long ago by NTK of blessed memory. When confronted with an encrypted file, instead of saying 'oh bugger, it's encrypted' as you or I might, Lisbeth says 'it's encrypted, this may take a little longer'. Naturally, all software security protection falls apart at a touch of her gently probing mouse cursor.
Frk Salander is said to have 'loads of tattoos' in addition to the famous dragon. Perhaps 'Lisbeth' is another infelicity of translation; she would surely have been more aptly named 'Lydia'. I wouldn't be surprised if part of Lisbeth's expertise comes from having an ASCII character chart - Swedish cøde page, natch - inscribed above her elbow, or a BNF description of C# etched into her left shin, to save time googling it up in a crisis.

What am I talking about? C#, indeed. Objective C, that would be our Lisbeth's pleasure.
Personal note to Dell marketing department: if the studio offers you product placement in the forthcoming Hollywood treatment of this book, I suggest you demand script control or take a pass.
Firewall
(Author: Henning Mankell, pub: Vintage, 534pp.)
Henning Mankell's book is a quaint, nostalgic look back at the very early days of the computing - ie ten years ago - masquerading as a eco-terrorist thriller. The text was originally written in Swedish, but has been translated into idiosyncratic English for the convenience of Anglophone readers.
The translation is much fancier than that of TGWTDT, for example using the word 'enormity' to mean 'wickedness' rather than the consequence of excessive embiggenation, and employing the word 'murder' as a collective noun for crows - something I have never previously seen done except as a joke.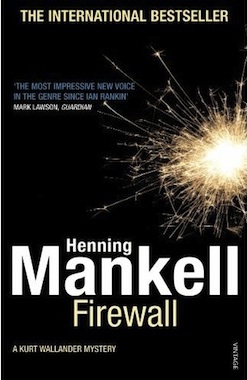 From a technical point of view, the book is disappointing. I looked in vain for even basic firewall advice, such as blocking off every port except 80, or enabling NAT. The novel's text specifies that the protagonist has no interest or understanding of computers at all, except that they have freed him from the need to apply Tipp-Ex to corrections, and I rather suspect this goes for the author too. Despite being at the centre of the plot, the computers are entirely generic: they may be Macs or PCs or even late-flowering VAXen for all we can tell.
Here is what happens.
Police Inspector Kurt Wallander lives in Ystad, Sweden (although, to judge from his television appearances, he was born on the planet Gallifrey in the constellation of Kasterborous, as he is rarely seen twice played by the same actor). He is a miserable old bloke.
At this point, I am obliged to confess that half way through I accidentally knocked my paperback into the bath, fusing the last three hundred pages into a papier-mâché brick. Fortunately, I found a Swedish language film of this book on iPlayer's BBC4 site and, with myopic squinting at the subtitles, have been able to piece together the plot.
The baddies are eco-anarchists who are bent on bringing down the world's financial systems, rather than waiting for bankers to do it anyway. They are headquartered in Africa. The word 'Africa' is pronounced something like 'Orfrica' in Swedish, with the corners of one's mouth turned down. It sounds very solemn and impressive. Inspector Wallander knows this, and makes sure he says it a lot in his fine, rumbling, baritone voice. 'Orfffrica.'
Rather than trouble the police department's IT department - I suspect they are fed up with him getting Tipp-Ex in his keyboard - Inspector Wallander employs a teenage consultant called Modin to examine the baddies' computer. Modin so-named, I suspect, to suggest the word 'modem'. In this story, this amounts to an authentic, technical detail.
Modin is initially referred to in the dialogue, and throughout the original book, as male, but in the flick eventually turns out to be a teenage kinky-kooky, gothy-genius computer crackerette. Perhaps the director noticed the popularity of TGWTDT halfway through the shoot, and was able to recast just in time. Modin astonishingly discovers that the baddies have encrypted their secrets, and opines that retrieving them may take a little longer.
While Modin ponders at his-or-her keyboard, Wallander helps out, by finding the key password, which someone has obligingly recorded in a tattoo, in defiance of good security policy (it would be a sod to change every month) and providing further circumstantial evidence that the director was borrowing ideas from Dragon. The password is a babyish word something like 'Binky-bee', and Wallander sounds a bit undignified saying it. But Wallander was not made an inspector for nothing. He counters the Binky-bee problem by referring again to the continental origin of the anarchist plot. 'Orfffrica. Orrrrrfffricahhh.'
While Wallander is still saying 'Africa', the baddies kidnap Modin. Oh no - how will Wallander stop them now? They have overrun and infected the whole internet with their worms, the worms.
Fortunately, to activate the BACS Armageddon, the anarchists must put their ATM card into a particular biddely-bong cashpoint machine outside the Ystad Building Society. I think the anarchists need to put more thought into their requirements specifications: this is the sort of bug it is best to remove before it gets into the implementation. A little more effort here, please, and less time spent on the 3D visualisation of the worm infecting the internet.
Now Wallander has merely to pitch up at the ATM and stop them. Does he do so promptly? No, he does not. He is worried he may have to say ' biddely-bong', which is even worse than Binky-bee.
Anyway, in the end Wallander extracts his digit - in fact, his first digital action in the whole business - and rushes to the ATM. Baddies shot, Modin freed, banking system safe, phew.
Not that Inspector W needed to have bothered, I reckon. Those cash machines go down all by themselves. A few years ago, I was standing in the queue behind this lady, she put her card in, the machine ate it, blue-screened, and rebooted. And do you know what it was running? Windows NT 4! Don't know what the banks think they are playing at, using an elderly domestic operating system for a job like that.
You know, I think The Man They Call The Stieg may have a point after all...®