Original URL: https://www.theregister.co.uk/2011/01/07/ces_inside_intel_widi_2/
Intel soups up Wireless Display tech
But will punters really buy a new laptop for PC-to-TV streaming?
Posted in Personal Tech, 7th January 2011 14:48 GMT
CES 2011 Intel's Wireless Display (WiDi) technology entire failed to take off after it was launched a year ago during the 2010 Consumer Electronics Show (CES). One year on, and the chip giant has taken the wraps off WiDi 2.0. Can it fare any better?
The new release is certainly better. Developed to stream your computer's screen over your 802.11n Wi-Fi network to your HD TV, WiDi lacked some key qualities: the ability to stream a "full HD" 1080p image, and support for encrypted DVD and Blu-ray material.
Intel has fixed these issues, giving WiDi 2.0 1080p support and letting it stream any disc you play.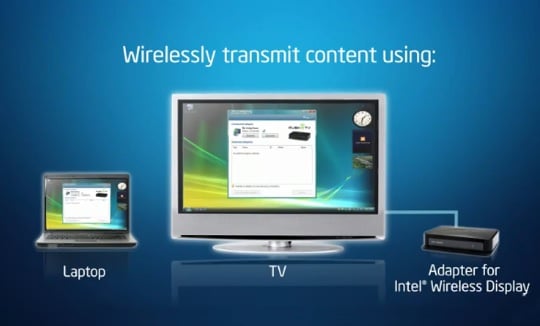 Streaming needs a receiver, of course, to connect wireless network and telly, and decrypt the WiDi stream. The good news here is that with the introduction of WiDi 2.0, rather more vendors have signed up to offer such pick-up units.
WiDi 1.0 was supported solely by Netgear, and its receiver was marketed only in the US. This time round, it has been joined by Belkin, Buffalo, D-Link, IO Gear and Logitech, and some of them will certainly make it to Europe and the UK.
Interestingly, the $30 (£19) compact Apple TV lookalike box from Logitech will be audio only, aimed at punters who want to stream music from iTunes and suchlike to their hi-fi. Rather than the usual WiDi receiver HDMI port, the Logitech box has RCA jacks instead.
The Logitech WiDi box will be out in May. The D-Link MainStage and Netgear's second gen Push2TV will be out in Q1, the D-Link for under $150 (£97), the Netgear for $120 (£78). Belkin, Buffalo and IO Gear haven't announced their WiDi offerings, but Intel had their boxes on its CES stand.
WiDi receivers will be more commonplace than they were in 2010, and if Intel's forecast that 33 per cent of its revenue will come from its second-gen Core i processors - aka 'Sandy Bridge' - this year, so too will PCs equipped with the WiDi 2.0's other key requirement: one of the chip giant's new CPUs.
Core requirement
The new Core i chips' on-die graphics engine, now more tightly coupled to the CPU cores than before, is needed to perform the on-the-fly conversion of the WiDi display buffer into the encrypted MPEG 4 stream that's sent out over the WLAN. It's the presence of the crypto tech - also a key part of Intel Insider, the chip company's upcoming online movie streaming service - that has allowed it to safely permit copy-protected DVD and Blu-ray content to be sent from computer to telly.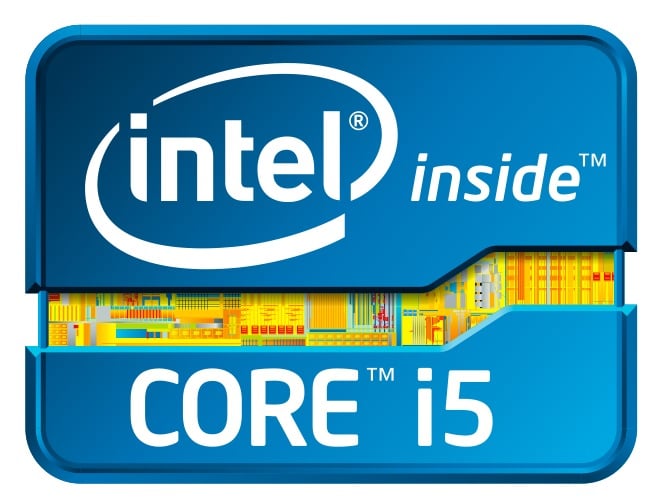 Depending on what's being shown, the WiDi bandwidth requirement runs up to 20Mb/s, Intel said. An 802.11n network should have plenty of room for that, and several other streams besides, without hindering web access and suchlike. However, how scalable WiDi will be is ultimately going to depend on the wireless environment in your home.
Intel certainly sees WiDi as a multi-room system. Its WiDi software, provided to PC makers rather than to users, auto-detects and lists all of the receivers on your network, and you simply click on the one you want your computer to stream too. When you release the receiver, it's free for another machine to use. The link is always one to one.
WiDi isn't without competition. Apple's AirPlay is the best-known alternative, streaming from a Mac, PC or iDevice to an Apple TV connected to your telly. The $99/£99 Apple TV costs the same as the WiDi receivers but unlike them isn't merely an adaptor - it's an online media player in its own right. The downside: AirPlay is geared toward iTunes-compatible media, so you can't use it so play AVI files on your TV or stream BBC iPlayer.
But you can do that will the growing range of $99/£99 ultrawideband-based display streamers, none of which use up network bandwidth. Unlike WiDi, they require line-of-sight with the USB-connected transmitter and the receiver plugged into your TV. But then you're going to want to have your PC close to you if you use WiDi, if only to select the files you want and to control the stream.
Most important of all, the UWB streamers don't require that you own one of the latest Intel CPUs, and some will work as happily with Macs and PCs.
It's that tight link to the CPU that could well prove WiDi's undoing. Anyone who thinks it would be handy being able to stream content from PC to TV without cables isn't going to be too bothered about buying a cheap-ish adaptor, which are priced for impulse buying. But they may very well baulk at buying a new laptop. ®