Original URL: https://www.theregister.co.uk/2011/01/06/review_smartphone_palm_pre_2/
Palm Pre 2 WebOS 2.0 smartphone
Refined rather than revamped
Posted in Personal Tech, 6th January 2011 12:00 GMT
Review This is the second upgrade made to the Palm Pre since the original version appeared almost two years ago, and the first since the company was acquired by HP. The last tweak, the Palm Pre Plus, made a few changes, but this latest version raises the bar considerably.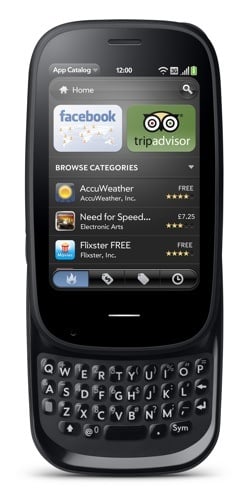 Palm's Pre 2: refined design
The Palm Pre 2 looks much the same as its predecessors, retaining the tactile rubberised plastic casing that improved on the glossy slickness of the original. It now has a glass screen too, and when you open it, the highly polished back makes a very effective mirror. It's compact yet still incorporates that curved sliding mechanism to reveal the Qwerty microkeyboard.
The sides are minimally populated with a volume rocker and micro USB power/sync slot, with a mute switch, power/lock button and 3.5mm headphone jack on top.
The 3.1in, 320 x 480 capacitive touchscreen is acutely sensitive, responding accurately and quickly to brushes and presses.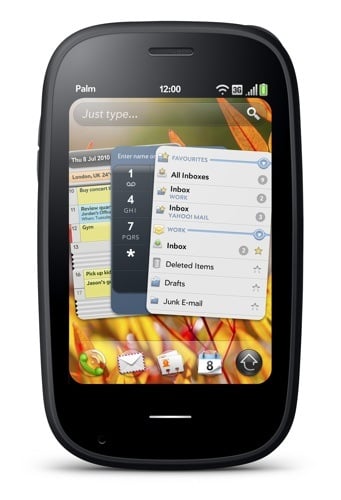 Fan your apps into stacks
The keyboard still uses those love-'em-or-hate-'em squishy keys which feel a bit weird. They're on the titchy side too, so you'll need to use the tips of your thumbs. They take a bit of getting used to, but you can get up a decent head of steam from the 35 keys with a bit of practice.
WebOS refined
If you haven't used a Pre before, there's also a bit of a learning curve imposed by the WebOS operating system. The main thing is the gesture-based navigation – brush upwards from the touch-sensitive panel beneath the screen to bring up menus from the home page. Brush up when you're in an app to reduce the screen size and brush up again to leave the app.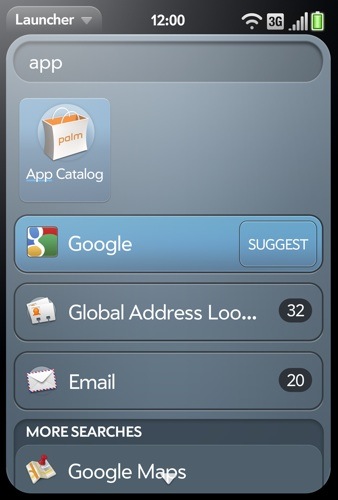 Universal searching, WebOS 2.0 style
Moving between apps is really quick too, and I never noticed any sign of lag, no doubt helped by the powerful Texas Instruments 1GHz Omap 3630 processor which powers the Pre 2. It's a big step up from the 600MHz chip in the Palm Pre Plus.
The Pre 2 is the first handset to feature WebOS 2.0. Palm has made a few cosmetic tweaks, and the OS now seems a bit tighter and more professional. For instance, the universal search is now renamed Just Type, and sure enough, when you start typing from the home page, you'll be presented with a screen offering a selection of potential apps, from email to search to maps, that you might want to use it for.
Multitasking is fully embraced, and you can have just about every app running at once if you like. It's easy to keep track of them too: if you tap the gesture bar to minimise an app, you'll see all of your open apps ranged as a line of cards. And by dragging and dropping them you can now arrange the cards into "stacks" so you can keep all your favourites together.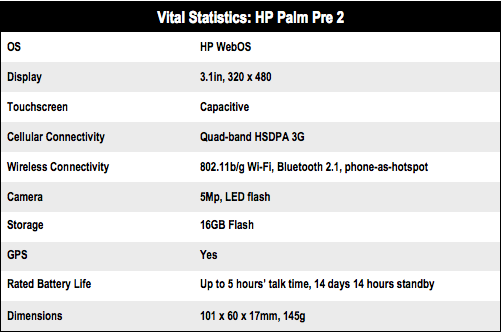 Tweaks here, tweaks there
Palm has done a bit of work on its email functionality too. You can now view all of your accounts together or separately, and if you have a lot of messages you can also search through them by tapping in a few letters on the keyboard. There's push email with support for Microsoft Exchange but you still can't view threaded messages.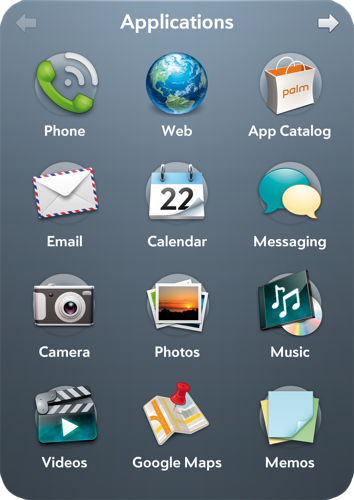 Plenty more apps in the store
The camera has been beefed up to 5Mp and now has a flash as well as an extended depth of field and geotagging. That's about it, however, with no controls besides turning the flash on and off. Picture quality's not bad, though it deteriorates quickly in lowish light and the position of the lens, effectively in the middle of the phone if you have it open, seems to be just right for covering with your finger.
Palm's App Catalog is building up nicely with more than 4500 programs on offer, according to Palm, and it's now easily browsable by category. Quickoffice is pre-loaded so you can read, but not create, Word, Excel and PowerPoint files. Same goes for the PDF viewer.
Sample Shots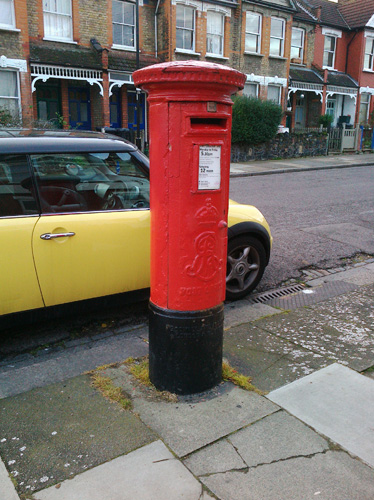 Click for a full-resolution crop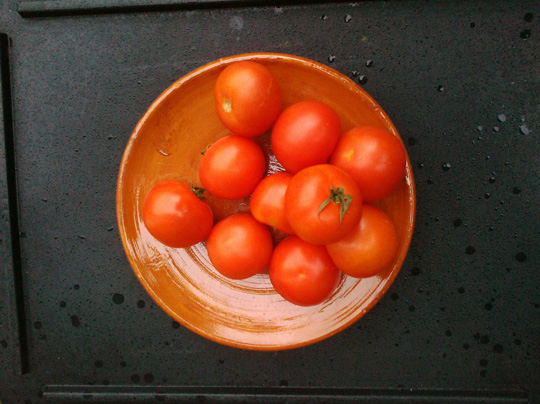 Click for a full-resolution image
Hardware hiccoughs
Facebook and Twitter apps are available from the App Catalog, and you can sync your Facebook contacts and pics, but as yet there's no FriendStream or Motorola Motoblur-style app to pull all your message updates together.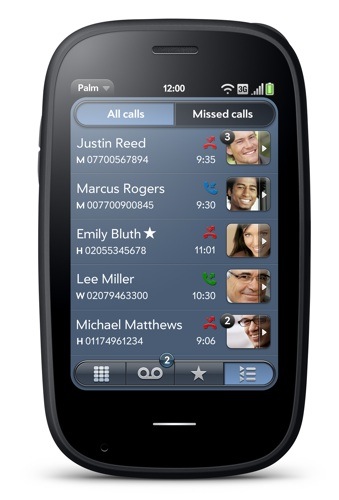 The screen's not the sharpest around
Palm's browser is decent enough, even if it's a bit lacking in functionality. There's no word search or multi-page viewing for instance, but it's certainly fast, you can pinch or double tap to zoom. It also supports Adobe Flash 10.1, though disappointingly BBC iPlayer isn't supported yet. There's also a YouTube app on board.
The screen isn't the sharpest so watching videos isn't exactly of the first water but there is at least the option to stretch them to fill the screen, which is always welcome. The sound from the music player is surprisingly good through the supplied headphones. And there's an impressive 16GB of storage on board which will be enough for most. It'll have to: there's no memory card slot.
Another flaw: the really rather tiny battery doesn't quite hack it and delivered barely a day's worth of admittedly fairly heavy use.
Verdict
Palm has won fans among those who like a phone to be cute, smart and intuitive, enviably quick, but not too complicated, and the Palm Pre 2 continues to refine that proposition with faster processing power, a better camera and, thanks to WebOS 2.0, improved functionality. ®
More Smartphone Reviews...

Palm
Pixi Plus
Ten Essential…
Budget Android
Smartphones
Nokia
N8
Samsung
Omnia 7