Original URL: https://www.theregister.co.uk/2011/01/05/wd_scorpio_black_750gb/
WD embiggens Scorpio Black notebook drive
Take that, Seagate, you big brute
Posted in The Channel, 5th January 2011 16:45 GMT
Western Digital has increased its fast notebook drive's capacity by half to reach 750GB, the same as Seagate's fast notebook drive.
WD's Scorpio Black 2.5-inch drive spins at 7,200rpm and has a 16MB cache and 3Gbit/s SATA interface. It is now also an Advanced Format Drive. Seagate's equivalent Momentus 7200 had its 750 gig capacity level announced in May last year. Both the Momentus and the Scorpio Black are 2-platter drives with 376GB platters and a 541Gbit/in2 or so areal density level.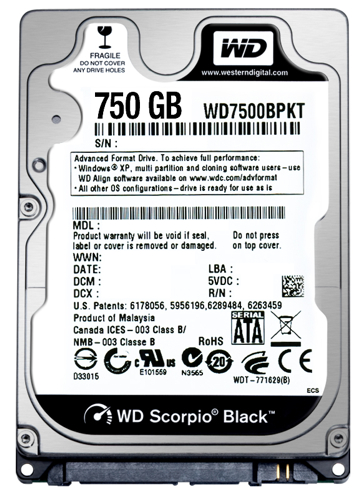 WD has a faster spinning 2.5-inch drive called the VelociRaptor, which rotates at 10,000rpm, holds up to 600GB of data and has a 6Gbit/s SATA interface. Seagate also has a 10,000rpm 2.5-inch drive – the Savvio 10K.4 – which similarly stores up to 600GB of data, but comes with a 6Gbit/s SAS interface plus a 4Gbit/s Fibre Channel one.
The Scorpio Black has a range of capacity points between 160GB and 750GB and is available now. The drive comes with a five-year limited warranty and WD's suggested retail price is $149 (€109.00 including VAT). ®