Original URL: https://www.theregister.co.uk/2011/01/05/review_storage_samsung_sh_b123/
Samsung SH-B123 internal 12x BD-Rom drive
Speed reader?
Posted in Personal Tech, 5th January 2011 07:00 GMT
Review Some feel that optical media is dying in favour of digital distribution, however, in this world of high definition content there are still those who'd rather not abandon shiny plastic discs and hence, we have Blu-ray. This is not to say that Blu-Ray is not an important development in digital optical media technology, a 50GB dual layer disc is a fair improvement over the 700MB maximum capacity of a standard compact disc. Ah yes, remember, those things from the 20th century that people used to buy music on?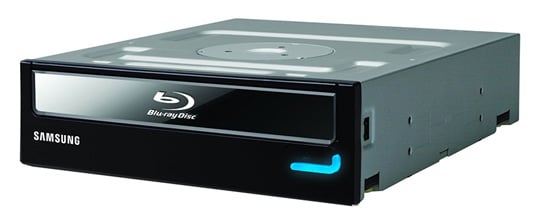 Combo session: Samsung's SH-B123
With the Samsung SH-B123 internal optical drive, the company lays claim to it being the fastest BD-Rom on the market with a blazing 12x read speed, along with low power consumption and reduced noise. The DVD±R read/write speeds are 16x with dual layer discs notching up half that for writing and 12x for reading.
Part of the deal is this package can also upscale DVDs. However, this is a feature of the Cyberlink PowerDVD 9 software suite included with the SH-B123. Whilst the TrueTheater HD feature does improve the picture quality, it is not restricted to the work only with the Samsung drive. So I gave it a go with Saving Private Ryan on DVD, along with my old Pioneer DVR-111D DVD±RW drive for comparison.
With the DVR-111D, the standard quality playback was identical to the SH-B123, but surprisingly, the ancient Pioneer drive produced a sharper image, although some might argue it's a tad too grainy. Whilst Samsung's new drive does produce a noticeably better-than-average picture using TrueTheater HD – when compared to the results with the DVR-111D – it does appear softer with slightly lower contrast. Have a gander for yourself, the left side of the image is DVD standard quality and the right hand side has been upscaled.
Rip, rig and panic?
Whilst the included Cyberlink software appeared to work wonders with DVDs, I couldn't initially say the same for Blu-Ray playback as every attempt made to watch a film ended abruptly in an error message stating "There is a disc with an unsupported format in drive H:."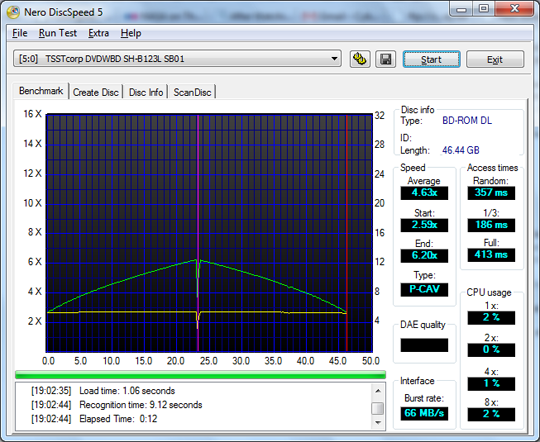 Nero DiscSpeed suggests the 12x Blu-ray read speed is a tad optimistic
After consulting with the folk at Samsung and Cyberlink, the issue was determined to be caused by an unidentified item of software on my set-up. Not exactly a decisive conclusion, as whatever it was prevented PowerDVD from recognising the SH-B123 as anything more than a DVD±RW drive. Hence, a fresh and long overdue Windows installation on my test rig seemed in order. Thereafter PowerDVD was able to unleash the full potential of the SH-B123 and its impeccable Blu-Ray playback.
Whilst movie playback quality was flawless, I also benchmarked the drive with Nero DiscSpeed to see if Samsung's 12x read claim is accurate as there will be some looking upon this device as a fast rip drive to extract optical goodness for their media playing pleasure.
Although the drive did peak beyond 6x – which is more than a typical 8x drive will actually obtain with a generic disc – the full 12x potential was not seen. Perhaps with a perfect pressing it might be achievable, but it appears to be out of reach for your off-the-shelf Blu-ray movie.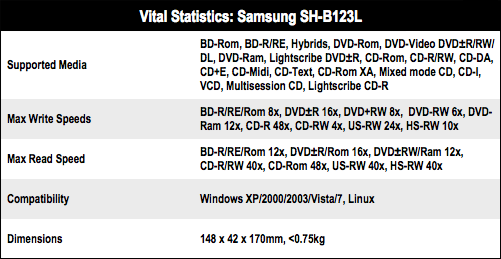 Market presence
Initially, the SH-B123 was due to hit the market shelves in July, but the official release was pushed back. While it seems to have a rather patchy existence on Samsung's web pages, this BD-Rom drive is certainly in evidence to buy on-line at considerably less than the list price.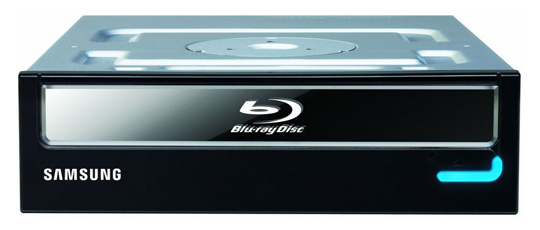 Blu-ray upgrade time?
Verdict
While tests suggest this BD-Rom doesn't deliver on the claimed Blu-ray read speeds, it's certainly a niftier drive than most. Overall, Samsung's SH-B123 is an all-round decent upgrade, ably assisted by the Cyberlink bundle, and is worth shopping around for. Oh, and if you want Lightscribe, just make sure you get the SH-B123L not the SH-B123A. ®
More Blu-ray internal drive reviews…

Lite-on iHBS112
Blu-ray writer
Samsung SH-BO83L
BD-Rom combo
PLDS iHES208
BD-Rom combo
Pioneer BDR-203BK
Blu-ray writer