Original URL: https://www.theregister.co.uk/2011/01/05/review_smartphone_htc_desire_hd/
HTC Desire HD
Big-screen Android smartphone
Posted in Personal Tech, 5th January 2011 12:00 GMT
Review Few would argue that the HTC Desire - aka Google Nexus One - is a very fine smartphone but that hasn't stopped HTC cooking up a new version which looks like it's been at the steroids.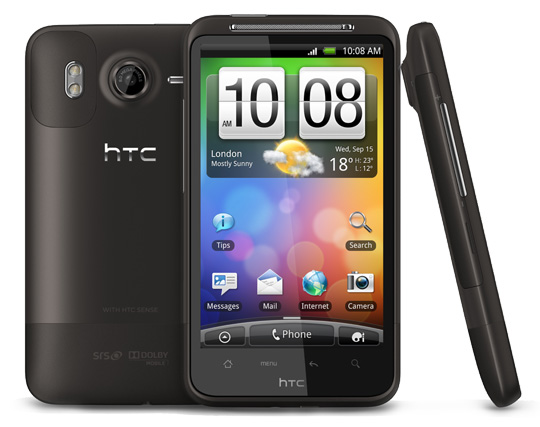 HTC's Desire HD: beefy
Actually it's not the pills that HTC has raided but the parts bin, the HD being essentially an updated and improved GSM version of its Evo 4G, a CDMA Android handset released in the US earlier this year.
The first thing you notice about the HD is the size of the screen. At 122 x 68 x 12, the Desire HD is itself a big old hector, and some may think it simply too big for a mobile phone. It's heavy too. At 164g, it's nearly 30g more than an iPhone 4 and twice the weight of Sony Ericsson's petite X10 Mini.
The bulk serves a purpose though - it houses an impressive 4.3in, 480 x 800 screen. It's a conventional LCD unit rather than a fancy OLED panel like that fitted to the Samsung Galaxy S so it pulls a little more power, isn't brilliant in direct sunlight and the blacks aren't quite as black as they could be. But colours are vibrant and the picture is sharp enough to keep you gazing at it admiringly like Narcissus at his own reflection.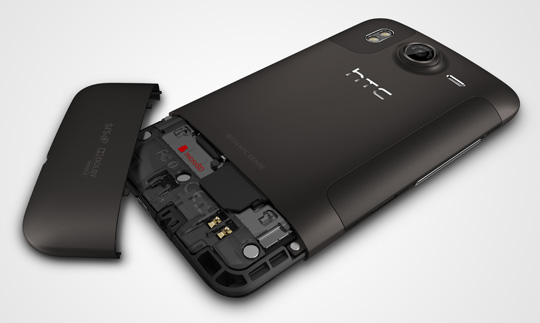 Not much built in storage - Micro SD will help
Of course, the pixels-per-inch count can't match that of the iPhone 4's "retina display", but those extra eight-tenths of an inch between the corners make web browsing, watching video, gaming, reading and writing so much easier and more enjoyable.
Well built
HTC has a done a good job with the Desire HD's external styling and managed to keep the screen bezel to a minimum. The rounded, unibody construction gives the HD a honed-from-solid feel. The chrome speaker grille on the front is a nice highlight that attracted many a positive comment and the slightly rough back and sides help to keep the smartphone securely in hand.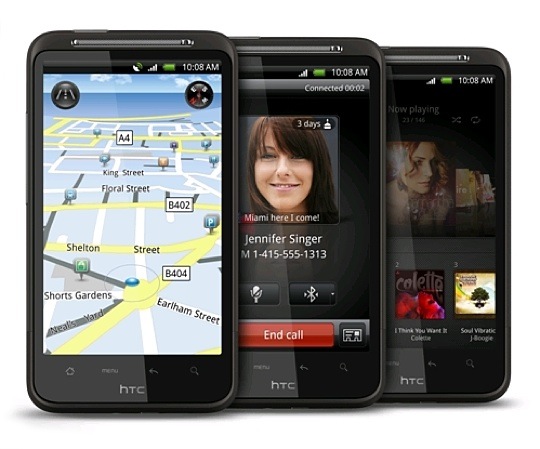 Stylishly designed
The only blemish is the gap between the Sim/Micro SD slots cover and the rest of the rear shell. The two could abut more closely. Wired connections are taken care of with a 3.5mm audio jack and micro USB port both at the bottom of the handset.
For a high-end phone the absence of a hardware camera shutter key is a little surprising. In fact, hardware keys are entirely absent apart from the volume controls on the left-hand side and the recessed power button on top. Like HTC's Windows Phone 7 handsets, all the front-facing buttons are capacitive touchscreen, and there is no trackpad or ball.
Being newer than the Evo 4G, the HD runs the more up-to-date version Android, though of course 2.2 Froyo has itself now been replaced by 2.3 Gingerbread. Such are the joys of keeping up with the OS Joneses.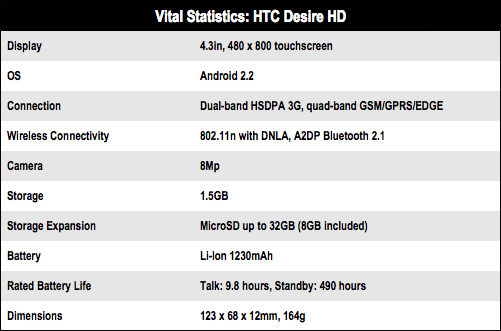 Goes like the clappers
Major benefits of Froyo include the addition of Adobe Flash, the ability to off-load apps onto SD cards and the ability to turn the handset into a Wi-Fi hotspot. The Flash installation worked perfectly letting me watch the BBC's iPlayer in the browser, as God intended.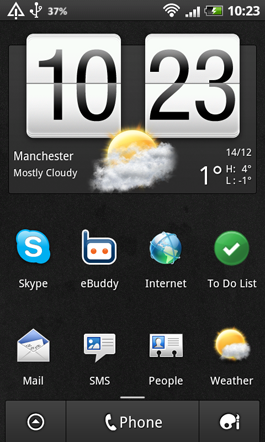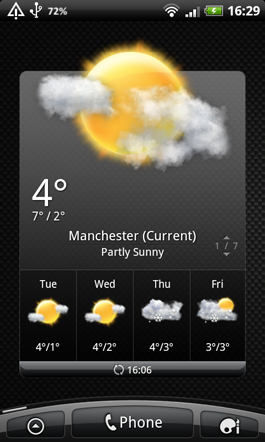 Android enhanced
With a 1GHz Snapdragon processor and 768MB of memory, the HD should go like the clappers and indeed it does. The OS is lightning quick and the multi-touch UI supremely fluid, making the HD every bit as fast in use as the iPhone 4 and that is a compliment no matter what you otherwise think of Apple's mobile.
The built-in storage runs to a healthy 1.5GB with an indicated 1.1GB being free for downloaded applications. Extra storage comes courtesy of a hot-swappable Micro SD cards, and HTC generously chucks an 8GB card into the box with the phone.
Both Android 2.2 and the QSD8255 chip under HD's hood are more efficient power managers than their forebears, but they need to be because the HD's battery has a surprisingly low rating of 1230mAh.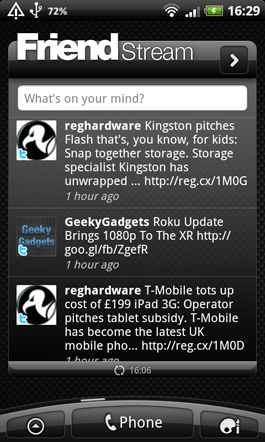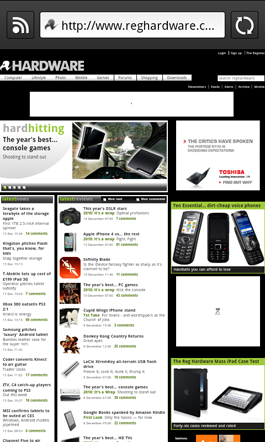 Social networking and browsing? No probs
Stick the HD in Flight Mode and loop a standard definition .AVI video - the HD supports Xvid/DivX natively - and you'll get about five hours out of a charge. But in everyday use, getting from dawn to dusk without a recharge is a challenge, especially if you use Wi-Fi or GPS for any duration, or just like a good chat.
Assault on battery
The specification of the 8Mp - or 6.37Mp if you shoot in 5:3 rather than 4:3 - camera is impressive but it flatters to deceive somewhat. Yes, you can record 720p/25fps video but only as 3GP not H.264 and the end results are no more than adequate.
Still images don't fare much better and are no real advance on many lesser 5Mp Android phones, though there are lots of handy shooting options and effects to jazz up your Facebook mobile uploads.
The HD's two LED lights are better than one when it comes to low-light photography - and make a handy torch - but a single Xenon flash would be better yet. And on a phone of this stature a front-facing video camera wouldn't have gone amiss either.
Sample Shots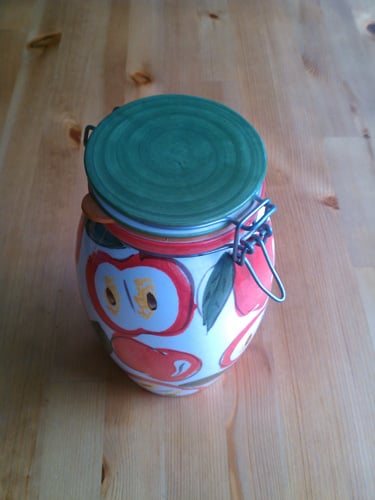 Click for a full-resolution crop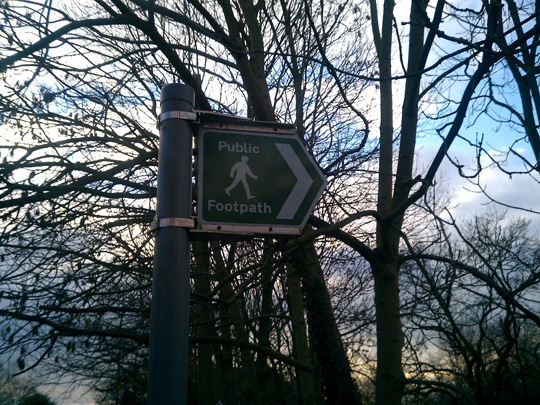 Click for a full-resolution crop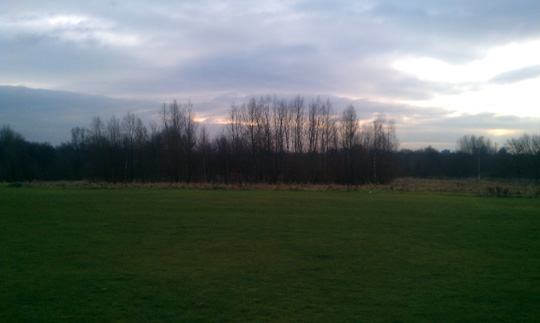 Click for a full-resolution crop
Power hungry
Signal reception - both cellular and 802.11 - and call quality were both good, though the HD lacks the noise-cancelling twin microphones that Motorola is now fitting to even its cheaper Android handsets like the Defy, to the noticeable benefit of call quality.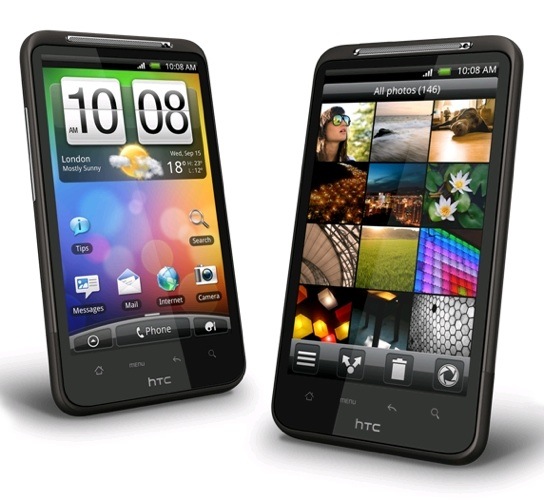 Getting it from dawn to dusk on a single charge of the battery can be a trial
Of course, the HD comes with a host of other refinements too long to list, including the latest version of HTC's Sense UI, which is still by far the best Android overlay, and dozens of handy widgets: Dolby Mobile and SRS sound modification for your music and videos, and a DLNA media streamer.
You can also register your HD at HTCSense.com to access a range of web-based features including a handset location service, remote data wiping and locking should your HD get half-inched, and sending text messages from your PC.
Verdict
As you might expect, all this large-screen loveliness comes at a price. Unlocked, the HD will set you back between £450 and £500. If you want the handset 'free', you're looking at committing to a talk plan costing £40 a month over two years.
Still, the Desire HD is a gorgeous bit of kit that does all the things you could possibly ask of a smartphone and, photography aside, does them very well. With one of these in your pocket you won't ever need a tablet, a media player or an e-book reader, but you will need a spare battery. ®
Thanks to 3 for the supply of our review handset.
More Android Smartphone Reviews

Motorola
Milestone 2
LG
Optimus
GT540
Acer
Stream
Samsung
Galaxy
Apollo